EduClips: After Lawsuit, NYC Schools Agree to Bullying Reforms; Report: CA Charters Not Documenting Spending on Low-Income Kids — and More Must-Reads From America's 15 Biggest School Districts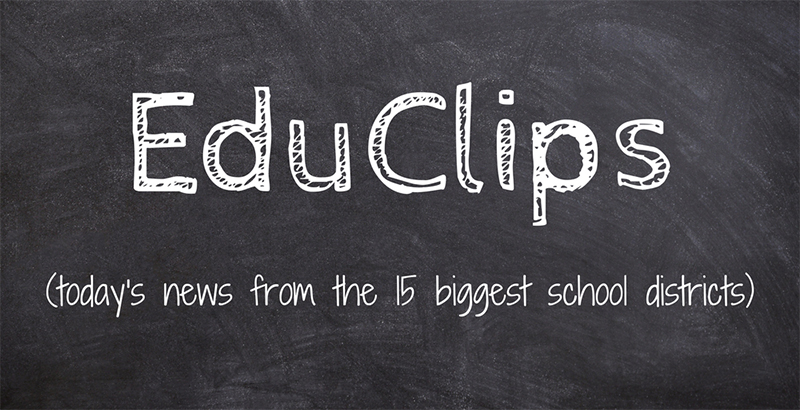 EduClips is a roundup of the day's top education headlines from America's largest school districts, where more than 4 million students across eight states attend class every day. Read previous EduClips installments here. Get the day's top school and policy news delivered straight to your inbox by signing up for the TopSheet Education Newsletter.
Top Story
SCHOOL WEBSITES — The home page of Pinellas County Schools in Florida is brimming with information for families, students, staff members and the public: an easy-to-use dashboard of news, shortcuts and links to the district's Facebook page, Twitter feed and YouTube channel.
But Pinellas's home page has been supplying information to another audience, an unseen one, as well this year. An array of tracking scripts were embedded in the site, designed to install snippets of computer code into the browsers of anyone clicking on it, to report their visits or track their movements as they traveled around the web.
The trackers were detected last winter during a study by Douglas Levin, a Washington-based expert on educational technology. Asked about them in April, the district expressed surprise and said it would have them removed. But Mr. Levin found 22 trackers when he checked back last month. Trackers are as common on public school websites these days as microbes on a restroom door, to judge by Mr. Levin's examination of 159 public school websites from among the nation's largest and most tech-savvy districts. At least some form of ad tracking or online surveillance technology was embedded in all but one of them, he found. (Read at The New York Times)
National News
SCHOOL SAFETY — More Schools Are Buying 'Active-Shooter' Insurance Policies (Read at The Wall Street Journal)
COLORADO — Colorado Republicans Hold a One-Seat Majority in the State Senate. These Two Democrats Could Flip the Chamber — and Jump-Start State Education Reform (Read at The74Million.org)
SCHOOL SAFETY — Trump Officials to Learn About Safety at School Where Staff Has Access to Guns (Read at HuffPost)
NORTH CAROLINA — Public schools owed $750M by state bring lawsuit (Read at Education Week)
LEBRON JAMES — Sights and Sounds from the 1st Week of LeBron James's New I Promise School for At-Risk Kids in His Hometown of Akron, Ohio (Read at The74Million.org)
SCHOOL SAFETY — Armed Staff Keep Rural Schools Safe When Police Are Far Away, Panel Hears (Read at Politics K-12)
District and State News
NEW YORK — New York City schools agree to bullying reforms in wake of lawsuit (Read at Chalkbeat)
CALIFORNIA — Charter schools not documenting spending on low-income kids, report says (Read at EdSource)
TEXAS — Most Houston-area school districts eligible for Harvey waiver, TEA says (Read at Chron)
CALIFORNIA — A California election that might actually matter (Read at The Washington Post)
VIRGINIA — Schools, not resource officers, will handle student discipline in Fairfax Co. (Read at WTOP)
TEXAS — Two-Thirds of Texas High Schools Still Aren't Registering Students to Vote (Read at Houston Public Media)
NEVADA — CCSD wants to train staff to ID troubled students (Read at KLAS-TV)
ILLINOIS — Illinois schools still waiting on state for overdue categorical payment (Read at Fox Illinois)
NEVADA — Clark County School District settles on 2019 legislative requests (Read at the Las Vegas Review-Journal)
PENNSYLVANIA — How the Eagles Super Bowl win helped Philly FUNDamentals raise $413K for public schools (Read at Technical.ly/Philly)
Think Pieces
RECESS — Kids Need Play and Recess. Their Mental Health May Depend on It. (Read at Education Week)
NEW YORK CITY — New Research: Diversity Initiative Helps Stave Off Gentrification in Seven NYC Schools (Read at The74Million.org)
GRADUATION RATE — OPINION: What if corporate America did more to raise the high school graduation rate? (Read at The Hechinger Report)
Quote of the Day
"The price of getting information about your child's school should not be losing your privacy to online ad brokers." —Douglas Levin, founder of EdTech Strategies, which conducts research and advises nonprofits and government agencies on using technology to improve schools. (Read at The New York Times)
Want the day's top school and policy news delivered straight to your inbox — for free? Sign up for the TopSheet Daybreak Education Newsletter.
Support The 74's year-end campaign. Make a tax-exempt donation now.