Sights and Sounds from the 1st Week of LeBron James's New I Promise School for At-Risk Kids in His Hometown of Akron, Ohio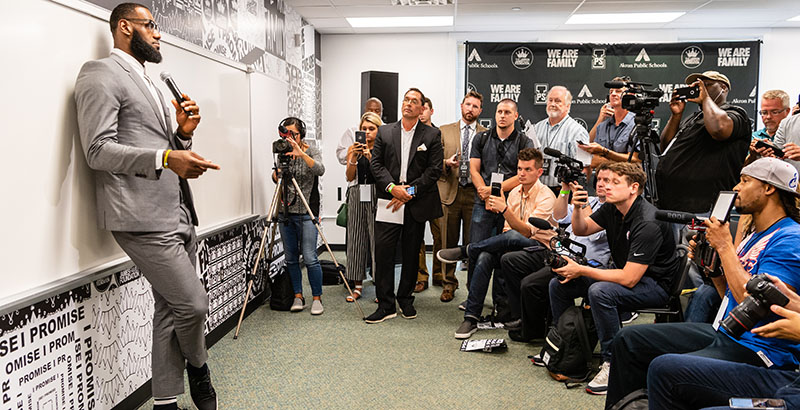 This article is one in a series at The 74 that profiles the heroes, victories, success stories, and random acts of kindness found at schools all across America. Read more of our recent inspiring profiles at The74Million.org/series/inspiring.
If anyone can make school cool, it's LeBron.
Start with the imposing chandelier, the split staircase with its grand curves, and the 114 game-worn sneakers displayed on the walls in the lobby of the brand-new I Promise School in Akron, Ohio.
That's the view that greeted 240 at-risk third- and fourth-graders — the first students in a unique partnership among NBA superstar LeBron James, his LeBron James Family Foundation, and his hometown of Akron, Ohio — when the doors opened Monday morning, their first day of school.
The ages of the first group of pupils are particularly fitting: They're at a time in their young lives that James considers a turning point in his, and he credits the support of his fellow student athletes and nurturing adults, including his mom, for keeping him on a path toward the greatness he has achieved today.
"I know exactly what these 240 kids are going through," James told a crowd of more than 2,000, including students, parents, VIPs, and a swarm of media, at the school's opening day ceremony, covered by NBC News.
"I know the streets that they walk. I know the trials and tribulations that they go through," the four-time NBA Most Valuable Player said, "because I've been there."
Plans are for the school to expand to include grades 1 through 8 by 2022.
The first day of school found James with more butterflies in his stomach than the new, awestruck students.
But he called it "one of the greatest moments of my life," CBS Sports reported.
"We are going to be that groundbreaking school that will be a nationally recognized model for urban and public school excellence," I Promise principal and Akron native Brandi Davis told USA Today. "We are letting people know it is about true wraparound support, true family integration, and true compassion."
The I Promise School's full-court press provides an array of services that brings the adage about it taking a village to raise a child to a new level.
Kids get breakfast, lunch, and a snack each extra-long school day — 9 a.m. to 5 p.m. — during an extra-long school year — July 30 to May 17. There will be a seven-week summer school program. Perks for the handpicked teachers include personal workout trainers.
Parents can get their GEDs and job training through the school. Students will be immersed in a curriculum that blends humanities with STEM learning, with access to tutors and an English-as-a-second-language teacher, and parents and kids can use the school's emotional, career, and other support services year-round. Each kid gets a new bicycle and helmet to keep fit and explore areas outside the often violence-ridden neighborhoods they live in.
And the icing on the cake: Beginning in 2021, every graduate of the I Promise program will get free tuition at the University of Akron, provided by James.
The foundation hopes to pave the way for more than 1,200 Akron kids to go to college by 2029, according to ABC News.
Even as King James embarks on his dream job with the Los Angeles Lakers, the man some call the greatest hoopster playing today considers the I Promise School his true lasting legacy.
"What it ultimately comes down to is that someone cares about their future," James told the Akron Beacon Journal. "We want the next great police officer, the next great politician, the next great doctor, the next great nurse, the next great musician. Whatever the case may be, we hope it comes out of this school."
Educators interviewed by Yahoo News praised the concept and James's new approach. So did a roster of James's fellow NBA greats — and one particular former First Lady.
Support The 74's year-end campaign. Make a tax-exempt donation now.