Education Leaders in Heated Debate About International Survey Finding Most Teachers Don't Feel Valued on the Job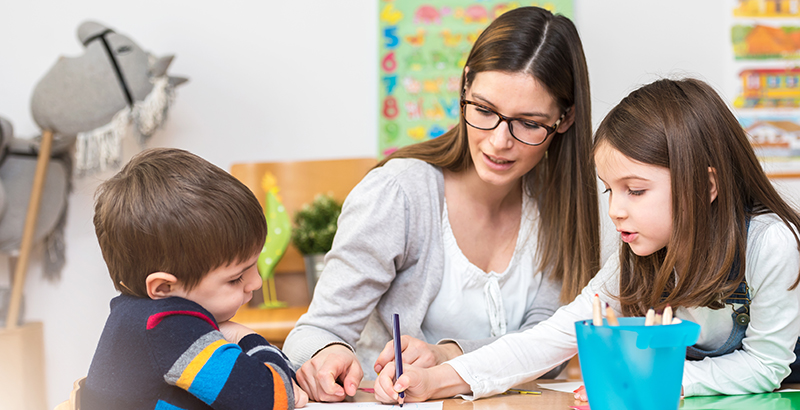 Top officials across the political spectrum debated strategies to professionalize teaching Thursday, a day after an international survey found that educators in the U.S. — and globally — overwhelmingly like their jobs but feel undervalued by the public.
The panel, which convened at the Georgetown University law school in Washington, got testy at times, particularly when discussing the value of recent teacher protests over school funding and pay. The Teaching and Learning International Survey, which was coordinated by the Paris-based Organisation for Economic Co-operation and Development (OECD), quizzed U.S. principals and teachers involved in grades 7 to 9 on a host of issues, including their backgrounds, professional development and attitudes toward the profession, and compared their responses with educators in other industrialized countries.
In the U.S., the survey found, 90 percent of teachers reported satisfaction with their jobs, yet only 36 percent believe that society values their work. Additionally, the survey found that teachers in the U.S. reported working longer hours than those in most other countries.
The panel Thursday, hosted by FutureEd at Georgetown, touched on a range of hot-button topics, from the value of teacher preparation to teacher evaluations.
Randi Weingarten, president of the American Federation of Teachers, said the survey results support the case for the recent surge in educator activism. The effects of the protests on the profession has been "riveting," she said, because they've empowered educators to recognize a pathway to secure the "resources and the latitude that they need to help their kids learn." She said teachers tried more traditional strategies — like advocating for policy before state legislatures — but didn't find success.
"They've tried and they've tried and they've gotten the door shut in their face and they've been disparaged," she said. But through protests, they've secured a "path by which they've gotten some power to change the conditions."
Assistant Education Secretary Jim Blew offered a swift rebuttal, calling Weingarten's statements an "unfortunate narrative" if teachers are being told the only way to gain power is to walk off the job. Strikes, he said, aren't necessary to secure better funding for schools.
Though Weingarten and National Council on Teacher Quality President Kate Walsh sparred on several occasions during the panel, on this point the two agreed. It's unclear how teachers are supposed to grab legislators' attention without striking, Walsh said.
Again, Blew fired back.
"There's a union that represents the teachers that's really very effective at their lobbying operation," he said. "So their voice is heard — their voice dominates — education policy discussions at every state level."
In several states, such as Oklahoma, where teachers protested over education funding, their activism resulted in school funding increases, according to a recent report by the Center on Budget and Policy Priorities.
Globally, reducing class sizes by recruiting more staff was the most important spending priority for educators, followed by a goal of improving teacher salaries. In the United States, better teacher salaries was the top spending priority, with nearly 70 percent of American educators rating higher teacher pay as being of "high importance."
"No surprise, the United States teacher salaries are not particularly competitive when you compare this across OECD countries, so you can see why teachers put this as a priority," said Andreas Schleicher, the organization's director for education and skills.
For Weingarten, raising pay is a key ingredient to bolstering teaching as a profession.
"They want to make sure they have enough salary so that they can actually pay their student loans, deal with health care, have a vacation every once in a while for their families, raise a family in the community in which they teach," she said, noting that educators often earn less than workers in other professions with similar skill requirements. "Pay is an issue not only in terms of dignity and respect, but in terms of being able to live a middle-class life."
Meanwhile, panel participants highlighted the need to bolster teacher preparation and professional development. Although the quality of professional development for educators is a subject of hot debate, American teachers who participated in the survey were less likely to report a "high need" for professional development on a range of subjects such as school management and administration and educating students with special needs.
But in the U.S., Blew said, "a third of children are simply not getting well-educated," and "radical changes" are necessary. Among them is a Trump administration proposal to use $200 million in federal Title II grant funds to create a voucher program that would allow educators to select their own areas of professional development.
"We'd love to see what teachers would do with the money themselves rather than how it's being imposed on them," he said.
Walsh said the need to bolster teacher preparation is critical, but she expressed reservations about the voucher proposal and questioned whether the strategy would garner better results.
"There have been a lot of efforts to let teachers decide what kind of professional development they want or need," but they haven't experienced great success rates, Walsh said. A better use of Title II funds, she said, is to pay teachers to work in high-needs schools that are disproportionately staffed by inexperienced educators. "Not one single state is using the money to do that," Walsh noted.
As for bolstering the reputation of teaching as a profession, Walsh said the answers are simple. Yes, salary plays a critical role, she said, but so does teacher preparation — educators' first introduction to the profession. She said student teaching opportunities, in particular, are "done really badly."
"The first experience that we have as teachers is not a very good one, and that carries over into a culture that mimics that rather mediocre attempt at treating you like a professional," Walsh said. "I don't understand why we have turned our back on student teaching as our first obligation — not just our first opportunity, but our first obligation — to set up a culture where teachers learn to be experts."
Again turning testy, Weingarten said more factors are still at play: Teachers, she said, need to have a voice in decision-making. But the sense on the ground, Walsh said, is that they "haven't earned it."
"They've gone to an ed school where everybody makes an A, in fact we're busy getting rid of the few bars there are to get into the profession," Walsh said, adding that some state lawmakers are working to scrap teacher licensure exams. "We're doing everything the opposite of everything we need to do to make sure that teachers who have graduated from a teacher preparation program are respected and given that autonomy, because they deserve it and earn it."
Get stories like these delivered straight to your inbox. Sign up for The 74 Newsletter