Report: Teacher Protests Fueled School Funding Surge in States Hit Hard by Recession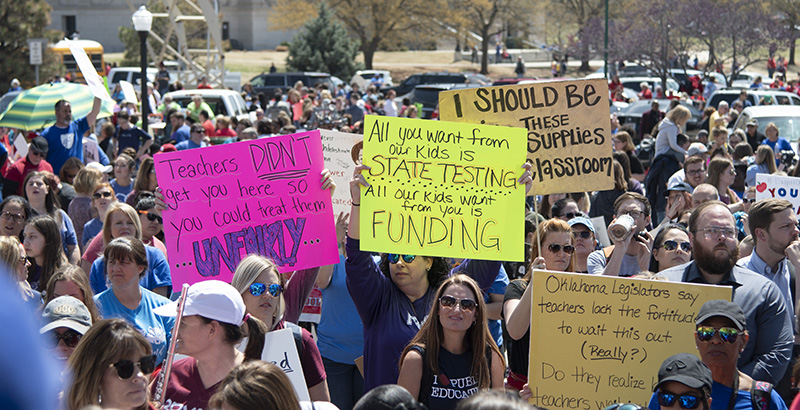 Last year's wave of teacher protests contributed to school funding increases in states where lawmakers had made deep cuts to education spending during the recession, according to a new report. Despite the gains, however, school funding in those states lags behind pre-recession levels.
Teacher activism contributed to school funding hikes last year in Arizona, North Carolina, Oklahoma, and West Virginia, according to a report released Wednesday by the Center on Budget and Policy Priorities, a left-leaning think tank. During the most recent recession, lawmakers in each of the states made substantial cuts to "formula" education funding, the primary source of state revenue for schools that accounts for an average of 47 percent of total school revenue.
Despite the new spending, however, researchers found that state formula funding remains below 2008 levels in each of the states. In Oklahoma, for example, lawmakers increased per-student formula funding by 19 percent following last year's teacher walkout. However, state formula education funding remains 15 percent below 2008 levels.
While the bulk of new money in Oklahoma went to raising teacher salaries, little went to fund general school operations, said David Blatt, executive director of the Oklahoma Policy Institute, a Tulsa-based think tank.
"Our lawmakers still have important work to do, and our teachers, parents, school officials, and community leaders will need to remain engaged to make sure they do it," Blatt said on a call with reporters.
Between 2008 and 2017, lawmakers in 12 states cut state funding by more than 8 percent. Teacher protests broke out in five of those states last year, and in four, lawmakers have since allocated more money to schools. In Kentucky, one state that experienced a protest over teacher pensions, state formula funding remained relatively flat. In Arizona, North Carolina, and West Virginia, lawmakers increased funding last year by 3 to 9 percent per student.
Despite the gains, lawmakers failed to provide new education spending in a way that's sustainable in future years, said Michael Leachman, the Center's senior director of state fiscal research. For example, in North Carolina, lawmakers increased school funding without raising new revenue to pay for it. Such strategies, Leachman said, put states at risk of future cuts.
Several states that didn't experience teacher protests also boosted education funding last year after making significant cuts during the recession, but researchers found that those hikes were generally more modest.
Much of the recent activism has focused on educator salaries, which were strained by recession-era budget cuts. After adjusting for inflation, average teacher salaries dropped in 42 states between 2010 and 2017.
On a national level, school funding since the recession has shifted away from states and toward local governments. Relying on the most recent Census Bureau data, from 2016, researchers found that average state funding was down $166 per student while local state funding was up by $161 per student. That year, schools in a majority of states received more in total state and local funding per student than they did before the recession, after adjusting for inflation.
While increases in local funding can help absorb the effects of state cuts, a heavier reliance on local governments raises equity concerns, Leachman said. That's because the bulk of local school funding is generated through property taxes.
"Property wealth is highly unequal across school districts," Leachman said. "It's much easier to raise money for schools in Silicon Valley than it is to do so in a poorer community like Compton."
Get stories like these delivered straight to your inbox. Sign up for The 74 Newsletter