Key Takeaway From International Educator Survey: At a Time of Growing Protests, U.S. Teachers Say They Feel Satisfied but Undervalued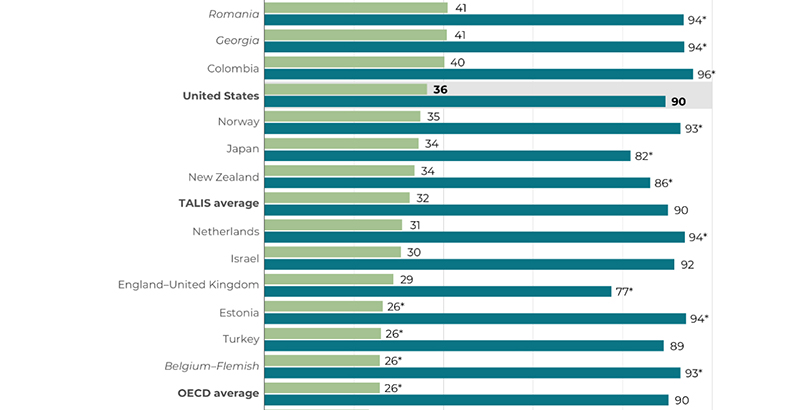 This is the latest article in The 74's ongoing 'Big Picture' series, bringing American education into sharper focus through new research and data. Go Deeper: See our full series.
Teachers in the United States work long hours and feel undervalued by the public — but like their jobs anyway.
Those findings, from an international education survey released Wednesday, offer fodder for all sides of a debate about teacher pay and working conditions that is mobilizing teachers to protest across the country.
The Teaching and Learning International Survey, coordinated by the Paris-based Organisation for Economic Co-operation and Development, surveyed teachers and their principals in 49 industrialized countries, including U.S. teachers and principals involved in grades 7-9. Educators were quizzed on a host of issues, including their backgrounds, professional development and attitudes toward the profession.
Here are five key findings from the report:
1 American Teachers: Satisfied but Undervalued
Despite the recent surge in teacher unrest, 90 percent of U.S. teachers who participated in the survey reported that they're satisfied with their jobs. But another finding offers important shading: Despite the high personal job satisfaction, the survey found that only 36 percent of U.S. teachers believe that society values their work.
That yawning gap is not unique to the U.S. Across countries that participated in the survey, job satisfaction was generally high. Teachers in Mexico reported the highest level of job satisfaction, with 98 percent of educators saying they felt positive about their careers. The lowest rate of job satisfaction was in England, with 77 percent.
U.S. educators also hewed close to the international average on the question of whether they believe society valued their profession. But the results varied widely between the countries: 92 percent of teachers in Vietnam reported feeling valued, compared with 5 percent in the Slovak Republic.
Results from the survey don't speak directly to the recent rise in teacher activism, said Peggy Carr, associate commissioner of assessment at the National Center for Education Statistics, which administered the survey in the U.S. But she said the findings do provide some insight.
"Teachers love their jobs all across the globe," she said, but they also feel undervalued. "There's a message there, I think, that we need to think about."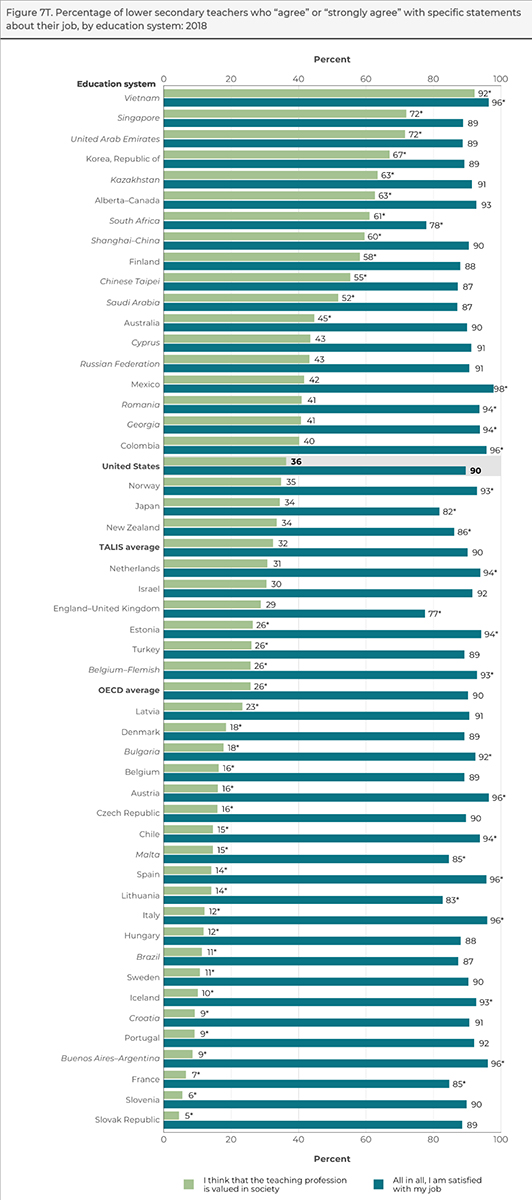 While the surge of recent teacher protests centered largely on education funding and salaries, the international survey didn't touch on those issues directly. But another finding, Carr said, could play a role in educator unrest:
2 American Teachers Work Longer Hours
Educators in the U.S. reported spending more time teaching than those in other countries. U.S. teachers spend an average of 28 hours per week teaching and 46 hours each week at work. Educators across the surveyed countries reported working an average of 38 hours each week, with 20 hours spent teaching.
Educators in Chile also reported teaching an average of 28 hours per week, while those in Kazakhstan reported teaching only an average 15 hours a week. But classroom instruction is only one part of teachers' jobs. When factoring in other duties, like grading and planning, teachers in Japan boasted the longest workweeks, lasting 56 hours on average.
3 U.S. Educators Are Better Educated but Less Experienced
Among U.S. teachers in the survey, 98 percent reported they have a bachelor's degree or higher, compared with an average of 93 percent across the surveyed countries. But teachers in the U.S. are also slightly less experienced. Teachers in the U.S. had 15 years of teaching experience on average, compared with an average of 17 years internationally.
The same held true for principals. In the U.S., 99 percent of participating principals reported they hold a master's degree or higher, significantly greater than the international average of 61 percent. While principals in the U.S. and across the surveyed countries have nine years of leadership experience on average, American principals tend to have less of a background in teaching: 12 years, versus 20 years among their global counterparts.
4 A Global Gender Divide Between Teachers and Principals
In the U.S. and elsewhere, women make up the majority of the teaching workforce. The opposite is true for principals.
Among surveyed teachers in the U.S., 66 percent are female, compared with 69 percent across participating countries. Meanwhile, men comprise just over half of principals in the U.S. and internationally.
5 Teachers in the U.S. Report Little Need for Professional Development
The survey asked teachers whether they needed professional development in 14 separate areas, such as teaching students with special needs, communicating with people from different cultures or countries, and school management and administration. Regardless of the category, however, few American teachers reported a "high level of need" for professional development. The value of professional development in the U.S. remains a major point of controversy. A  2015 study by the nonprofit TNTP found that despite significant spending on professional development, the efforts often fail to help teachers improve in the classroom.
Outside the U.S., educators were more likely to report a high need for professional development on each of the 14 areas. For example, 9 percent of U.S. teachers reported a need for professional development on teaching students with special needs, compared with the international average of 24 percent.
Get stories like these delivered straight to your inbox. Sign up for The 74 Newsletter