Education Department Launches Civil Rights Probes Into Five States Banning District Mask Mandates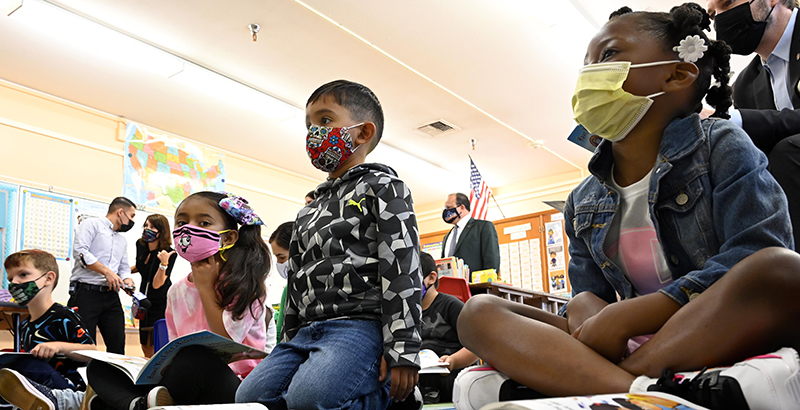 No paywall. No pop-up ads.
Following through on prior warnings, the U.S. Department of Education is opening civil rights investigations into states that prohibit local districts from requiring masks for all students.
The department's Office for Civil Rights on Monday sent letters to five states — Iowa, Oklahoma, South Carolina, Tennessee and Utah — explaining that their policies prevent districts from protecting students that might be at higher risk of health complications from COVID-19 because of a disability.
"It's simply unacceptable that state leaders are putting politics over the health and education of the students they took an oath to serve," U.S. Secretary of Education Miguel Cardona said in a statement. "The Department will fight to protect every student's right to access in-person learning safely and the rights of local educators to put in place policies that allow all students to return to the classroom full-time in-person safely this fall."
The OCR letters, sent to the superintendents in each state, are the latest development in an ongoing, three-way standoff between the Biden administration, Republican governors and districts trying to respond to rising numbers of students testing positive for COVID-19 because of the Delta variant. Districts, especially in Florida and Texas, have moved ahead with mandates regardless of governors' threats to withhold funding.
"Local leaders are not being given the freedom that they want and need right now as those closest to the ground," said Mike Magee, CEO of Chiefs for Change, adding that universal masking, "buys us time to finish the job on vaccination. That's one of the reasons why it's so critical right now."
The organization includes superintendents such as Chad Gestson of the Phoenix Union High School District in Arizona and Pedro Martinez of the San Antonio Independent School District who have defied state laws banning the mandates.
Oklahoma Superintendent Joy Hofmeister anticipated the OCR's action, saying in a statement that officials were not surprised by this civil rights investigation spurred by passage of a state law prohibiting mask requirements in Oklahoma public schools.Her department, she said, will "fully cooperate."
The U.S. Department of Education said OCR did not send letters to Texas, Florida, Arkansas and Arizona. Governors in those states have also banned local mandates, but the courts have intervened, temporarily suspending the bans on universal masking.
In Florida last week, a Leon County county judge ruled for a group of Florida parents that sued over Gov. Ron DeSantis's ban on local district mask mandates. And in Texas, a judge has ruled that Gov. Greg Abbott overstepped his authority and that some districts should be allowed to require masks. But the state's attorney general quickly appealed, leaving districts in further limbo.
On Tuesday, the South Carolina Supreme Court is scheduled to hear two lawsuits filed over the state's ban, and Superintendent Molly Spearman has urged the legislature to reconsider it. On Aug. 18, she sent districts a letter stating that mandates might be necessary for those teaching or coming in contact with medically fragile or immunocompromised students.
"The [department] is particularly sensitive to the law's effect on South Carolina's most vulnerable students and are acutely aware of the difficult decisions many families are facing concerning a return to in-person instruction," according to a statement.
Cardona has said publicly that he's concerned some parents might not send their children to school if masks aren't required, and President Joe Biden on Aug. 18 authorized the secretary to use the "enforcement authority" of OCR.
The fact-finding process will focus on what is known as Section 504 of the 1973 Rehabilitation Act, which protects students from discrimination because of their disability and guarantees them the right to a free and appropriate public education. The agency will also look at whether the states are violating the Americans with Disabilities Act, which requires public buildings, including schools, to accommodate those with disabilities.
Get stories like these delivered straight to your inbox. Sign up for The 74 Newsletter