DeVos Releases Title IX Campus Sexual Assault Rule, Courting Controversy Amid Coronavirus Pandemic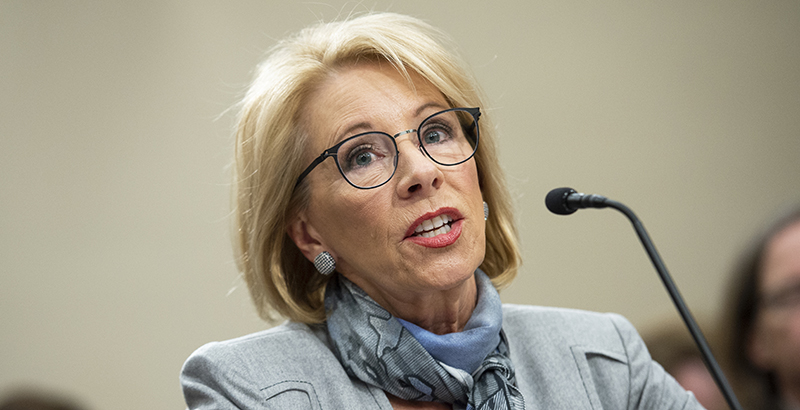 Education Secretary Betsy DeVos released a new rule Wednesday on how K-12 schools and colleges must address campus sexual misconduct, bolstering protections for accused students as the department seeks to combat abuse "without abandoning fairness."
The regulations, which go into effect in August, make wide-ranging changes to schools' obligations under Title IX, the federal law prohibiting sex discrimination in education. Among them, institutions will be allowed to choose the legal standard that officials should use while investigating complaints. The rule, first proposed in November 2018, generally requires more evidence to determine whether sexual misconduct occurred and limits the situations in which institutions are required to act. The changes also narrow the definition of sexual harassment, requiring schools to intervene only if an incident is "so severe, pervasive and objectively offensive" that it denies a student access to an education.
The changes recognize that "we can continue to combat sexual misconduct without abandoning our values," DeVos said on a call with reporters. Though sexual assault is often seen as primarily a higher education issue, DeVos emphasized the rule's importance to K-12 students and its role in combating incidents involving school staff. "We are making sure our youngest students — who often get overlooked in discussions of this topic — are no more forgotten."
Though the rule has stirred a fierce debate among policymakers and advocates for more than a year, the timing of its release — while campuses nationwide are closed due to the coronavirus pandemic — has been criticized by Democrats and women's rights groups. But DeVos, who called COVID-19 the "invisible viral enemy," said the time for change is now, while students are away from campuses.
"Civil rights really can't wait, and students' cases continue to be decided" despite the campus closures, she said. "We've been working on this for more than two years, so it's not a surprise to institutions that it was coming."
But Reps. Bobby Scott and Jerrold Nadler, both Democrats, accused the department of pushing through the rule "instead of focusing on helping students, educators and institutions cope" with the pandemic. Meanwhile, the rule "creates new barriers to justice" for survivors while creating a burden of proof that is more stringent than is standard for civil rights laws "and will be particularly difficult to meet given the nature of many sexual misconduct cases." Scott is chairman of the House Committee on Education and Labor, and Nadler serves as House Judiciary Committee chairman.
The new rule has been a top priority for DeVos since she took the helm at the department and could become a defining part of her legacy as education secretary. In 2017, DeVos rescinded Obama-era guidance on the issue, which called on schools to better investigate sexual violence reports and required educators to use a "preponderance of the evidence" standard in investigations, rather than a higher "clear and convincing" standard. The news comes less than a week after Joe Biden, the presumptive Democratic nominee for president and the vice president during the Obama administration, denied allegations that he sexually assaulted a former Senate staffer in the early 1990s, saying that the alleged attack "never happened." More than two dozen women have accused President Donald Trump of sexual misconduct dating back to the 1970s — allegations he denies.
Under the new rule, schools are allowed to choose between the two evidentiary standards so long as the approach is applied across all cases. It also requires colleges to hold live hearings where students accused of misconduct are allowed to submit, cross-examine and challenge evidence. Such hearings aren't required at the K-12 level. While women's rights groups argue that the rule could stifle victims' willingness to come forward with complaints, DeVos has highlighted a need to protect the due-process rights of those accused of misconduct.
The Obama-era guidance "simply was not working," DeVos said. "It was a failed approach; we had kangaroo courts and an unreliable process."
Though the new rule is largely unchanged from draft regulations proposed in late 2018, DeVos said officials made several modifications that reflect public feedback. After the proposed regulations were released, the department received more than 120,000 formal comments.
Under the final rule, K-12 school officials are required to respond if any school employee is given notice of sexual harassment. That's a critical departure from the draft regulations, which sought to narrow the group of school officials responsible for responding to misconduct allegations. Responding to questions from The 74, DeVos said it was important for the department to consider the role age plays in how students report misconduct to school officials. Kenneth Marcus, the department's assistant secretary for civil rights, elaborated on the point, noting that younger children "may not know who to go to" with complaints.
"We want to make it clear that if a student or a parent reports a problem of this sort to any elementary or secondary school employee, this will be considered notice to the school as a whole," Marcus said. "That includes teachers as well as principals. It includes bus drivers and cafeteria workers and guidance counselors."
Among those who cheered the rule was Republican Sen. Lamar Alexander, the Senate education committee chairman, who said the rule will help schools better understand their responsibilities under the law. They also offer a fair approach for victims and students accused of misconduct, he said in a statement.
"The rule ensures victims get the support they need to change classes or dorms if they allege they have been sexually assaulted or sexually harassed and the rule ensures the victim and the accused get a fair hearing to resolve such allegations," Alexander said.
Robert Shibley, executive director of the Foundation for Individual Rights in Education, said in a statement that the rule is a victory for free speech and due-process rights because it offers students a presumption of innocence.
Advocates for sexual misconduct survivors, however, were quick to attack the final regulations.
Arthur Evans, CEO of the American Psychological Association, said in a statement that the rule "lacks the foundation of psychological research and science needed to address acts of sexual misconduct." Evans took aim at the department for creating an "adversarial system of resolving complaints similar to legal proceedings" and for making school officials responsible only for complaints that occur on their property or during school events such as field trips and academic conferences.
The nonprofit Stop Sexual Assault in Schools announced a plan to "undertake a court challenge to ensure that K-12 students have fair and effective Title IX guidance." The group has been critical of the regulations since the draft rule was first released. The new rule could make it more difficult for students to come forward and report allegations to school officials, the group said in a news release. The National Women's Law Center also threatened a lawsuit, accusing DeVos of being "dead set on making schools more dangerous for everyone — even during a global pandemic."
But DeVos said the new rule offers a level playing field for everyone.
"I'm a mother and a grandmother, of girls and of boys," she said. "My insistence as we went through this process was that we develop a rule that meaningfully addresses sexual misconduct and treats all students fairly."
Get stories like these delivered straight to your inbox. Sign up for The 74 Newsletter