DeVos on the Campaign Trail: In the Closing Hours of the Presidential Race, How Trump's Secretary of Education Became a Key Surrogate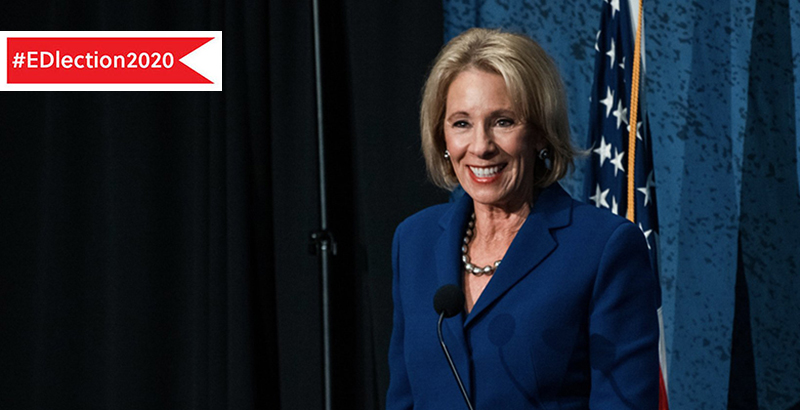 Originally published to The 74's EDlection Liveblog on Election Night. See our complete coverage of 50 key education votes right here.
Like many members of Donald Trump's cabinet, Education Secretary Betsy DeVos has not shied away from politicking for her boss.
She planned a "Moms for Trump Rally" in her native Michigan and took to Fox News to excoriate Democratic contender Joe Biden for his "shameful" embrace of choice-averse policies held by the national teachers unions.
And in an unusually incendiary recent speech that flew below the radar of most media, she offered plenty of "red meat" that would have gone down well at any Trump rally.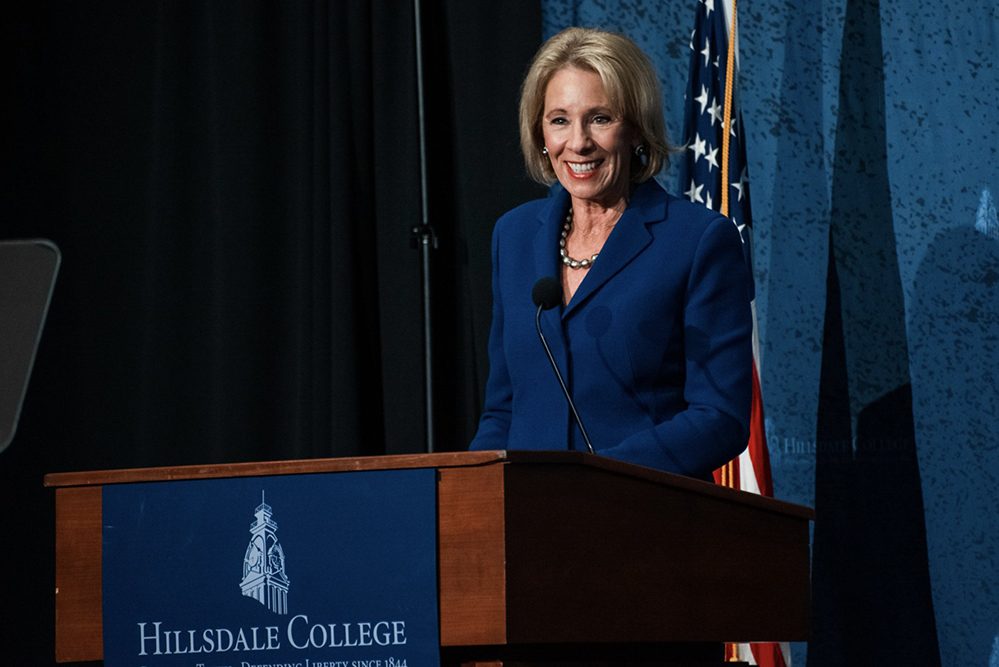 At Hillsdale College, a conservative Christian school in Michigan, she spoke on the state of the country: "America's cities ablaze today witness a failure to teach the things that make the American experiment work.
It's ignorant to hate capitalism when you don't really know how communism hasn't worked. It's ignorant to hate freedom, when you don't really know how tyranny hasn't worked.
So, the unholy mob thinks our economies need redistributing. It thinks our Constitution needs rewriting. It thinks our families need restructuring. One prominent group was explicit about its desire to 'disrupt the Western-prescribed nuclear family structure.'
That's taken right from the old Marxist playbook."
On today's youth: "Too many today—especially among our rising generation—don't seem to understand the dangers of such a view. They somehow have come to believe that socialism is the cure, not the deadly disease it really is.
Tragically, it's because no one has taught them differently. And worse, some have been indoctrinated to believe not in themselves, but in government."
On her job: "I assume most of you have never stepped foot inside the U.S. Department of Education. And I can report, you haven't missed much. These past few years I've gotten a close-up view of what that building focuses on. And let me tell you, it's not on students.
It's on rules and regulations. Staff and standards. Spending and strings. On protecting 'the system.' 40 years later, taxpayers have spent more than one trillion dollars at the Federal level alone trying to "fix" K-12 education. The 'results' speak for themselves."
It was no-holds-barred.
While it may seem unusual for a sitting secretary to say, "I'd like to work myself out of a job," it's a reminder that four years ago Trump ran on a promise to "drain the swamp." Whatever your feeling is about that idea — or whether the president has followed through on it — official Washington has taken notice.
As my colleague Linda Jacobson reported last week, DeVos has been sued more than any education secretary — 455 times, or the equivalent of once out of every 3 days of her tenure. The reason? Mileage varies. But according to a DeVos spokesperson, the culprits are "the radical left and education establishment" — eager, in her words, to protect "their grip on power."
Get stories like these delivered straight to your inbox. Sign up for The 74 Newsletter