Democracy Prep Founder Pleads Guilty in Fraud Scheme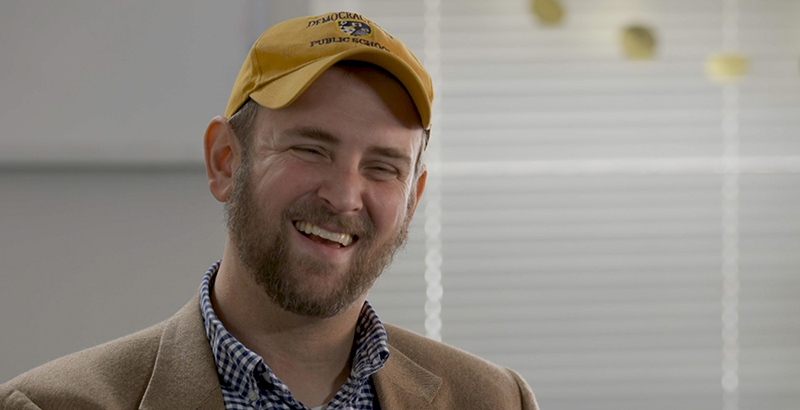 Get stories like these delivered straight to your inbox. Sign up for The 74 Newsletter
Seth Andrew, founder of a sprawling charter school network and a former Obama administration official, pled guilty in federal court Friday to one of wire fraud. The charge was in connection to a plot to steal more than $200,000 from Andrew's own Democracy Prep schools.
Andrew has agreed to pay restitution to Democracy Prep. He could face up to 20 years in prison when he is sentenced on April 14. 
By that time, nearly a year will have passed since the school reform giant was first arrested and charged with fraud, money laundering, and making false statements to a bank. Prosecutors from the U.S. attorney's office for the Southern District of New York accused Andrew of misappropriating the money in order to secure a better mortgage rate for a million-dollar Manhattan apartment.
"Seth Andrew, a former White House advisor, admitted today to devising a scheme to steal from the very same schools he helped create," said U.S. Attorney Damian Williams in a statement. "Andrew now faces time in federal prison for abusing his position and robbing those he promised to help." 
Andrew first launched Democracy Prep in 2005 at a single middle school in Harlem. The fledgling charter gained interest from families — and powerful political allies, such as then-U.S. Rep. Charles Rangel — through its curricular focus on civics instruction and democratic engagement. In a little over decade, his brainchild had expanded to campuses across New York, New Jersey, Louisiana, Texas, Washington, D.C., and Nevada. 
As their enrollment grew to over 6,000 students system-wide, the schools earned praise for their academic performance and impressive record of sending graduates to college. Additionally, a 2018 study from the Mathematica research group found that Democracy Prep students were much more likely to vote, and to be registered to vote, than otherwise similar peers.
Andrew left the organization in 2013 for a position in the U.S. Department of Education. But he remained a brand ambassador for Democracy Prep, seldom spotted in public without his yellow cap bearing the network's logo. 
He was photographed in that hat in security footage from one of the banks where he improperly withdrew funds from three Democracy Prep school accounts. By New York state law, every charter school must maintain substantial funds in escrow in the event that they are unexpectedly forced to dissolve. 
In a statement provided to The 74, Andrew's attorneys, Tim Doherty and Edward Kim, said that their client had "worked tirelessly to expand educational, democratic, and technological opportunity to disenfranchised communities around the world."
"Seth's life has always been motivated by a civic mission, and he deeply regrets his past mistakes. He has, with courage, accepted responsibility for them. With the help and support of his family and loved ones, Seth looks forward to deepening his commitment to service and innovation in the next chapter of his life."
In an email, a Democracy Prep spokesperson wrote that Andrew "will make full restitution to our institution for all of the money he stole. We are glad that this sad chapter is over and thankful to the authorities for their hard work on this case."
Get stories like these delivered straight to your inbox. Sign up for The 74 Newsletter