Charter Founder Seth Andrew Charged with Stealing over $200,000 from Civics-Focused Network He Created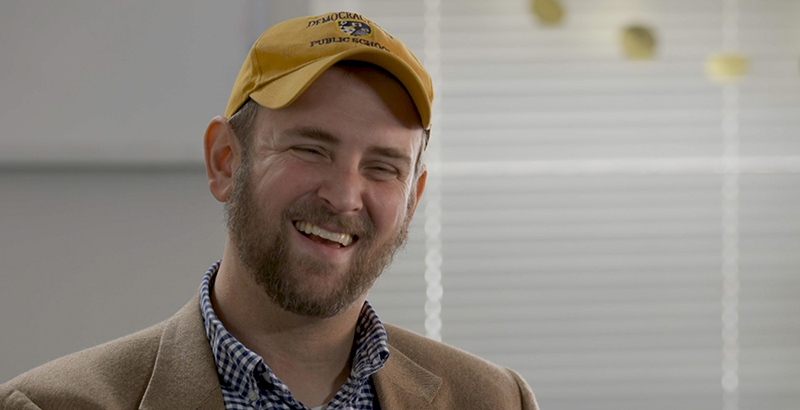 Get essential education news and commentary delivered straight to your inbox. Sign up here for The 74's daily newsletter.
Seth Andrew, a giant in the world of education reform and former official in the Obama White House, was accused in federal court Tuesday of stealing over $200,000 from Democracy Prep, the nationally prominent network of civics-focused charter schools that he founded.
Andrew faces charges of wire fraud, money laundering, and making false statements to a bank, according to the U.S. attorney's office for the Southern District of New York. Prosecutors claim that the alleged theft was perpetrated in order to inflate a bank balance that allowed Andrew to secure a better mortgage interest rate for the $2.37 million Manhattan apartment he purchased in 2019.
Andrew's attorney, Michael Yaeger, told The 74 in an email that his client was reviewing the complaint against him and would plead not guilty. He was released on $500,000 bond following an initial appearance Tuesday in a Manhattan courthouse. Andrew did not respond to a request for comment.
Andrew and his collaborators launched the first Democracy Prep middle school in Harlem in 2005 with a curricular focus on civic and democratic education. Powered by federal grants designed to accelerate charter growth, the network swiftly grew to educate roughly 6,500 students across campuses in New York, New Jersey, Louisiana, Texas, and Nevada.
But the network also faltered when Andrew left to join then-President Obama's Office of Education Technology. After a few years of poor academic performance, its school in Washington, D.C., closed in 2019; the same year, faced with lower-than-expected enrollment across multiple locations, then-CEO Katie Duffy announced that "significant deficits" would force Democracy Prep to make cutbacks.
In an email to families and staff on Tuesday, Natasha Trivers — who replaced Duffy in 2019 — wrote that Andrew's alleged actions were "a profound betrayal of all that we stand for and to you and your children, the scholars and families that we serve."
It appears that Trivers played a role in informing federal authorities of the crimes; she added in the email that since her ascension to the network's leadership, "Democracy Prep has instituted a series of financial safeguards that led directly to the discovery of Seth's unauthorized withdrawals." Though the facts of the case are still ambiguous, that aside echoes a claim made on Twitter by her father, noted evolutionary biologist Robert Trivers, who wrote that his daughter "caught" Andrew. Natasha Trivers did not respond to a request for comment.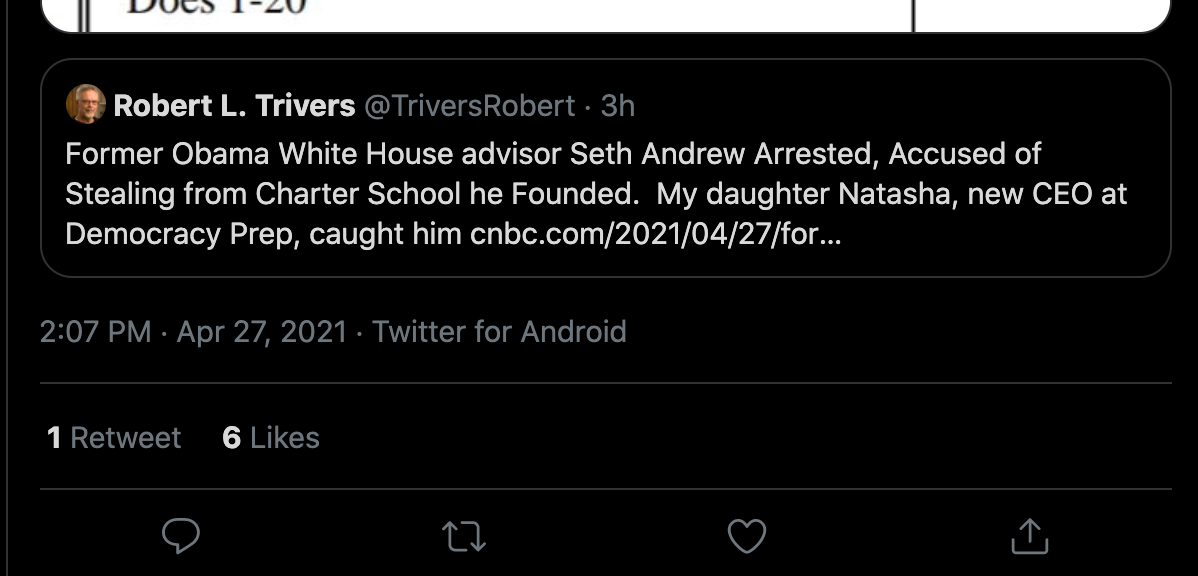 The tweet has since been deleted.
Andrew maintained a complicated relationship with the charter organization after stepping down as its leader in 2013; he retained a role as head of Democracy Builders, a sister nonprofit focused on launching new educational projects centered on activism and civics, while at the same time retaining a Democracy Prep email address that law enforcement officials say he used to carry out the alleged fraud.
In a 14-page complaint unsealed Tuesday morning, Andrew is accused of stealing $218,000 in March 2019 from assorted escrow accounts that Democracy Prep maintained under state law in the event that any of its schools were forced to dissolve. Andrew placed a substantial portion of the money in a newly created account at another bank, which itself was loaning him a $1.8 million mortgage to buy a Manhattan home, prosecutors claim; by using the misappropriated funds to keep a substantial balance there, he could have benefitted from a discounted interest rate.
The affidavit includes a photo of a figure alleged to be Andrew — wearing a yellow hat that is ubiquitously associated both with him and the school— in the offices of the bank where one of the school's escrow accounts was closed.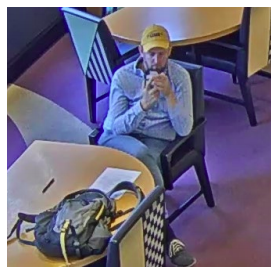 "Locking into the lowest interest rate when applying for a loan is certainly the objective of every home buyer, but when you don't have the necessary funds to put down, and you steal the money from your former employer to make up the difference, saving money in interest is likely to be the least of your concerns," Assistant FBI Director William F. Sweeney. Jr. said in a statement. "We allege today that Andrew did just that, and since the employer he stole from was a charter school organization, the money he took belonged to an institution serving school-aged children."
Since ending his formal relationship with the network in 2017, Andrew has kept active largely through his work with Democracy Builders. Last year, after previous attempts to buy a college campus, the organization succeeded in purchasing Marlboro College, a financially distressed institution in Vermont that Andrew intended to use in a unique higher education offering for first-generation and economically disadvantaged students. In March, an attempted resale of the property failed even as Degrees of Freedom prepared for its first fall sessions.
Tuesday's arrest is a stunning development that will no doubt shape how Democracy Prep and its founder are viewed. One of a generation of high-performing charter schools begun in New York City during the tenure of Mayor Michael Bloomberg, Democracy Prep made its name by focusing not only on academic rigor and college readiness, but also on preparing its students as participants in democracy. Students receive years of civics and history instruction and must show mastery of a wide variety of civic skills, including passing the U.S. citizenship test, participating in get-out-the-vote drives, and lobbying politicians.
The results have been lauded by education experts and won the network the support of well-placed friends in both politics and education policy. According to a study by the research group Mathematica, Democracy Prep graduates were 12 percentage points more likely to vote — and 16 points more likely to be registered — than their peers in the 2016 presidential election. Democracy Prep schools in New York also saw some of the city's best standardized test scores and boasted impressive levels of college enrollment for graduates.
In an interview with The 74 in 2019, Andrew said that the mission of the network was more necessary than ever, arguing that democratic engagement "needs to be refreshed every generation."
"Democracy Prep is not 'Generic Prep.' It's specifically Democracy Prep for a reason. The reason we have public schools is to educate citizens for democracy. I think every school should have a civic purpose; ours is just more explicit about it than most."
Get stories like these delivered straight to your inbox. Sign up for The 74 Newsletter