Cory Booker and Charter Schools: Before the New York Times Essay, What the Senator Has Said — and What Research Has Shown — About His Education Track Record in Newark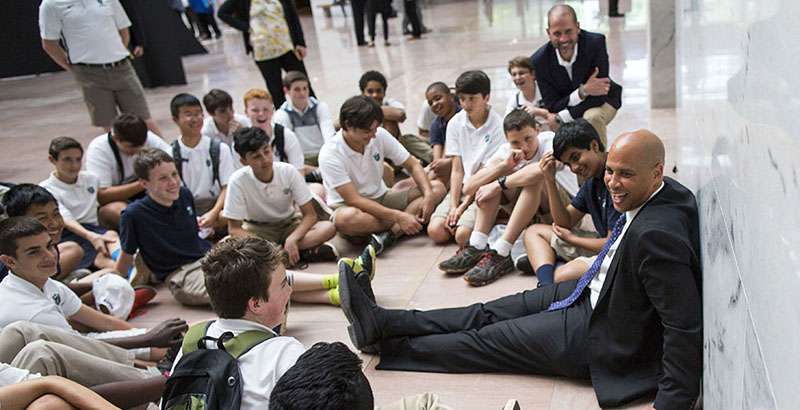 Senator Cory Booker surprised education and political pundits alike Monday morning with an essay in The New York Times that addressed both public charter schools and a divide within the Democratic Party over education policy, drawing a clear distinction between him and several of his top rivals vying for the 2020 presidential nomination.
"The treatment by many Democratic politicians of high-performing public charter schools as boogeymen," he wrote Monday in the Times, "has undermined the fact that many of these schools are serving low-income urban children across the country in ways that are inclusive, equitable, publicly accountable and locally driven."
He went on to note: "As a coalition, we have to acknowledge that our goals for federal education funding will continue to face serious political opposition. Supporting well-regulated public charters, in the meantime, is a meaningful complementary solution."
Over the past two years, The 74 has published an array of interviews, articles and research summaries on the state of Newark's schools and how Booker's reforms went on to shape student outcomes. For those now just catching up on his record after the Times essay, a handful of links that offer some added context: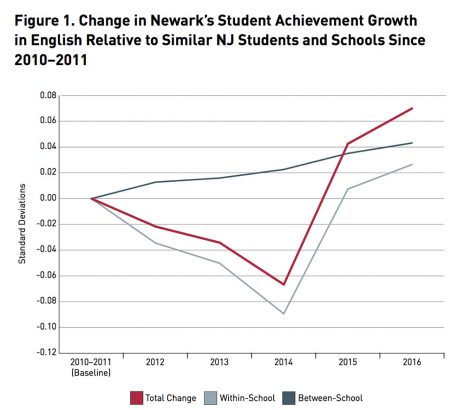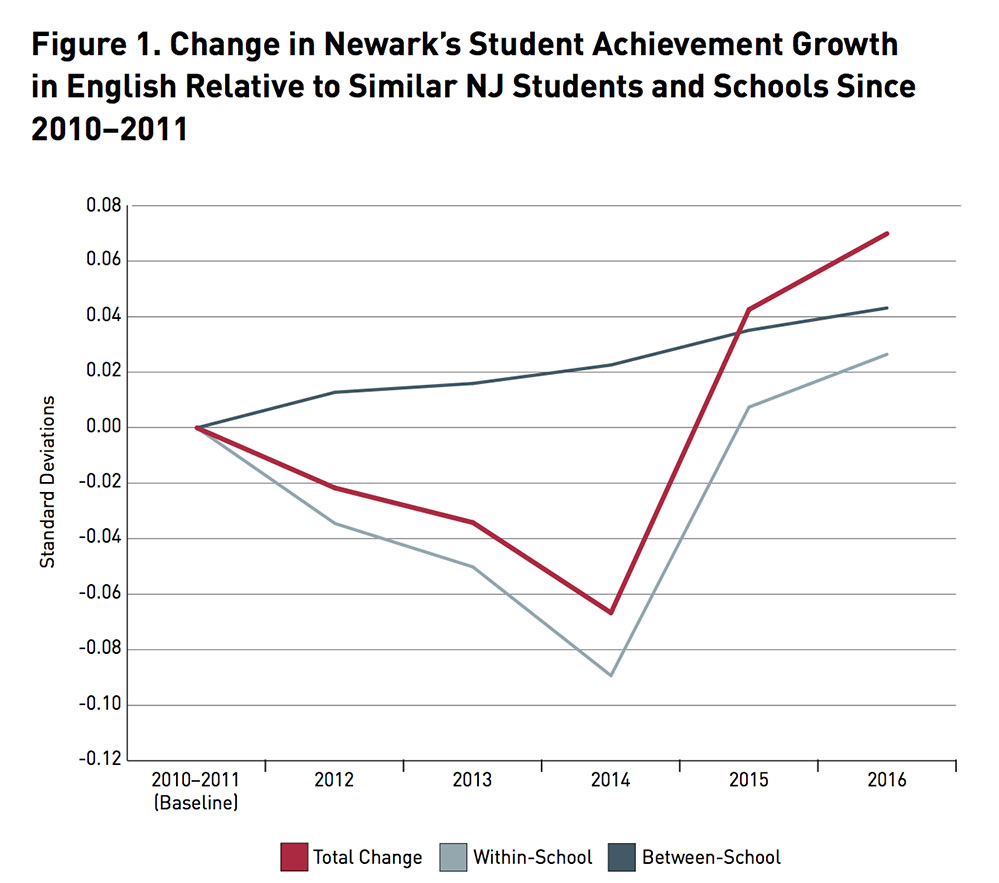 A First Study on Newark Reforms: In the fall of 2017, David Cantor reported on the first quantitative review of Newark's reforms. Among the preliminary findings, students in both traditional and charter schools made larger gains in English in 2016 than in 2011; math gains were flat. Nearly two-thirds of the gains derived from more students moving to better schools — "enrollment shares following school effectiveness," as Harvard's Tom Kane put it — largely because their low-performing schools closed or they enrolled in a charter. (Twelve of 14 schools that closed ranked below the state's average, driving students to more effective schools, while the charter population rose from 14 percent to 28 percent of the district.) You can read the full analysis of the 2017 findings right here.
Cory Booker — 'I Don't Care If That's a Charter School or a Traditional District School': Last fall, The 74 published an extensive interview with Booker on Newark's school system. Contributor Laura McKenna broke out notable highlights in a popular September feature. Among Booker's reflections: "Let's get out of this idea that charters are bad or good or traditional district schools are bad or good. I'm a big believer in great schools, and every kid should have public access to them … I believe that any child born in any zip code in America should have a high-quality school, and I don't care if that's a charter school or a traditional district school. If it's a bad school, I'm going to fight against it just like I supported charter school closures in Newark that weren't serving the genius of my kids." See other top highlights from the conversation.
The Full Transcript — 'I've Never Seen Such a Disconnect Between a Popular Understanding and the Data': The 74 also published the full transcript of McKenna's interview last year, during which the senator touched on everything from Mark Zuckerberg's famous donation to the city to how Booker came to identify schools as a top priority and the latest research surrounding Newark's education gains: "I've never seen such a disconnect between a popular understanding and the data … If I went back in time and sat down with people and said, OK, we're about to endeavor into something that's going to raise graduation rates 20 percent, something that's going to raise matriculation rates dramatically, that we're about to go through a process where a black kid in our schools — which are, a majority of our population is African-American, and on top of that, the black kids tend to be in the lowest-performing schools — that an African-American kid's chances of going to a high-performing school that beats the suburbs will go up 300 percent, if I was to tell you that we would get these awards, that … the University of Washington would rank us as a No. 1 school system in America, to have beaten the odds with schools that are high-poverty, high-performance, that we would distinguish ourselves as the second-best-performing charter city in all of America, that we would have PARCC scores that beat every single state in the nation … if I said that all those things will be possible, I promise you that if I told people we would accomplish that in eight years, everybody would have said that's impossible to achieve. I can find no other urban district with high poverty — with high numbers of kids who qualify for free school lunches — that has shown this kind of dramatic shift in a 10-year period." Read the full 2018 transcript with Booker.
2019 Research on Student Gains During Booker Era: A study released earlier this year showed that academic performance in New Jersey's biggest city saw huge improvements beginning in 2006, when now-Senator Booker was elected mayor and initiated a slate of ambitious reforms. As Kevin Mahnken reported, "Both traditional public schools and charter schools — the expansion of which was a major component of Booker's agenda — saw significant growth over a 12-year period." The analysis drew on math and reading test scores for students between grades 3 and 8, including both New Jersey's NJ ASK assessment and PARCC, which the state adopted in 2015. Over the 13 years under examination, researchers found steady improvement among Newark schools compared with New Jersey schools as a whole, and much more substantial growth compared with other low-income areas in the state. Read our full report on the study.
A New Culture of District-Charter Collaboration: Years after Booker stepped away to federal office, contributor Richard Whitmire profiled the ongoing collaboration between Newark Public Schools and Uncommon Schools, which operates the standout North Star Academy Alexander Street school. Following reports of impressive student scores at Alexander Street, the city's superintendent reached out for help in developing a catch-up literacy program aimed at struggling rising second-graders at other schools in the city. Implementing that program in other classrooms results in reading score gains. Read Whitmire's full profile of the program.
Get stories like these delivered straight to your inbox. Sign up for The 74 Newsletter