Child Psychologist Picked to Replace Divisive Buffalo School Board Member Carl Paladino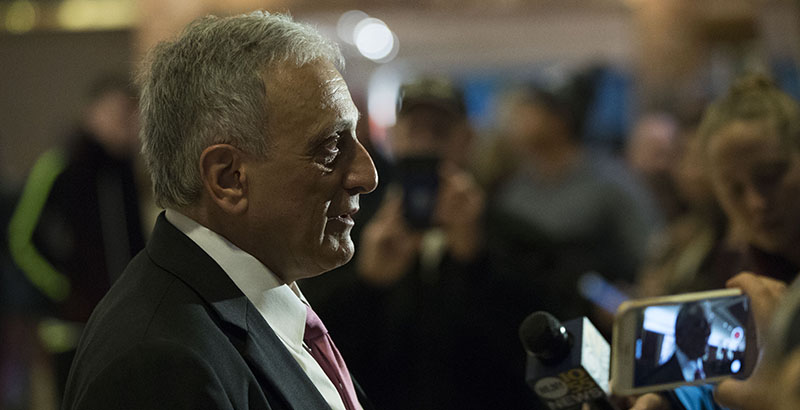 A vacancy on the Buffalo, New York, school board will be filled by pediatric psychologist Catherine Flanagan-Priore, who was selected Monday to replace Carl Paladino, a brash real estate mogul and campaign surrogate for President Trump who was ousted from his seat last month. She will be sworn in on Wednesday.
The board, which is often deeply divided, voted unanimously to approve Flanagan-Priore, The Buffalo News reports. After receiving 19 applications and conducting 15 interviews, the board selected her over former school board members Louis Petrucci and Donald Van Every, as well as Austin Harig, who challenged Paladino in last year's election while still a high school senior.
Flanagan-Priore did not respond to telephone calls from The 74 requesting comment.
In her public interview with the board last week, The Buffalo News reports, Flanagan-Priore emphasized the need to improve early childhood literacy, raise high school graduation rates — and bring charter school students back to district schools. Along with 69 public district schools, according to the district website, Buffalo has 17 charter schools. About 18 percent of students in the city's district schools were proficient in reading this year, and about 17 percent were at grade level or higher in math.
Since Kriner Cash became superintendent in 2015, the district has launched a "new education bargain" focused on implementing rigorous education in the early grades, establishing community schools and innovative high schools, bolstering parent engagement, and improving the district's often rocky relationship with teachers.
(More from The 74: Kriner Cash says he can fix Buffalo's broken schools. Should we believe him?)
New York Education Commissioner MaryEllen Elia removed Paladino from the school board in August, citing violations of the state open meetings law. The months-long state investigation found that Paladino had disclosed confidential information about district contract negotiations with the city teachers union, though public calls for his ouster centered largely on racist comments he made about then-President Barack Obama.
Adding to a history of controversial statements, Paladino told a local magazine in December that his greatest wish for 2017 is that Obama dies after he "catches mad cow disease after being caught having relations with a Hereford," and that then–First Lady Michelle Obama returns "to being a male and let loose in the outback of Zimbabwe where she lives comfortably in a cave with Maxie, the gorilla."
Paladino launched an unsuccessful bid for New York governor in 2010 against Democrat Andrew Cuomo, and he told The 74 earlier this year that he's strongly considering another run.
Paladino filed an appeal Monday against Elia's ruling, according to The Buffalo News, but just hours before the school board vote, a state supreme court justice denied his request to block the board from filling his seat. Approving his replacement while the appeal is pending, Paladino's attorney argued, could cause complications should Paladino win the case.
(The 74: Paladino under fire again, but racist comments are nothing new for Buffalo school board member)
Get stories like these delivered straight to your inbox. Sign up for The 74 Newsletter