Paladino Under Fire Again, but Racist Comments Are Nothing New for Buffalo School Board Member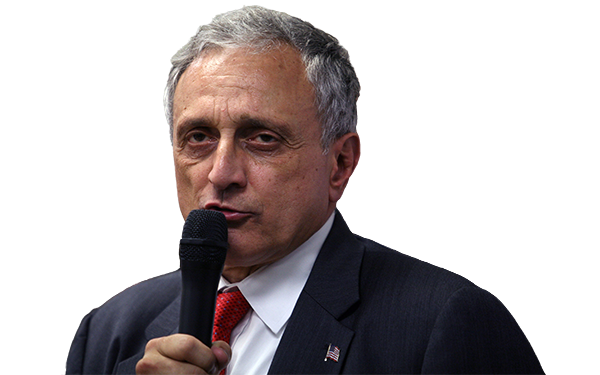 Brash real estate mogul Carl Paladino is still a sitting member of the school board in Buffalo, N.Y. — at least for now — but he could well have lost his seat on the Trump train.
On Thursday, the former Republican gubernatorial candidate — who co-chaired President-elect Donald Trump's New York campaign and
told The 74
in October that he doesn't disagree with Trump on anything — was missing as a co-chair of a $5,000-a-plate transition team fundraiser. The New York
Daily News
reported
that Paladino had been shut out because of racist remarks he made in a local weekly newspaper. (The transition team did not respond to a request for comment.)
Paladino told
Artvoice
his greatest wish for 2017 is that President Barack Obama dies after he "catches mad cow disease after being caught having relations with a Hereford" and that First Lady Michelle Obama returns "to being a male and let loose in the outback of Zimbabwe where she lives comfortably in a cave with Maxie, the gorilla."
It was not the first time Paladino has made racist statements in public.
Trump's transition team
called the comments
"absolutely reprehensible," and Paladino released a statement apologizing to "the minority community." Still, in a telephone interview with The 74 on Wednesday, he said the
Daily News
article was "concocted." When asked about his involvement in Trump's transition, he said, "It's none of your business."
And while he said he is "highly supportive" of Trump's school choice policies, he's not interested in an administration post.
"I think you'll recognize that if you'll look at the big picture that, you know, my ability to be me and comment and act on behalf of major change in education is better served where I am right now," he said, referring to a school district where 70 percent of students are minorities and just 16 percent read at grade level. "I don't need the limitations of a job. A job in government limits you. I'm not the kind of person you can limit."
That freedom "to be me and comment" led the Buffalo school board last week to demand Paladino's resignation and to seek his ouster by New York State Education Commissioner MaryEllen Elia. The process could take almost a year.
In the meantime, some of Paladino's more notorious statements:
Support The 74's year-end campaign. Make a tax-exempt donation now.