Chan Zuckerberg Initiative Pledges $1 Million to Train Teachers About Neuroscience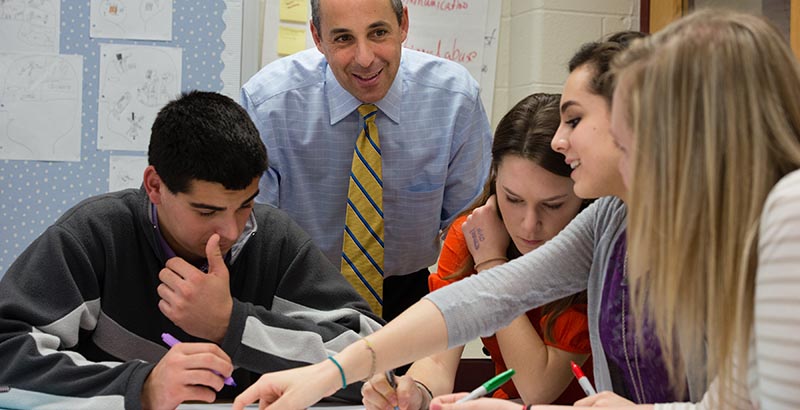 The Chan Zuckerberg Initiative (CZI), one of the biggest players in education philanthropy, has announced a major new financial commitment to the study of how students learn.
The organization, led by billionaire Facebook founder Mark Zuckerberg and his wife, Priscilla Chan, will spend $1 million to aid the expansion of Neuroteach Global, a professional development tool for teachers. The online platform dispenses 3-to-5-minute lessons on classroom strategies backed by the latest research on neuroscience and psychology. The grant will fund the adoption of Neuroteach by teachers in Iowa, Colorado, and Maryland.
Neuroteach was developed by the Center for Transformative Teaching and Learning, a research group based at St. Andrew's Episcopal School in Potomac, Maryland. The exclusive academy, where high school tuition runs nearly $42,000 per year, is unique in more than just its cost. It is the only school in America hosting an on-site scientific body to study how its pupils learn and reason. Its most famous charge is none other than First Kid Barron Trump.
In an interview with The 74's Carolyn Phenicie earlier this year, Center director Glenn Whitman said that studying the human brain's acquisition of knowledge would benefit teachers and students everywhere.
"If we were just serving private schools, it wouldn't be worth our time," he said. "Yes, our students are excellently served and our faculty is really enriched and challenged, but we feel strongly … that we have to have a strong public purpose to serve teachers in all sectors."
In just a few years of existence, CZI says it has donated more than $300 million to schools and education programs around the country. That includes $7 million each given to the Learning Policy Institute and Turnaround for Children, which are both active in spreading awareness about brain science and its implications for education policy and practice.
Many experts believe that schools base their instruction on the latest scientific research into brain functions such as memory and metacognition. While psychologists are fluent in such concepts, teachers seldom receive any formal training relating to neuroscience. To the contrary, research shows that many laymen tend to put stock in spurious or outmoded ideas of how children learn, which can give rise to questionable classroom practices.
Noted University of Virginia academic Dan Willingham recently called for wholesale reforms to teacher training programs to integrate more lessons from child psychology, while Center for American Progress education fellow Ulrich Boser has lamented the disconnect between the fields.
"I think at a very high level, education does a great job of siloing," Boser said in an interview with The 74 last year. "So we see this in schools, where the finance department tends not to speak to the academic departments, and I think we see this a lot in education schools."
Support The 74's year-end campaign. Make a tax-exempt donation now.