At Barron Trump's New School, an Emphasis on Brain Science and a Push to Share Its Breakthroughs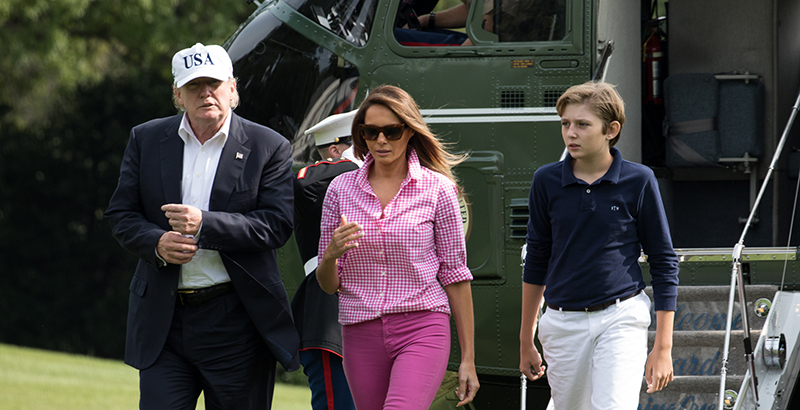 Updated, Feb. 22, 2018
Barron Trump, President Donald Trump's youngest child, began school this week at St. Andrew's Episcopal, where he'll be getting more than just the basics.
The tony school in Potomac, Maryland, houses the Center for Transformative Teaching and Learning, the only school-based center for mind-brain-education science in the country. It's a rapidly growing multidisciplinary field that aims to translate new developments in neuroscience and psychology into better classroom practices. At the St. Andrew's center, officials are working to share its mission, knowledge, and new brain-focused education research in ways that go far beyond its 580 students.
St. Andrew's brain science program began in 2007, when school leaders were looking for new ways to improve teaching, said Glenn Whitman, the center's director.
"When we finally did some surveying of our faculty, we found this pattern of, very few of us, less than 30 percent, had had any formal training in the organ of learning, the brain," he said. Now, every St. Andrew's teacher gets three days of mind, brain and education science training.
Teachers enjoy their work more, Whitman said, and students are taught research-backed strategies for better learning. Some students help lead the center's work: it's located in the middle of the school, after all.
St. Andrew's opened in 1978, relatively recently as compared with other prominent private schools in Washington. It has two campuses educating students from pre-K through 12th grade. Tuition at the high school is over $40,000 annually; famous alumni include Pierre Omidyar, the founder of eBay, and the actress Whitney Cummings.
School leaders wanted to expand the center's work, so in 2011 they began collaborating with preeminent brain science researchers at nearby Johns Hopkins University in Baltimore. That same year, the center formally launched as a conduit between researchers and schools.
"We knew unless we're in partnership and collaboration with the university researcher, we can only do so much," Whitman said.
The center's approach, which cuts down the timeline from research to classroom, is unique, said Kelly Fisher, executive director of the Science of Learning Institute at Johns Hopkins.
Usually, "the translation pipeline is very long and tedious, and we often don't see impact on the ground," but the St. Andrew's center takes small nuggets of research that could have an impact on the classroom and helps teachers create action plans.
"That's a novel translation step that we haven't seen before," she said.
The center has truly taken off: "Think Differently and Deeply," a publication that offers quick snippets of research information for teachers, has circulated more than 10,000 copies each of two editions, Whitman said. The center also won an international award in the field last year.
And this summer, it offered its first Leadership Academy, a weeklong seminar for more than 150 teachers from five countries and 20 states, with curriculum developed with the Johns Hopkins researchers.
"We pinch ourselves, because we had no plan, and we've let this thing emerge organically," said Whitman, who also does some travel to train teachers at their schools. "There's such a yearning from teachers and school leaders to try and figure this out."
Educators might learn, for example, about new research surrounding memory. Studies on the "spacing effect" show greater learning happens when studying is spread out. That would indicate that flashcards, long a staple (that most kids use incorrectly, Whitman said, by flipping them over before really trying to think of the answer) might not be the best option for retaining information.
Other research on feedback and grades has shown that papers returned covered in red ink with lots of corrections might not be the best option, he said. Instead, teachers could try simply circling errors rather than correcting them and letting students puzzle out the answers, or including comments but no grades.
There is less research on homework, always a fraught area, he said. The standard 10 minutes per grade level per night isn't useful if the homework is simply a compliance exercise, rather than an activity that deepens learning, Whitman said. Researchers are also grappling with the benefits of homework if it comes at the expense of sleep or time with family, he said.
(The 74: The Problem with Homework: Not Much Evidence on Whether It Works)
The school has also joined Research Schools International, a global group of schools that hosts researchers in the classroom and shares that knowledge. Christina Hinton, the group's founder and executive director, compared the schools in the group to teaching hospitals, in that they put researchers alongside practitioners.
Research at St. Andrew's will focus on how to support student well-being, she said, though specifics are still being decided.
The group of teachers benefitting from St. Andrew's research knowledge is increasingly — and intentionally — diverse.
"Even though we're a private school, we wanted to have a really ambitious public purpose," Whitman said.
One of St. Andrew's earliest partners on brain research was the Washington, D.C., chapter of Teach for America, a national organization that recruits new college graduates from the country's top universities to teach in the highest-need school districts around the country, usually big cities or areas of stark rural poverty.
The partnership has evolved several times, but since 2014, the center has offered professional development for second-year corps members and TFA alumni, focused on brain science. TFA corps members will also have the chance to study at the center's summer academy between their first and second years of teaching.
"It's a real partnership. It's strategic, it's thoughtful, and we're really excited about it," said Adele Fabrikant, executive director for TFA's D.C. region.
Though the students the TFA corps members are teaching are different from those whose parents can afford St. Andrew's, and they may have developed differently, the basic functions of the brain aren't different.
"There's more in common than there are differences," Fabrikant said.
The decision on where a president's children go to school is usually one of national speculation and, sometimes, criticism. Children of at least four presidents, most recently Barack Obama's daughters, attended the prestigious Sidwell Friends school; Jimmy Carter was the only president in recent memory to send his child to D.C. public schools.
The Trumps have vigorously guarded Barron's privacy, as previous First Families did with their young children. Barron and First Lady Melania Trump remained in New York City after the inauguration so he could finish out the school year at Columbia Grammar & Preparatory School. Enrolling the youngest Trump at St. Andrew's, half an hour outside D.C., may also help keep him out of the fray.
In addition to running the Center for Transformative Teaching and Learning, Whitman teaches history at St. Andrew's and coaches the girls' soccer team. Other center staff are also in the classroom.
The center's next big ambition is to scale up, and officials are trying to bring school leaders (often less willing to embrace the concept than teachers) around to the benefits of research, and creating new ways to share research, including creating a card game that challenges teachers to decide whether research says they should be doing a particular practice, there's no research on it, or research says it shouldn't be used.
"If we were just serving private schools, it wouldn't be worth our time," Whitman said. "Yes, our students are excellently served and our faculty is really enriched and challenged, but we feel strongly … that we have to have a strong public purpose to serve teachers in all sectors."
Get stories like these delivered straight to your inbox. Sign up for The 74 Newsletter