Beutner Emerges as a Top Pick for LAUSD Superintendent; Teacher Protests Continue Across the Nation — and More Must-Reads From America's 15 Biggest School Districts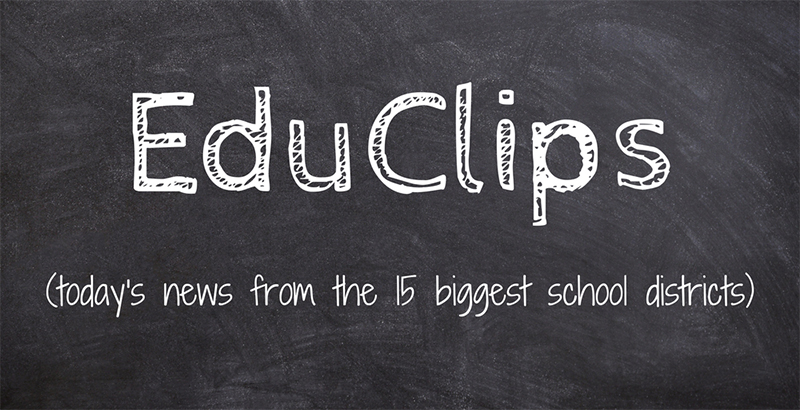 EduClips is a roundup of the day's top education headlines from America's largest school districts, where more than 4 million students across eight states attend class every day. Read previous EduClips installments here. Get the day's top school and policy news delivered straight to your inbox by signing up for the TopSheet Education Newsletter.
Top Story
TEACHER PROTESTS — As teachers in Oklahoma returned to class, hundreds of educators in Colorado rallied at their capitol today to demand higher pay and more education spending. Arizona teachers will vote this week on whether to stage a walkout, and Kentucky schools are back in session after a tense weekend.
In Colorado, the latest front in teacher unrest, at least one district was closed Monday because of the number of teachers who called out of work to attend a rally at the capitol. Colorado Education Association President Kerrie Dallman told CBS 7 in Denver that educators are concerned about teacher shortages, underfunding of schools, and teacher pensions and pay, which is among the lowest in the country.
After a contentious end to walkouts in Oklahoma, with some teachers continuing to protest at the capitol Friday after the union called on them to return to class, school resumes this week. The educators and their union have turned their attention to Election Day. Several teachers have filed to run for office, and countless others have vowed to make education a key issue in the run-up to November's elections. Several Oklahoma districts will lengthen the school day to make up for lost time during the two-week walkout. (Read at The74Million.org)
National News
SCHOOL DRESS CODES — Is Your Body Appropriate to Wear to School? (Read at New York Times)
TEACHER PROTESTS — Teachers Are at a Breaking Point. And It's Not Just About Pay. (Read at Education Week)
GEORGE W. BUSH — President George W. Bush Reflects on the Lasting Impact of No Child Left Behind at ASU+GSV: 'For the First Time, in Return for Money, People Had to Show Results' (Read at The74Million.org)
District and State News
CALIFORNIA — Beutner emerges as a top pick for L.A. schools superintendent amid last-minute jockeying (Read at Los Angeles Times)
FLORIDA — Voters will decide if charter schools can bypass local school board to get approval (Read at Miami Herald)
TEXAS — Texas school administrators warn they need money for likely spike in special education (Read at Texas Tribune)
NEW YORK — Carranza promises parents he will be a 'provocateur,' ask tough questions of mayor (Read at Chalkbeat)
ILLINOIS — Illinois easing out-of-state licensing requirements for teachers (Read at WGEM)
NEW YORK — Teachers union boss overheard allegedly plotting shutdown of Puerto Rican schools (Read at New York Post)
CALIFORNIA — Two-Thirds of California Voters Say Education Is a 'Very Important' Issue in Governor's Race, Survey Finds (Read at The 74)
TEXAS — 'Break the system,' parents say of overhauling Texas' special education (Read at Dallas News)
NEVADA — 14 candidates added for Clark County schools superintendent post (Read at Las Vegas Review-Journal)
GEORGIA — Gwinnett wrestling coach resigns amid sexual misconduct allegations (Read at the Atlanta Journal-Constitution)
VIRGINIA — South Lakes student tapped as Fairfax School Board rep for 2018-19 (Read at Inside Nova)
Think Pieces
NAEP — Analysis: NAEP Scores Show D.C. Is a Leader in Educational Improvement — With Powerful Lessons for Other Cities (Read at The74Million.org)
EDUCATION BUDGET — Crowding Out K-12 Education (Read at Wall Street Journal)
VOCATIONAL SCHOOLS — A vocational school curriculum that includes genocide studies and British literature (Read at Hechinger Report)
DUAL ENROLLMENT — Do high school dual enrollment courses mean college credit? Read the fine print. (Read at Washington Post)
Quote of the Day
"It's not clear whether the rise we're seeing in advocacy around the issue of dress code is because schools are imposing them in more discriminatory ways now than they were before, or whether more students are feeling empowered to speak up and complain about discriminatory dress codes. But we do definitely see that more students are speaking up." — Galen Sherwin, a senior staff attorney at the Women's Rights Project of the A.C.L.U. (Read at New York Times)
Want the day's top school and policy news delivered straight to your inbox — for free? Sign up for the TopSheet Daybreak Education Newsletter.
Get stories like these delivered straight to your inbox. Sign up for The 74 Newsletter