Agriculture Secretary Perdue Extends Free Meals for All Students Through the End of Year After Pleas from Advocates, Congress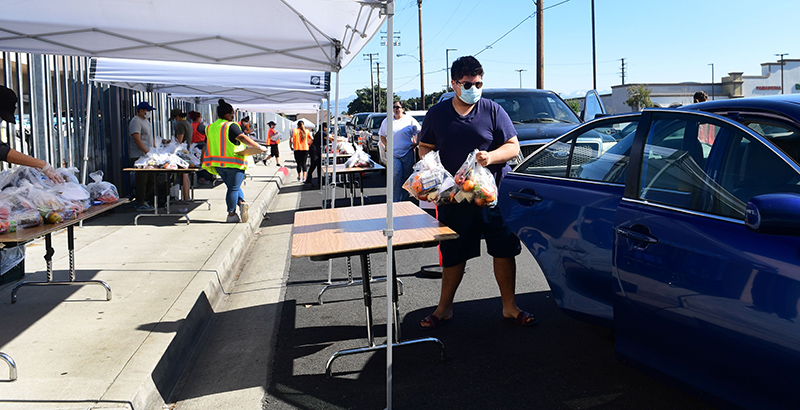 Updated August 31
U.S. Secretary of Agriculture Sonny Perdue reversed himself on Monday and announced the extension of nutrition waivers that will allow schools to continue serving free meals to all students through the end of the school year.
"These waivers will allow school nutrition professionals to focus on nourishing hungry children for success, rather than scrambling to process paperwork and verify eligibility in the midst of a pandemic," School Nutrition Association President Reggie Ross said in a statement.
Last week House Education and Labor Chairman Bobby Scott, D-Va., and Sen. Debbie Stabenow, D-Mich., the ranking member of the Committee on Agriculture, Nutrition, and Forestry said, "The Department's refusal to extend all school meal waivers is inconsistent and baffling during this national crisis."
Congressional Democrats and school nutrition advocates are denouncing U.S. Secretary of Agriculture Sonny Perdue's decision to end key waivers that have allowed schools and other providers to offer free meals to children during the pandemic.
If Congress doesn't step in, schools will return to operating under the National School Lunch Program, which requires families to meet income eligibility guidelines and doesn't include meals for young children. The change takes effect as soon as school starts, as late as Sept. 30.
Advocates and some congressional leaders argue that with many school buildings closed and families continuing to experience financial hardship, the situation hasn't improved since March. "We are still in an economic crisis. We are still in an educational crisis. We are still in a health crisis," said Crystal FitzSimons, the director of school and out-of-school time programs at the Food Research and Action Center. "We need to broadly meet children's nutritional needs."
Perdue, they argue, should have extended the Summer Food Service Program and the Seamless Summer Option, which went into effect when schools closed. Those programs allow community centers, churches and other sites, in addition to schools, to serve multiple meals at a time in low-income communities.
In their Aug. 14 request to Perdue, Rep. Bobby Scott, D-Va., chair of the House Education and Labor Committee, and Sen. Debbie Stabenow, D-Mich., wrote that in an earlier relief package, Congress gave the administration the authority to issue meal waivers to respond to the crisis. Republicans in the Senate made the same request.
But Perdue said it's up to Congress. He wrote that transitioning back to the standard school lunch program "helps increase accountability to ensure children in need receive meals." He emphasized that "Americans are a generous people" and that other waivers are still in place for the new school year. In a statement, Scott called the administration's positions "irresponsible."
Other waivers extended
Since March, schools and other community organizations across the country have been running complex operations to keep students fed. These include grab-and-go meal sites and using school buses to deliver food. The systems in place since March are made possible through a series of waivers from rules that regulate how schools serve meals. While Perdue's decision reinstates many of those rules, schools will retain some flexibility in meal distribution.
The waivers he extended for 2020-21 allow schools to continue to serve meals outside of group settings and normal service times, for parents to pick up meals for students learning at home, and for programs to have some flexibility in what they include in the meals.
Schools have until Aug. 31 to apply for the Community Eligibility Provision, which allows those with high numbers of poor children to serve all students for free. A May report from the Food Research and Action Center showed continued growth in the program, which began in 2014, and FitzSimons said more schools would likely qualify for the program given rising unemployment rates.
Increasing risks
In June, the School Nutrition Association, which represents school nutrition programs, began calling on the USDA to extend 11 different waivers through this school year, essentially providing all students with free meals and allowing maximum flexibility in how meals are served.
The organization has also been lobbying for passage of the House Democrats' Health and Economic Recovery Omnibus Emergency Solutions, or HEROES, Act, which includes $3 billion in emergency funds for school nutrition programs to cover pandemic-related costs.
The association is concerned, not just about students getting adequate nutrition, but also about the financial future of school districts' meal programs, explained Diane Pratt-Heavner, spokeswoman for the association.
"School meal programs will go bankrupt if USDA does not act," she said. Because schools haven't been serving full- or even reduced-priced meals since March, programs aren't taking in the usual revenue they need to remain financially sound.
Under the summer programs, families were also able to pick up multiple meals at once, cutting down on the number of times they needed to leave home.
But operating under the National School Lunch Program, schools would now have to "verify eligibility or collect payment from every student at every meal distribution," she said. "That increases the risk of students going without meals, raises the risk of COVID-19 transmission, due to more interaction between students and staff, and reduces meal participation."
Support The 74's year-end campaign. Make a tax-exempt donation now.