Williams: 10 Outstanding Children's Books That You Won't Mind Reading Over and Over Again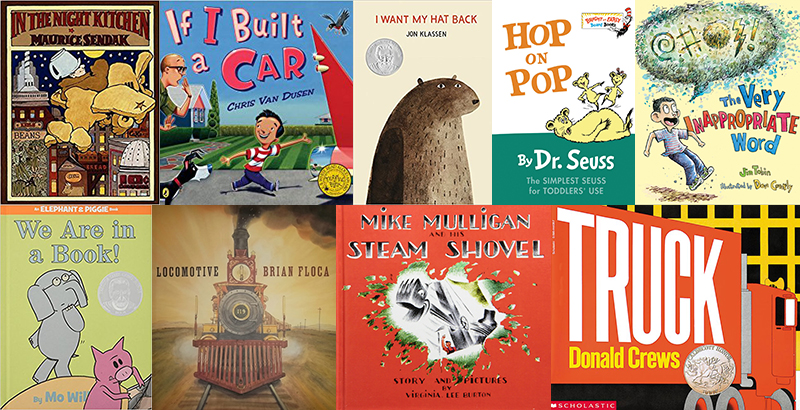 It's critical to read to your kids — absolutely one of the most important things you can do. But there's a catch. Assuming you like to read, you probably have adult tastes. Maybe you like Sports Illustrated. Maybe you like brilliant philosophy or dark humor.
Kids aren't generally into the same literature as you — not at the beginning, anyhow. While that's developmentally fine, it can pose a threat to your well-being. How many times can you read the latest installation in the Chuggington Station series without swearing off children's literature forever? Without swearing in general?
Fear not, dads. Fear not, moms. There is great children's literature out there that's 1) good for your kids and 2) easier on your sanity. Here's an incomplete list:
• Dr. Seuss. I am not a hipster. I don't care if this is an easy, earnest choice. I'm not trying to impress you with my counterintuitive takes. As University of Michigan economist Justin Wolfers once tweeted (correctly):
"As any parent will attest, Dr Seuss was not only the greatest childrens [sic] writer ever, but also better than next best by an implausible margin"
He's right. It is impossible to overpraise Dr. Seuss's work, though I have tried. Seuss's books strike the perfect balance of fantastic whimsy and emotional seriousness. Each one is steeped in surrealism and silliness. Most are also full of profound questions about how to think through the tough parts of being a kid (and an adult). So you trashed the house with a human-size, hat-wearing cat, but you fixed it. Do you owe your mom an account of what happened? This is why people grow up loving Seuss. For all the goofy rhyming and verbal inventions, kids recognize that he's probing really deep into important things — and doing so without talking down to them.
Also: the rhymes are hermetically perfect. There's never a stray syllable. Never a mangled diphthong. This is useful for teaching kids to sound out words. Read Hop on Pop with your kid. Read the rhyming words slowly, sounding them out, drawing attention to how "hop," "pop," and "stop" sound, how the only thing that changes is the initial letter sound.
And the pictures! Goodness, I haven't even mentioned the pictures. Seuss's artwork is singular. It tours in art exhibits. No, seriously.
There are so many great Seuss books. You pretty much can't go wrong. My kids love The Grinch, Fox in Socks, and The Lorax, of course. I have a soft spot for Great Day for Up. Read them all. Your kids will love it. You should too — you're experiencing the work of a genius with them.
• Mo Willems. Some people love his charming Elephant and Piggie early readers. And his Knuffle Bunny series is poignant and pitch-perfect for kids 2–6 years old. But his best ones have to be the Pigeon books.
The Pigeon is a legend. Like any young kid, he just wants stuff. He wants to drive the bus. To stay up late. To get a puppy. If your kid sometimes loses it when he/she doesn't get things, the Pigeon is there for you. When the Pigeon begs you and your kid for permission to skip his bath, they'll gladly tell him no. Maybe they'll notice how annoying tantrums can be. Maybe not. But they'll definitely have a blast.
• Brian Floca. In books like Locomotive and Moonshot, Floca somehow manages to make historical nonfiction beautiful, accessible, and substantive all at once. The text is more poetry than prose; it reads like the script for a spoken-word performance about the construction of the transcontinental railroad (or the Apollo 11 launch). And the artwork is amazing. Seriously.
• Maurice Sendak. Like Seuss, Sendak has a knack for exploring the mysteries of childhood — kids are dreamers, but they use their high-octane imaginations to deal with the tough parts of growing up. Adults don't always realize how hard it is to be a kid. You have so little control over so many basic parts of your life. You don't usually get to pick your food. You get sent to bed on someone else's schedule.
Where the Wild Things Are is a book about how it feels to be a kid, a normal kid who's wild and messy without necessarily meaning to be. Max, the main character, gets caught terrorizing the house, and suddenly he's stuck in his room. It's not really his fault that he's bouncing off the walls — he's a kid — but it got him in trouble anyway. So he dreams his way off to a land full of unrepentantly wild creatures whom he tames with his own wildness, his own will to power. In the Night Kitchen is another great book built around kids' dreaming.
• The Very Inappropriate Word, by Jim Tobin (illustrations by Dave Coverly). Michael, the main character, collects words. No, literally. Coverly's illustrations power the book — Michael picks up word bubbles and stores them under his bed. Then, one day (inevitably), he picks up an inappropriate one. Now what? "Michael could see there was something bad about it. But there was also something about it that he kind of liked." It's great for kids' vocabularies — and it'll give you a template for responding when your own kids bring home a couple inappropriate ones.
These guys also did Sue McDonald Had a Book, which teaches the vowels through songs and more outstanding pictures.
• Jon Klassen. First: a question. What's children's literature for? Well, it's there to help kids learn how to use books — how to read the text and understand the pictures. It's there to entertain them — books are fun! But it's also there to teach them, to develop their moral core. The usual model is heavily didactic. "See this boy here? See how he was a bully? It didn't turn out well for him. Now he's lonely and needs to fix his mistakes." Unsurprisingly, this approach is as ineffective as it is boring (and self-evidently lame).
Jon Klassen, meanwhile, writes and illustrates books that explore the morality of theft and sharing. In I Want My Hat Back, a bear can't find his hat. He asks everyone. When he finds it, he reacts, well, in a way that ought to surface a bunch of questions. This Is Not My Hat gives readers a window into the mind (the soul?) of a mischief-maker. Klassen's book with Mac Barnett, Sam and Dave Dig a Hole, is also top-tier goofy.
• The Princess and the Pony, by Kate Beaton. There are innumerable interchangeable princess books in this world. Princess Elena of Avalor, Princess Sofia, Princess Pinkberry Unicorn, whatever. They're ubiquitous. If someone can ever figure out how to use them as a fuel source — some sort of cold-fusion process melding them with cheap, pink, plastic toys, perhaps — it would solve most of our energy challenges.
Princess Pinecone, the heroine of The Princess and the Pony, stands out. She's small, but she's tough — and all she wants is some respect. She's the best princess I've ever seen in a children's book. Better yet, she's hilarious.
• If I Built a Car, by Chris Van Dusen. Do your kids get bored in the car? Do they complain about your car? This is a book about escaping the tyranny of your minivan. When you're done, have your kids design their own supercars.
• Donald Crews. I can't tell you exactly why kids love Crews's Freight Train and Truck. But man, do they ever. The illustrations are clean and modern, and the books are dominated by bright colors. Truck has no words, so we slowly developed a narrative of our own. Freight Train is a great book for teaching color vocabulary — and it won't take long before your kids will have memorized it and will be able to "read" it themselves.
• Mike Mulligan and His Steam Shovel, by Virginia Lee Burton. Like Jon Klassen, Virginia Lee Burton explores a range of tough moral questions without hammering kids over the head. How important is loyalty? What about nostalgia? Are people who seem to be mean necessarily irredeemable? Katie and the Big Snow is also great, for similar reasons.
Need more? Try:
Get stories like these delivered straight to your inbox. Sign up for The 74 Newsletter