When It Comes to Integration, Stop Debating Who Said What in 1970. Start Talking About What We Can Do in 2019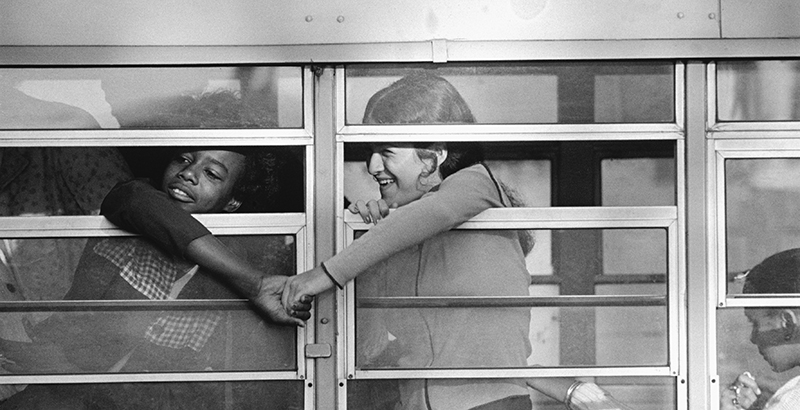 Updated 
A national conversation around busing and school integration rocketed to the headlines after an exchange between former vice president Joe Biden and California Sen. Kamala Harris during the first-round Democratic presidential primary debates.
I'm glad we're talking about this — and thrilled to see a fellow woman of color up on that stage. But I don't want the conversation to be solely focused on debate tactics and who's up and who's down after that exchange. You know what I want us to be talking about? The fact that America's schools are more segregated now than when Kamala Harris was bused to a whiter school in a more affluent Berkeley neighborhood as a first-grader. The fact that half a century later, too many black and brown children still live too far away from a good school.
More evidence that "separate and unequal" remains alive and well in America's schools emerged just last week, with attention again being focused on my hometown, the Bay Area. The California Department of Justice concluded after a two-year investigation that the Sausalito Marin City School District had "knowingly and intentionally maintained and exacerbated" racial segregation, including setting up a school that "would keep low-income children of color out of a white enclave," as The New York Times reported.
Watching this happen just across the bridge from us is a powerful reminder, once again, that assuming that the system will take care of our kids without our intervention, is a massive mistake.
I run an organization called The Oakland REACH, a parent-run, parent-led group committed to empowering families from our most underserved communities to demand high-quality schools for our children.
Seventy percent of Oakland public school students are black and/or Latino. But too few of these students of color have access to quality schools. In fact, only 1 percent of black kids in Oakland attend a school that's above the state average and making progress. Meanwhile, two-thirds of black kids attend a school that is below the state average and going backward.
Now, all of a sudden, a conversation around redlining — who gets to actually live in neighborhoods with access to good schools — is back in the spotlight because of something that happened right here in our state in 1969. And all these years later, it's no better — in fact, it's actually worse.
We know that going to school with kids of different races, with kids who have all the advantages, makes a really big difference. There's so much evidence that it helps lower-income kids and kids of color — like the children of the families I serve. And at the very least, it does nothing to harm more-affluent kids — more likely, it benefits them too. But we've abandoned integration and other equity solutions that would build a bridge over the ever-widening achievement gap we all talk about.
But here in Oakland, parents have found a way to create access to excellent schools across town. We've created a new and game-changing policy called the Opportunity Ticket, which will enable some of the students who have been given the least chance to go to some of the highest-performing schools alongside some of the students who have been given the most. The Opportunity Ticket provides enrollment preference in high-demand district schools for students enrolled in failing schools the district closes.
Journalist Nikole Hannah-Jones recently said, "We have never disentangled race from resources." If black and brown families want our kids to have resources, we have to have them sitting in schools next to white kids. It's the only way right now they'll get quality access.
The Opportunity Ticket is historic. No one is helping us get out the yellow buses again, so we made our own ride — our own way to get our kids into good schools.
Like Sen. Harris, I had an opportunity ticket to access a better education outside of my neighborhood. For both of us girls of color, education was the great equalizer. That's why, as a parent in a quickly gentrifying Oakland, I had to take a stand to help other parents of color find a path to a good school. I had to help put something in place that could finally give our kids a leg up after too many decades of despair.
My message: Stop debating who said what in 1970. Start talking about what we can do in 2019.
Support The 74's year-end campaign. Make a tax-exempt donation now.