What's Old Is New Again: Why 3 New Middle Schools in Colorado, Texas, and California Are Prioritizing Single-Sex Education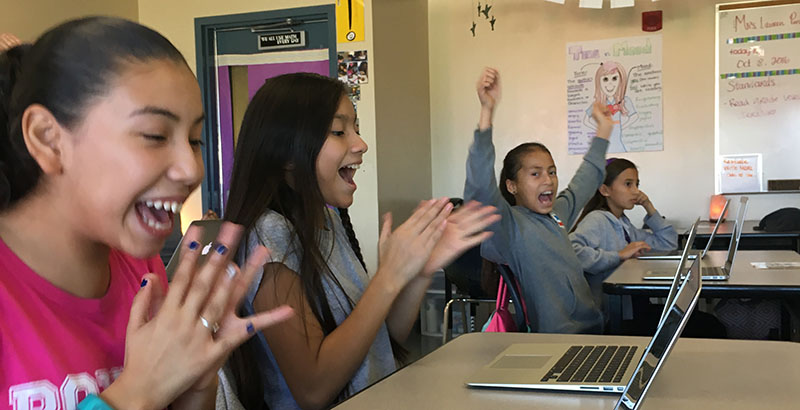 Educators and education reformers are always looking for new and innovative school designs. But one old-school model once reserved primarily for private and religious schools seems to be gaining traction among traditional public schools and public charter schools: single-sex education.
In the past two years, new single-sex charter middle schools have opened in Denver, Los Angeles, and El Paso, Texas. School leaders say having only girls or only boys makes their school communities feel like families, increases student confidence, and provides a safe place for students to develop their identities.
Nick Jackson is the founding head of school at The Boys School of Denver, a charter school that opened this year with 90 sixth-graders. He has worked in both all-girls and all-boys environments and believes that for both genders, students are less concerned about being judged and feel more confident speaking up in single-sex environments, which builds community among classmates.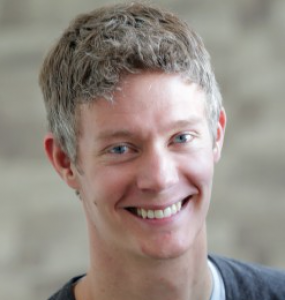 "At a time in education where everybody's looking for this magic silver bullet of what works and the pendulum is swinging back and forth, what we know works in education is really simple, right? It's a simple solution to a complicated problem — it's creating relationships, it's establishing a sense of belonging. What these boys need more than anything else is, quite simply, love," he said.
"It's the missing ingredient in a lot of education. Once these boys feel that, they feel like they are part of this team, this brotherhood, there's no telling what they can accomplish. And that's really what we try to do — we try to keep it simple that way. And the single-gender piece helps that: We can create that brotherhood — all the students are already coming in with one thing in common."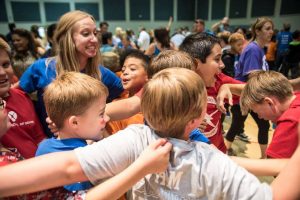 Jackson previously taught at Girls Athletic Leadership School (GALS) in Denver, where he asked his students what the school means to them. "Nearly 100 percent of their responses included a word like 'family' or 'home' or 'sisterhood,' " he said.
Parents, too, have told him their children found a safe place at school.
"We always hear … affirmation along the lines of, 'My boy has never or my girl has never up to this point loved going to school. They dreaded it. And now they feel like they found a home,' " Jackson said.
The Boys School and GALS Denver are part of the GALS network, which opened a girls middle school in Los Angeles called GALS LA last year.
Carrie Wagner, executive director of GALS LA, attended an all-girls high school herself, which she said gave her leadership opportunities and an environment where she was comfortable speaking up.
"I just got my voice at a very young age, and I never lost it," she said.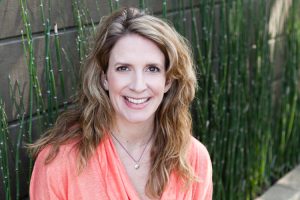 Like Jackson, Wagner said the single-sex model allows for a school culture built around camaraderie and confidence. Girls at her school, which opened in 2016, talk often about how they can be themselves in class and how they can stand up to anyone, she said.
"There's this whole idea of being 'mean girl.' There can be the mean-girl thing or there can be this amazing bond of sisterhood," Wagner said.
When that bond is in place, girls are happy at school, she said.
"The feedback's been amazing. The parents come up to me in tears" because they are so relieved that their daughters are enjoying middle school, she added.
(Read more about Wagner and GALS LA on LA School Report)
Wagner has data to back that up. Student surveys conducted last year at GALS LA found that the girls feel positive about themselves and their future prospects, according to a report shared with The 74:
100 percent agreed with "I will graduate from high school."
96.2 percent agreed with "I work hard in school."
97.4 percent agreed with "When I am old enough, I will go to college."
The attendance rate at GALS LA is 96 percent, Wagner said. High daily attendance is considered a mark of a strong school culture; average daily attendance was 78 percent in Los Angeles Unified School district in 2015–16, according to Ed-Data. (Jackson reported a 96 percent attendance rate at The Boys School.)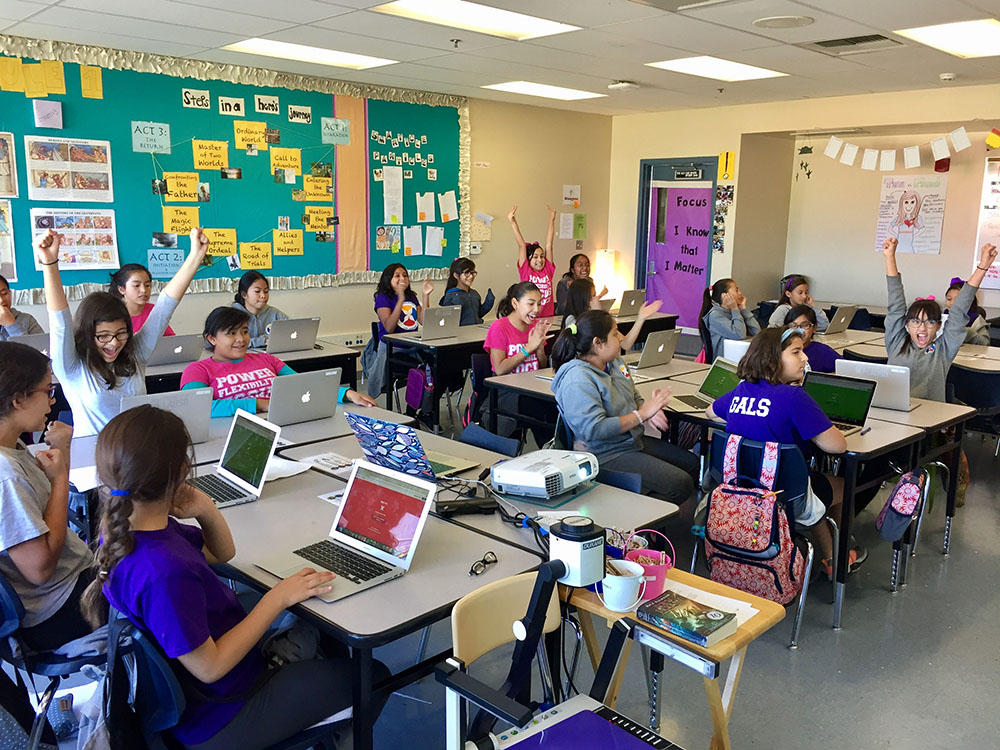 Despite the school leaders' enthusiasm, researchers aren't so sure.
Erin Pahlke, a psychologist and former teacher who studies children's views on race and gender, said the practice raises concerns about accentuating differences between males and females and reinforcing gender stereotypes.
There is no solid evidence that single-sex schools positively affect students' attitudes or academic achievement, she said, and studies that do find a connection usually haven't controlled for other factors. Pahlke and others reported in a 2014 meta-analysis that research that controls for outside factors does not show an advantage in separating boys and girls.
While she said she understands that single-sex schools often offer positive messages, "there's research that suggests that you can deal with these issues in coed environments."
And, despite anecdotal evidence that girls and boys learn differently, "The fact that you see differences doesn't mean that the differences are biologically hardwired in, and that's becoming clearer and clearer as we learn more about neurobiology," Pahlke said. "I don't buy the fact that because you see some gender differences in classrooms that that means that gender-segregated schooling would be the way to solve it."
But for leaders at single-sex schools, school culture and student confidence are far more important than neuroscience and inherent gender differences.
Cynthia Ontiveros is the founding principal at Young Women's STEAM Research and Preparatory Academy in El Paso, Texas, which opened in August. Ontiveros, who majored in biology in college, said she noticed a lack of women in her upper-level classes. In one computer science course, she was the only female student. She credits her university experience with giving her an "affinity for girls in STEM."
So when Ontiveros was selected as principal of the new charter school and got to pitch the concept for it, she chose STEAM — science, technology, engineering, arts, and mathematics — and community service.
Critics argue that single-sex schools reinforce gender stereotypes by implying that there are inherent differences in how and what girls and boys should learn — but for Ontiveros, it's just the opposite. Single-sex education, she says, allows girls to struggle and succeed in STEM together, in an environment without gender stereotypes.
"In class, when I taught, the boys were the first ones to want to raise their hand and want to shout out the answers. And here, we have girls who want to raise their hands quickly and shout out the answers, but now it's really ensuring that everybody has a voice," she said. Girls know to "share the air" and encourage others to participate.
Amplifying girls' voices is critical: A recent survey found that many top female students are reluctant to share their opinions because they want to be liked.
Ontiveros said that when she first presented her plan for the school, some critics had the wrong idea about what she was trying to do. "One of the biggest misconceptions is we are being just exclusive and wanting to protect our girls from maybe interacting … with boys. That is the biggest myth. Our goal is to have our students exposed to amazing role models — male or female — and give them opportunities where they go into the community and interact" with all kinds of people, she said.
Parents have given Ontiveros positive feedback since the school opened in August.
"I've had some parents tell me, 'My daughter never had friends up until now,' or, 'My daughter was never excited to go to school until now,'" she said.
Jackson, Wagner, and Ontiveros all said their single-sex schools are just one choice among many in their districts, so families can decide whether it is right for their children. And for those who say separating boys and girls doesn't prepare students for the real world, where they have to interact with members of the opposite sex, Jackson said, "My response to that is simply… 'We get them for eight hours a day and we're able to help them become a better human being, so they're more equipped to be out in the real world.' "
Disclosure: The Carnegie Corporation of New York and the Bill & Melinda Gates Foundation support The 74 and the New Tech Network, which includes the Young Women's STEAM Research and Preparatory Academy in El Paso.
Get stories like these delivered straight to your inbox. Sign up for The 74 Newsletter