Watch — Schools, COVID & Mental Health: Experts Talk About Boosting Students' Resilience and Social-Emotional Wellness Amid the Pandemic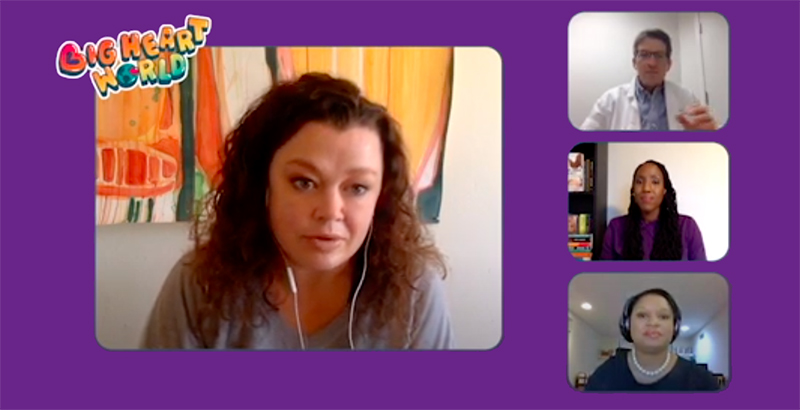 On April 15, The 74 was honored to host a special panel discussion on students, families and mental health, featuring expert advice on how adults can best help children confront mental health challenges amid the chaos of COVID-19.
Correspondent Bekah McNeel steered the conversation, featuring Public Prep CEO Janelle Bradshaw, pediatric psychologist and Columbia Zuckerman Mind Brain Behavior Institute scholar Dr. Dana Crawford and Dr. Ryan Padrez, a Stanford pediatrician and medical director at The Primary School. Watch the full replay:
The event coincided with the recent launch of the Big Heart World initiative, a platform developed by Sparkler Learning and Noggin, designed to help parents, caregivers and educators address young children's pressing social and emotional needs.
In advance of the webcast, Sparkler Executive Director Julia Levy published a piece with more details about the platform: "The Big Heart World initiative aims to help parents and educators address the pressing social and emotional needs that America's young children have right now during COVID-19 and to provide action-oriented tools and resources that help grown-ups support children's healthy social and emotional development," Levy wrote.
Collaborating with such non-profit partners as the National Head Start Association and the Campaign for Grade-Level Reading, she said the initiative "is rolling out monthly content focused on the core areas of social and emotional learning: awareness of self; awareness of others; and relationships with others."
Parents, educators and families can learn more on dedicated pages at Big Heart World; Levy also recapped a few key takeaways from the April 15 conversation in this breakdown.
Get more updates on social-emotional learning and SEL support programs, and the latest announcements about our special virtual education events, delivered straight to your inbox — sign up for The 74 Newsletter.
Here are some of our recent SEL headlines:
Get stories like these delivered straight to your inbox. Sign up for The 74 Newsletter