A Principal's View: Social-Emotional Learning Is More Important Than Ever. Here's How We Do It Virtually at My Denver School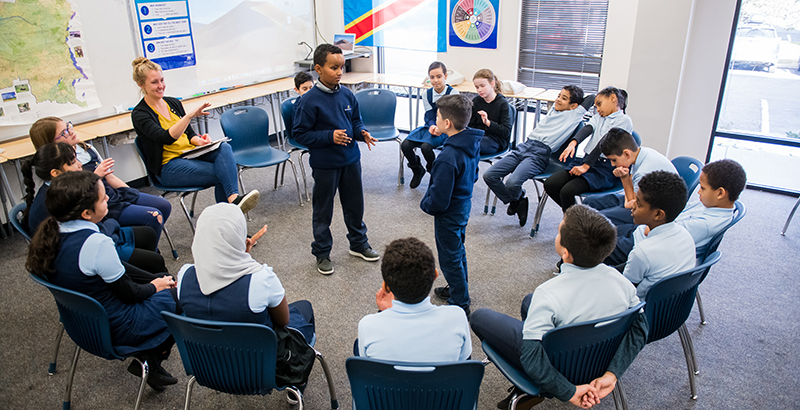 As we prepare to launch the new school year Aug. 24 with remote learning, our team at Rocky Mountain Prep in Denver is working to ensure that students have access to high-quality academic resources and their teachers' guidance. But we know there is another piece of this work that is just as important as ensuring that our students are learning their ABCs: Students and teachers must come together in support of their mental health.
Last fall, we launched a social-emotional learning program at Rocky Mountain Prep with our third- through fifth-grade students. Compass Circles, originally created by Valor Collegiate Academies in Nashville, provides a framework for teachers to host regular meetings with small groups of students from the grade level they teach. When in person, participants sit in a circle and go through structured rituals in which they discuss how they are doing emotionally and support their peers and colleagues in doing the same.
When schools began shutting down last spring, we moved our Circle practice online using videoconferencing platforms, for both students and staff. Once a week, our third- through fifth-graders join a Zoom room with the other members of their Circle and go through the same sequence they would have in person.
We start with a deep breathing exercise to help the students center themselves and think about the emotions they are feeling. After that reflection time, there is a check-in in which each member of the Circle shares who they are and how they are doing that day. The facilitator identifies members of the Circle who may need additional support and goes back to them in an effort to open them up to more connection and support from their peers. Sometimes, this support manifests as students sharing their own reflections. Other times, Circle members commit to reaching out to that person later on.
Once all members of the Circle have had an opportunity to share their feelings, the facilitator transitions to the ritual of badge work. This involves students presenting projects they have worked on throughout the year that explore the identities and habits of themselves and others.
One example is a badge called "If You Really Knew Me," in which students describe parts of their lives that normally wouldn't be shared in a classroom context. They talk about things like who in their lives they are closest to, moments when they felt afraid and the hardest thing they have ever had to do. This allows students to see their peers in a different way and identify areas where they are similar.
After the student shares their badge work, the classmates respond with what they heard, what that tells them about the student and how that motivates or inspires them. It is common to see students display more empathy for their peers after the presentation than you typically would in a classroom that doesn't use these practices.
Compass Circles are "challenge by choice" — no one is required to participate, and no one is asked to share anything that might prove uncomfortable.
In the final component of Circle, students and the facilitator share appreciations with one another. Students think back to moments throughout the week when others have supported them and publicly thank them. Then, there is a closing cheer or phrase, spoken in unison, to signify the end of Circle.
At our midyear evaluation of this program, 96 percent of teachers said they believed Circle is an important exercise for students and worth the time and resources invested in the program.
Students and staff who were feeling isolated, both before the pandemic and since, had a space to share that safely. Compass Circles provides structured time for someone to say, "I'm struggling with this. I need help."
This allows our community to think about what students might need in order to do their best work and feel most comfortable during the school day. Is it a check-in from a friend at recess? Maybe some one-on-one time with the teacher during math? It enables us to approach one another with empathy and love. For any school that deeply values adult and student culture and feels something is missing in developing authentic connections, Compass Circles allows for that.
We noticed in the spring that even while virtual, our students remained committed to supporting each other. When having conversations, rather than just relating their own experiences, students went out of their way to support one another and reach out to friends who were having a difficult time. This showed them that the emotions they felt were very typical, and that in itself helped with some of the feelings of isolation.
This new frontier of remote learning and the isolation caused by school closures can make us feel disconnected. Particularly in high-stress times, like the current crisis, we need even more opportunities to pause and reflect — not just about work or school and productivity, but how we are really doing. It's one of the first steps in beginning to process what is happening in the world. Circle practices can be a valuable tool for students, teachers and leaders to connect, be seen and be supported during this time.
Sara Carlson Striegel is the principal of Denver's Rocky Mountain Prep Southwest. 
Support The 74's year-end campaign. Make a tax-exempt donation now.