Watch: ESSA Puts a Premium on Parent Involvement, These 6 Moms Are Leading the Way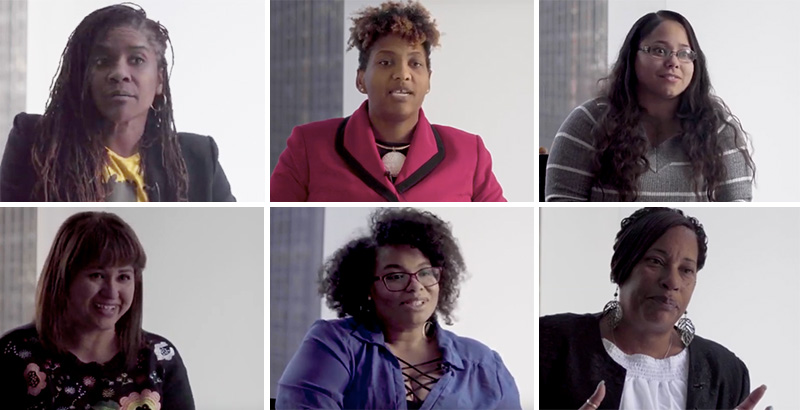 Updated March 26
They come from New York City, Chicago, Washington, D.C., and Oakland, California. One started her journey when her son was diagnosed with autism; another, when her children's school was slated for closure; yet another, when her educated best efforts to navigate her district's enrollment system were not enough to save her daughter from their failing neighborhood school.
One became pregnant at 17 and had to teach herself what it meant to be a good parent and to choose a strong school. "It wasn't an option for me to fail my daughter," she said. "I wanted better for my daughter than I had for myself."
That wanting better for their own child soon grew into wanting more for all children. These parents-turned-parent advocates started reaching out to other moms and dads and grandmothers and caretakers, giving them the information needed to speak up for their kids in school systems that can sometimes be intimidating.
From those relationships, parent networks were built that could effect change.
The Every Student Succeeds Act prioritizes the kind of parent engagement these six women practice in their school communities every day. They and the K-12 experts both know how critical parent involvement is to student success. ESSA mandates that disadvantaged schools put a portion of their federal dollars toward engaging parents, saying they should have "regular two-way, meaningful communication" with families, and "to the extent practicable, in a language that family members can understand."
These mothers speak that language.
All six recently came together in New York City, for a gathering of parent leaders and organizers convened by GreatSchools. Here are their stories:
Lakisha Young, Oakland, California
Executive director, The Oakland REACH parent advocacy organization
"I spent the first eight years of my life living in public housing. It just doesn't matter. My whole career and then this work around the Oakland REACH has been really focused on just making sure that parents that are like my grandmother, that are like my mother, or even like me, come together and really fight and demand for better for our kids and for better access. Our zip code, our street name should not dictate whether or not our kids get a really good education."
Yolanda Corbett, Washington, D.C.
Co-chair, Parent Advocate Leaders Group
"A lot of parents don't really understand the tiering system that we have in D.C. When you explain it to them, where you thought that your child was going to this grade A school and you say, 'No, your child's actually going to a tier three,' which in D.C. is one of our lower-performing schools, one that's maybe being up for closure, they're really surprised and taken aback. They're like, 'This whole time I didn't know.'"
Emilia Marquez, Chicago native
Member, GreatSchools Parent Council
"You don't have a manual on how to be a parent, so you have to figure these things out on your own, especially the hard things. The being a good person and just academically. I didn't know what questions to ask in school. I didn't know any of these things. In GreatSchools, the website, it helped me with that. It helped me to see what it is that I was looking for in a good education and good school and good teachers, and just how to improve the things that were going wrong when I was in school."
Veronica Fregoso Ramirez, San Francisco
Parent organizer, Innovate Public Schools
"It's hard because the community is very, very … it's not aware that this situation is happening because we live in a very successful city. We have so much money and everybody thinks that the schools are great, and they believe in the district, but we know it's not true. We try to help the parents, like I said … we're growing. We started with one group in the city and now we have four, so that's a big sign. Sometimes we have three parents, four parents, but sometimes we have 20 parents, and that's it. We're working every single day to get good results and to help parents to get the tools for their kids."
Natasha Capers, New York City
Coordinator, NYC Coalition for Educational Justice
"We're taught education is liberation … It's funny. I ask people the question: 'What are schools like in Wakanda?' People stop, they pause, they smile, and they laugh. It's like, why is that when we talk about our public schools, where in New York City, 85 percent of students identify as black, Latinx or Asian … why don't people stop, smile, and laugh? Right? What is the disconnect between the schools we have now and the schools that we think are in Wakanda? How do we get that?"
Robvina Kennard Parker, San Francisco
Mother, grandmother, parent advocate
I think definitely by the time it's over [a meeting with another parent in the principal's office], I think it gives them a big sense of pride. I think it lets them know that this principal sitting right next to me … because that's how we set them up, so it will be principal, parent, interpreter or whoever is next, but that relationship is right here … and I think that lets them know that she's human, just like I am, just like the parent is. She's human, so I think that opens up the relationship right there. I think that helps the parent out, letting them know it's OK to go to that principal's office."
Disclosure: The Walton Family Foundation, Bloomberg Philanthropies, Carnegie Corporation of New York, and the Bill & Melinda Gates Foundation provide financial support to GreatSchools and The 74.
Get stories like these delivered straight to your inbox. Sign up for The 74 Newsletter