U.S. Rep. Jared Polis Launches Ed Platform in Crowded Colo. Governor Race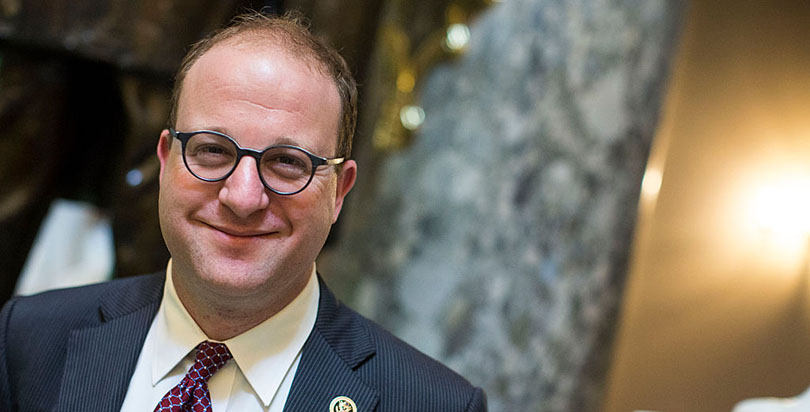 Updated
Rep. Jared Polis's just-launched education platform in his race for Colorado governor runs the gamut from standard issues like early childhood education and improved teacher pay to more uniquely Coloradan issues, like what to do with all that marijuana tax revenue.
Much of Polis's plan is focused on early childhood education, specifically funding full-day preschool for 3- and 4-year-olds, and full-day kindergarten for all students in the state.
"The biggest impact that we can make for kids is early childhood education," Polis told The 74.
Both programs would be funded through the state's existing per-pupil funding formula. Kindergarten programs would be expanded at public schools, while pre-K funding would go to districts and community programs. After the first three years, participating pre-K programs would have to achieve at least a level 4 out of 5 on the state's preschool ratings system.
It would be among the most ambitious in the country. Fourteen states and the District of Columbia fund full-day kindergarten; and only a handful of states offer universal pre-K, most not at the full-day level Polis proposes.
The cost of the new programs is "achievable," he said. They would run about $200 to $300 million, he said. Polis pledged to work within the political landscape once elected to figure out specifically how to fund it.
Investments in early learning reduce other costs, like special education, juvenile justice, and grade retention, in the longer term, Polis said.
"If you look at the studies and the work that's been done, I'm very confident that the taxpayers will be more than made whole for making this investment," he said.
The early learning pledges were part of his campaign kickoff this summer, alongside a call for the state to use 100 percent renewable energy by 2040, and a push for employers to expand stock options for employees.
Polis's education platform also focuses on teacher issues, including raising pay and creating new career ladders for teachers.
The state is facing a teacher shortage, but the difficulties in attracting and retaining great teachers vary across the state, Polis said.
It's difficult, if not impossible, for teachers to live in expensive cities like Denver, Boulder, and Fort Collins, he said, while for other more rural districts, it's challenging to attract teachers to live there, particularly given low salaries.
Beyond upping pay, Polis calls for creating more affordable housing for teachers in sought-after areas, and a student loan forgiveness program for teachers in higher-need rural areas.
He also pledged to oppose efforts to reform the state's pension system "on the backs of our teaching professionals" or to end collective bargaining.
Polis also wants to see additional money for a competitive state grant program that funds construction and renovation at district and charter schools, including raising funding caps for high-need schools.
He'd like to start floating bonds backed by the state's marijuana tax revenue, which brought in $40 million last year, to fund standard school construction, new early childhood centers and teacher housing.
The state has to wait, however, for "the federal issues" around the industry to be cleared up — specifically, guarantees that the federal government won't come after marijuana sellers in Colorado, where it's legal even though it remains a controlled substance at the federal level.
The pot taxes could back a $1 billion or $2 billion bond, he said, that could finance a "significant school upgrade."
Polis also called to expand dual enrollment courses, which allow high schoolers to accrue college credit or career education while they're earning their high school diplomas, for all students in the state. Most students will need a post-secondary degree or credential to succeed in the 21st-century workforce, Polis said.
"While these opportunities exist in many schools, it still remains spotty and I want to make sure that regardless of geography and income, students have access to programs that allow them to get a skill or significant college credit in addition to their high school diploma at no cost or little cost to them," he said.
The race to replace term-limited Gov. John Hickenlooper, a Democrat, is crowded.
Other Democrats in the race include Mike Johnston, a former state senator; former state treasurer Cary Kennedy, and Lt. Gov. Donna Lynne. Republicans running include current state treasurer Walker Stapleton, former representative Tom Tancredo, and Victor Mitchell, a former state legislator.
The contest "lacks a clear favorite" and should be "one of Colorado's wildest elections in years," the Denver Post reported when Polis launched his campaign.
Polis has an extensive education background. He founded two charter schools, served on the state board of education, and is the top Democrat on the House subcommittee covering early childhood and K-12 education.
"I've got to see the needs [of schools and students] from a variety of perspectives, I've got to see policymakers trying to solve them, and I think what I hope to provide is to translate what needs to be done into reality," he said.
Polis, who made his fortune on web startups and is worth hundreds of millions, has already contributed quite a bit to his campaign. He was the first openly gay parent in Congress, and would be the first gay governor of Colorado.
Get stories like these delivered straight to your inbox. Sign up for The 74 Newsletter