'Last Shot' New America Colorado Charter Juggles Refugees, Immigration Fears, Alternative Education Challenges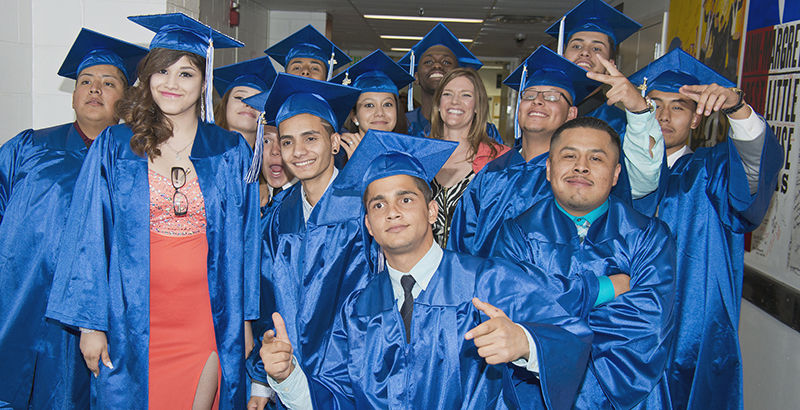 Denver, Colorado
Nearly every student in Leah Renzi's third-period math class had his or her phone out that Monday morning in May — intentionally.
Renzi was leading her 10 students through a Kahoot! math game online. Students matched common phrases from word problems to their mathematical functions.
"Less than" was easy. All the students knew that would indicate subtraction. "Divided" obviously indicated division. Some were trickier, though: only one student knew "how many more" meant subtraction, rather than addition.
The lesson was vital for the students — high schoolers with limited English proficiency — ahead of standardized testing the next day. Unlike English tests, math tests, even the ones full of word problems, aren't modified for students still learning the language.
"I know you get upset and skip word problems" even though you know the math, Renzi told her students.
Renzi previously taught at both a college prep high school and a dropout prevention program. Now she teaches students from 12 countries. Some can barely add and subtract; others can do advanced algebra.
They're students at the Lowry campus of the New America School, a charter network focused on at-risk high school students up to age 21, either new immigrants with limited English and sometimes little to no education at all, and those who have experienced failure and struggled in other schools.
"There's not a lot of schools in Colorado that are really targeting that kind of population, particularly at the high school level," Principal Annie Trujillo told The 74. "When a student turns 18 they're pretty much done, and high schools will often start to weed them out, for lack of better words, earlier than that, if they're not on track to graduate."
Not at New America.
Emphasis on English
Jared Polis, now a U.S. congressman and candidate for governor, and other Denver leaders started New America in 2004 to help new immigrant students and other academically underserved students learn the skills they need to succeed in the U.S.
(74 Interview: Colorado Rep. (and Gov. Hopeful) Jared Polis on Denver Schools, ESSA & Special Education)
Lowry educates a larger population of immigrant students than the other two New America schools in greater Denver, said Trujillo, better known by the students as "Miss Annie." New America has two other campuses in New Mexico and one in the works in Las Vegas.
A little more than a third of Trujillo's 409 students are either refugees or immigrants (defined as having come to the United States within the past three years).
(The 74: As Immigration Battles Heat Up Across the U.S., California District Faces Its Own Refugee Crisis)
Another third are immigrants who have been in the country longer, or who have moved in and out of the U.S. over their academic careers. The remaining students have dropped out or are at risk of doing so and, despite having lived in the U.S. for many years, often don't have strong skills in either English or their native language.
Given its student population, the school emphasizes English language skills.
Each student's English language and math ability are assessed when they enroll; those with the lowest skills start with an intensive newcomer program that runs four hours a day. They then progress through several levels of English instruction; at Level 2, they begin so-called sheltered classes, which make language modifications to help students with more limited English skills, in social studies, math, and science. In order to graduate, students must progress to the third level after newcomer, ELD-3, which usually takes at least two or three years to reach.
In one May ELD-3 class, students from eight or nine different countries by Trujillo's count studied Tears of a Tiger, a book about the death of a high school student in a car accident, and wrote poems connected to the text.
Joseline Ortega, 22, came to the U.S. from El Salvador in 2013 and didn't speak any English. She graduated this year and hopes to continue on to community college, eventually entering the medical profession.
Teachers at the school are more like friends, she said, calling English instructor Lisa Collins "more like a mother."
Murisa Mahirwe is 20 and moved to Colorado from Rwanda in the summer of 2015 and started at New America that August after a friend recommended it. She likes math.
"If you know math, everything is easier," she said.
To be considered an alternative education campus in Colorado, at least 90 percent of the student body must meet at least one of 16 high-risk factors, like being overage and under-credited, having a gang affiliation, or being habitually truant, pregnant, or parenting.
At Lowry's campus, 94 percent of students met at least one of those criteria as of May. Numbers at the other two Colorado campuses are greater. About 37 percent of students system-wide have three or more high-risk factors.
Nate Melson, a health and physical education instructor, has been at New America for eight years.
"I grew up in a high school where we were all the same," he said. " We really celebrate diversity here."
Student lapses in attendance are tough to deal with, he said. Administrators understand that progress, not perfection, is the goal, while trying to keep the bar high and teach students they can do anything they want to, he added.
Freshman Brian Villalabos, who was taking an advising class led by Melson, came to New America so he can "graduate ready." He'd like to go to college for "something related to power" like petroleum or chemical engineering.
School leaders make practical concessions to help students.
The school day at the Lowry campus runs from 8 a.m. to 10 p.m., Monday to Thursday, so students can take classes during the day or at night to accommodate jobs or parenting responsibilities. Fridays are reserved for extra remedial support for students who need it and professional development for teachers.
The schools also run on a quarter system, so students who stay for one nine-week period can earn credit for that work, even if they have to drop out the next quarter. The first quarter in the 2017–18 school year started Aug. 7 and runs through Oct. 12.
Officials will enroll students at the start of any quarter, which provides more options for students but means lost revenue for students who weren't enrolled during the annual Oct. 1 headcount. Colorado only pays for students to attend public schools through age 21, but New America officials will shuffle funds or increase class sizes to allow 22-year-olds to stay on if they're close to graduating, Superintendent Dominic DiFelice said.
And although there are flexible options for students, staff work hard to make sure that if students do need to leave, they come back, tracking them down to re-enroll sometimes three or four times.
"We feel very strongly that a big part of what we do is to re-engage them and bring them back and keep working with them," Trujillo said. "This is sort of a last shot for a lot of students."
Nearly all the students have a desire to continue their educations, Trujillo said. The students who do progress usually go on to community college or to learn a trade; those who go straight to work usually do so out of financial necessity.
"All have an aspiration and a goal to get to postsecondary one day," she said. "They all want to do other things [with] their lives."
'A very real fear'
The election of Donald Trump, who campaigned on a hard-line immigration crackdown and building a wall on the country's southern border, has affected the New America school, Trujillo said.
"There's concern, there's very real fear, there's families that have been displaced and/or plans have changed," she said.
Several staff members had "unafraid educator" posters on their desks or classroom doors, a sign they'll stand up for undocumented students.
A few students have left this year, but in most cases, it has meant that students who would've stayed in the U.S. after graduation will return to their home countries, Trujillo said.
Both Denver and nearby Aurora have wrestled recently with their "sanctuary city" status, a label that generally means local law enforcement doesn't share information about undocumented immigrants it arrests with federal officials.
Denver officials generally abide by the conditions Attorney General Jeff Sessions in late July said would be required to receive Justice Department grants, but two city council members introduced legislation to stop doing so and expand other protections for undocumented immigrants, The Denver Post reported. The Aurora City Council recently declared the city is not a sanctuary city.
Public schools in the U.S. must enroll any school-age student, regardless of their immigration status, in keeping with a 35-year-old U.S. Supreme Court decision. Officials are barred from asking about students' immigration status, but many will disclose it to staff, often in the course of completing college financial aid applications, Trujillo said.
(The 74: California Assembly Passes Sanctuary Bills Shielding K-12, College Students From Immigration Enforcement)
Staff have held "know your rights" sessions for parents and community members. Going forward, they'll "be more intentional with our recruitment and reaching out to these community members so they feel, again, that they have a safe place in the community and shouldn't be afraid," Trujillo said.
Better but not perfect
It's hard to set accountability standards for alternative education schools, experts said.
"What happens in a lot of alternatives is you have situations where they're either held to the exact same standards as a regular high school … or they're held to no standards," said Cheryl Almeida, research director at Jobs for the Future, where she was the lead author of a 2010 paper on reinventing alternative education.
Holding alternative education programs to the same standards as traditional schools isn't realistic, given the challenges many students bring. But neither should campuses be allowed to fail the vulnerable students who attend.
"Part of the work for alternative schools is being able to have the kinds of communications that really allow people to understand the population and what its success is. They're too often looked at as not successful," Almeida said.
(The 74: In D.C.'s Revamped 'Opportunity Academies,' There Are No Forgotten Students on Graduation Day)
A 60 percent graduation rate, for example, would be abysmal by general standards, enough to force state intervention under the Every Student Succeeds Act, but is "really good" for an alternative school, and is providing a way to re-engage young people, she said. The Lowry campus has the best six-year graduation rate of the three Colorado campuses, at 31.4 percent.
Colorado is something of a leader in the area.
Alternative education campuses, like traditional schools, are measured based on student proficiency on test scores and growth on those tests, plus factors like graduation rates and attendance. But their measures on those tests are compared with other alternative education campuses, not against all schools.
"It's not a perfect system, but it's better than being compared to every traditional school in the state," DiFelice, the superintendent, said.
The Lowry campus and Thornton campus were rated as "priority improvement" schools, the third of four school-rating types in Colorado, just ahead of a required turnaround plan, in 2016. The third Colorado campus earned an "improvement" rating, the second of four categories, meaning it isn't meeting expectations.
"The state sees the value and necessity of our schools," Trujillo said. "We made changes to our framework that we're held accountable to last year and this year, and this year looking at growth perhaps in a different way than we have."
New America's schools in New Mexico are for the most part included in that state's A–F rating system, DiFelice said. The campus in Albuquerque got a D, while the one in Las Cruces was rated a C.
Colorado is "way ahead of the curve on how we should be judging schools that have a very high-risk population," he said.
That said, there could still be improvements, DiFelice argued.
He thinks Colorado should create a separate entity to oversee alternative education.
Many districts and charter authorizers know alternative schools are necessary and serve a special group of students well, but are wary of taking on a school whose state ratings might drag down overall district numbers, potentially putting it in danger of state intervention.
"If you've got an entity that doesn't have that kind of responsibility, then more of our schools would surface and meet the needs of more kids that are [not being served] in the state," he said.
Get stories like these delivered straight to your inbox. Sign up for The 74 Newsletter