74 Interview: Colorado Rep. (and Gov. Hopeful) Jared Polis on Denver Schools, ESSA & Special Education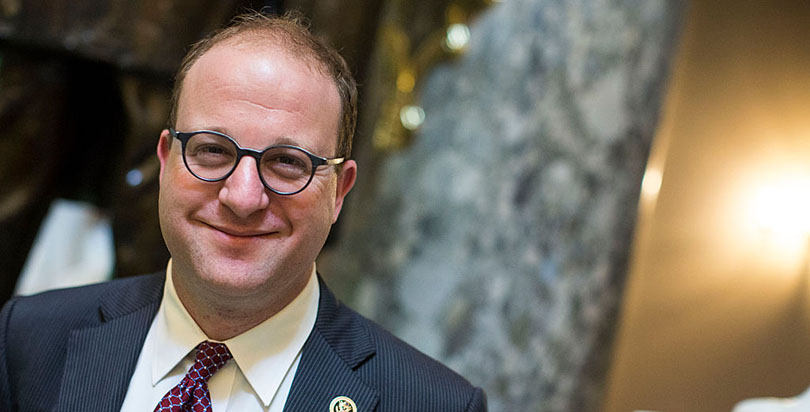 See previous 74 interviews, including former secretary of state Condoleezza Rice, Senate Education Committee Chairman Lamar Alexander, and former education secretaries John King and Arne Duncan. Full archive here.
After a career in the tech world, U.S. Rep. Jared Polis jumped into elected office — and education — in 2000, when he joined the Colorado State Board of Education.
In the years since, the Democrat has risen through the education and political ranks to become the top Democrat on a House subcommittee covering K-12 education issues.
Now, he hopes to add governor to that résumé. He told The Denver Post Sunday that he'll jump into the already-crowded 2018 race for governor of Colorado, with a platform that will include universal access to full-day preschool and kindergarten. He's not the only contender with education bona fides: One of his opponents is former state senator Mike Johnston, who pushed for the state's controversial teacher evaluation laws.
During his time on the state education board, Polis also founded two charter schools for hard-to-serve populations.
The New America School, aimed at improving English literacy and providing high school educations to new immigrants, has grown to five campuses in Colorado and New Mexico, with a sixth set to open soon in Las Vegas. The Academy of Urban Learning helps homeless students and those living in otherwise unstable environments.
Given his Colorado education credentials, he was quick to fire back against Education Secretary Betsy DeVos's criticism, leveled at a Washington think tank event in March, that Denver's school choice system, while offering wide choice among district and charter schools, provides "limited choices."
"Private vouchers are NOT and should never be a litmus test for high-quality school choice. You should visit DPS and see for yourself," he wrote at the end of a six-Tweet series praising Denver's high-quality public choice system.
---
.@BetsyDeVosED, school choice is successful in Denver because parents get to choose from a number of high-quality public schools 1/6

— Rep. Jared Polis (@RepJaredPolis) March 30, 2017
Some students attend charters and many others attend a different public school other than their neighborhood school 2/6

— Rep. Jared Polis (@RepJaredPolis) March 30, 2017
That's the point of public school choice: parents and students are empowered to make a decision about what school is best for them 3/6

— Rep. Jared Polis (@RepJaredPolis) March 30, 2017
Denver is an example of how choice works best when schools are accountable for outcomes and public money stays in public schools 4/6

— Rep. Jared Polis (@RepJaredPolis) March 30, 2017
DPS has strong magnet, charter, alternative, and arts schools. Every child is unique; different public schools meet different needs 5/6

— Rep. Jared Polis (@RepJaredPolis) March 30, 2017
Private vouchers are NOT and should never be a litmus test for high-quality school choice. You should visit DPS and see for yourself 6/6

— Rep. Jared Polis (@RepJaredPolis) March 30, 2017
---
Elected to the House in 2008, he's served on the Education and the Workforce Committee all but one of his terms in Congress. This session he's the ranking Democrat on the Subcommittee on Early Childhood, Elementary, and Secondary Education.
Given his background, he has long advocated for education technology and charter school issues. Polis is one of seven openly LGBT members of Congress and the body's first gay parent; he has also advocated for civil rights protections for lesbian, gay, bisexual, and transgender students in schools.
Polis talked with The 74 in early April about DeVos, the Every Student Succeeds Act, special education, and the state of the education reform movement. The following conversation has been lightly edited for length and clarity.
The 74: Do you have anything else to add about Secretary DeVos's criticism of Denver's school choice environment?
Polis: It's just absurd that she's using a yardstick of low-quality options to measure the efficacy of choice. Choice should be about empowering parents to have good alternatives for their kids. It should be about quality as much as it is about quantity. It seems like the secretary doesn't get that.
How did you make the leap from the tech world into education?
Well, I really enjoyed being an entrepreneur, and I got to work with and be involved with hiring decisions around everything from programmers to salespeople. It really got me interested in what goes into preparing the next generation of businesspeople and kids to work in the jobs of the future.
If you were still on the Colorado state board, what definitely would — or wouldn't — be in your ESSA plan?
I would definitely adhere to the spirit of the guidelines that have now been thrown out, though states are still certainly allowed to do that, in that you need to have a multi-stakeholder process, which Colorado did. You need as much buy-in as you can from parents and teachers and school districts, and really, the more buy-in you have in your state plan, the more effective it will be.
Have you looked at the state plans submitted so far, and what do you think?
I've just read Colorado's. I'll look forward, now that they've been finalized, at looking at some of the other states' … I applaud [Colorado's] commitment to civil rights. I applaud the multi-stakeholder process. I think it was a strong plan to continue improving the quality of education for kids regardless of their economic background or ethnicity in our state.
You were one of the lead signers on an amicus brief siding with Gavin Grimm, the transgender boy whose case requesting access to the bathrooms matching his gender identity made it to the Supreme Court. How would you assess the situation now that the Trump administration withdrew the guidance requiring that transgender students be protected under Title IX and the Supreme Court returned the case to a lower circuit?
They withdrew the guidance — that was the Department of Justice in conjunction with the Department of Education, which is unfortunate because it obviously creates a lot of uncertainty in our public education system. Public schools need to serve all children, including transgender kids, and now they don't have that kind of certainty around the best way to do that and avoid costly lawsuits and meet the learning needs of all kids.
What did you think of the Endrew decision that set a new standard for special education?
Good decision, absolutely. It helped empower parents of special ed kids, which is always a challenge, and it raised the bar on kind of the appropriate level of special education services to reasonably ambitious, which is kind of a new standard.
I also mentioned that the flip side of that is we need to meet the full share of federal special education funding to 40 percent. I'm going to continue my efforts to do that, because otherwise it's kind of a zero-sum game, where you're playing off special education students against non–special education students. We really have to meet that federal share. I think the precedent is a good [one]. It gives parents and kids more rights.
(The 74: Supreme Court Sets New Standard for Special Ed, Unanimously Rejects Minimal School Progress)
Having the federal government pay its full share of special education funding has been among the most bipartisan goals in federal education appropriations. Are you more optimistic about that than perhaps some other programs, given that Trump proposes big cuts to education spending but would hold IDEA spending flat?
I'm optimistic about that, in that I don't think it will suffer from the brunt of the cuts. I do think we'll be able to hold it harmless or increase it. We plan on dropping a bill soon to fully fund special ed, and there's another bill … There will be at least my bill and another bill to fully fund it. And yes, it does have supporters on both sides.
There's been something of a fracture in the education reform movement in recent months, exemplified by the recent letter by charter leaders arguing that more federal dollars for charter schools shouldn't come at the expense of funding other programs that help kids. What's your take?
I think, on the left, we're interested in serving all kids and in particular low-income, and that's not just a race thing; we have a lot of poor areas of white kids, too. We're interested in serving kids of all races and all economic backgrounds with the best-quality public school available, whether it's a charter school or a district school.
I think that the difference is, is that Betsy DeVos and the Republicans are talking a lot about low-quality options, and options for the sake of options. We want to make sure all of the options are good options. Democrats are supporters of district schools, of charter schools, of independent schools, of magnet schools, of every kind of school — it's just a question of where best to focus our limited public resources to improve the learning opportunities for every child.
Historically there has been some opposition among Democrats in Congress to charter school programs, though it's certainly limited. Do you see that changing?
I don't see that as opposition to the concept of charter schools. I think there's frustration with different state authorizing practices, some of it very legitimate, and members that come from those states that have low-quality authorizing practices and low-quality and for-profit providers are concerned about the quality of the education that's given to some of the kids that go there, and some of those concerns are very legitimate. But it's not about public charter schools, per se.
Support The 74's year-end campaign. Make a tax-exempt donation now.