Three Pfizer Shots 80% Effective Against Omicron in Toddlers, Trial Data Show
Many parents of children under 5 are eager to vaccinate their kids against COVID as cases are once again on the rise, pediatrician says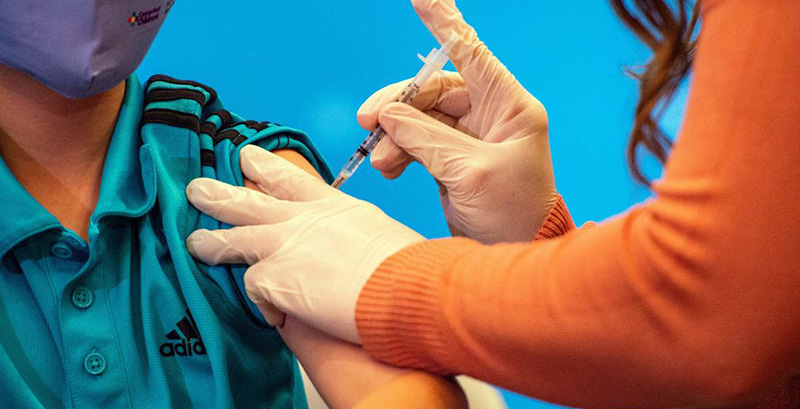 Get stories like these delivered straight to your inbox. Sign up for The 74 Newsletter
Pfizer-BioNTech's new three-dose coronavirus vaccine for children under 5 years old is 80% effective at staving off infection, including from the Omicron variant, the companies announced Monday. 
It's a major boost in efficacy compared to data from Moderna, which announced in March that its two-dose regimen is 51% protective in toddlers 6 months to 2 years old and 37% protective in youngsters 3 to 6 years old. 
Researchers believe both vaccines offer a strong defense against severe illness and hospitalization in the age group.
The U.S. Food and Drug Administration on Monday announced its vaccine advisory committee will meet June 15 to review Moderna's and Pfizer-BioNTech's emergency use authorization requests for kids ages 6 months to 5 years old and 6 months to 4 years old, respectively. Pfizer and BioNTech have not yet submitted an EUA request, but plan to do so by the end of the week, BioNTech CEO Ugur Sahin said in a press release.
The agency's advisory committee will make a recommendation on whether to approve the shots at the end of the meeting, which the FDA typically follows. Many experts hope the agency will greenlight shots soon after the mid-June meeting.
"I have some optimism that this will go well at [the] FDA advisory meeting and we might begin immunizing under 5 beginning next month," Peter Hotez, co-director of Texas Children's Hospital's Center for Vaccine Development, wrote on Twitter.
Children under 5 years old remain the last Americans without access to COVID vaccines, and parents are eager to protect their children, especially as cases once again rise, said Atlanta-based pediatrician Jennifer Shu. 
On Monday, as the Pfizer news was announced, multiple parents of young children asked whether they could get their kids on a waiting list for the forthcoming vaccines.
"I assure them that we will make availability for everyone who wants [the shots]," said Shu, explaining that her practice has received ample pediatric vaccine supply every time they have placed an order. "I don't think that access is going to be an issue."
The news from Pfizer and BioNTech comes on the heels of a months-long saga that has repeatedly raised the hopes of parents anxious to vaccinate their toddlers against COVID only to later send them crashing down. In late February, Pfizer-BioNTech first submitted a request asking the FDA to grant emergency authorization for a two-dose regimen of their vaccine for children 6 months to 4 years old, only to then withdraw the application just five days later. 
Then in April, when Moderna was on the verge of submitting its EUA application for the age group, Politico reported that the FDA might postpone the review process until Pfizer's shots were also ready, a reveal that angered many parents and spurred a congressional letter asking the agency to explain the reported delay. The announcement of the June 15 committee meeting appears to confirm those speculations of a simultaneous review.
The trial results released Monday clarified what experts have hinted at since February — that Pfizer's two-dose regimen never offered the full intended protectiveness for young children.
"It was always a three-dose vaccine," said Hotez.
The news comes as reported U.S. coronavirus cases are up 53% since two weeks ago and youth infections are also rising, though less steeply. With the increased prevalence of at-home testing, those numbers may fail to capture the full scope of new case totals, said Shu.
During the winter's massive Omicron surge, children under 5 were hospitalized with the virus at five times the rate they were during the Delta surge, a study from the Centers for Disease Control and Prevention recently found. And in February, the agency's data revealed that 3 in 4 kids under 18 had been infected by the virus.
Still, repeat infections remain a threat, and can happen within months of each other. Children who have not yet been vaccinated are more likely to get sick and, in turn, more likely to experience severe outcomes than immunized peers, said Shu.
"The kids who are ending up in the hospital are more likely not to be vaccinated," she told The 74.
Just 28% of children 5 to 11 years old and 58% of youth 12 to 17 years old have received two vaccine doses, rates that have remained nearly stagnant for months.
Aside from recommending that kids roll up their sleeves as soon as they're eligible, the pediatrician believes schools should consider reinstating universal face-covering rules while infections multiply. While a few schools and districts have made that jump, the vast majority continue to keep masks optional, though some have upped their language recommending masks. 
Shu, however, knows of some children who have chosen to mask up at school as they've watched their peers get sick. It's prom and graduation season, the pediatrician noted, and young people don't want to miss out.
"If you miss some of these things, you can't make them up," said Shu.
Get stories like these delivered straight to your inbox. Sign up for The 74 Newsletter