Districts Recommend Masks — But Don't Require Them — as COVID Counts Rise
Coronavirus cases are increasing nationwide but, so far, upticks have spurred only a few school districts to reinstate mask mandates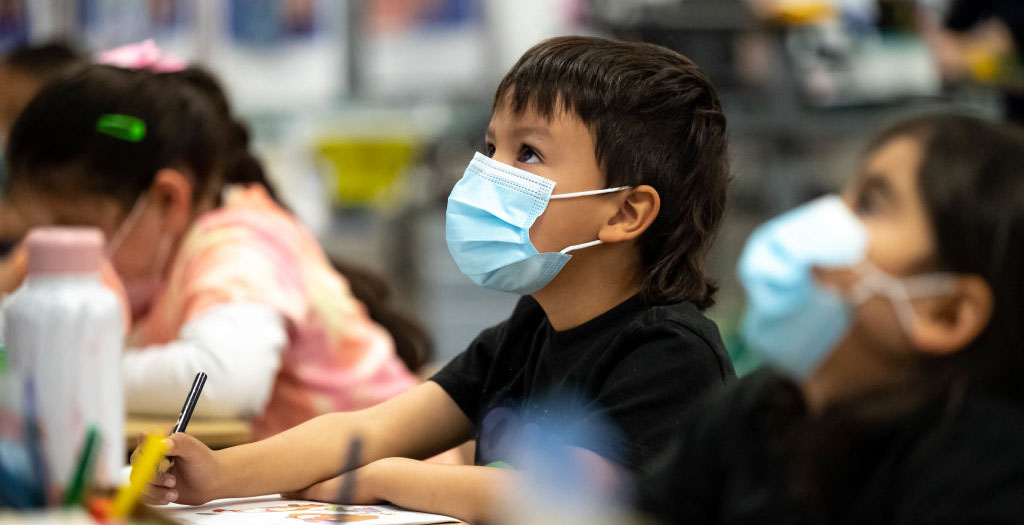 Get stories like these delivered straight to your inbox. Sign up for The 74 Newsletter
Coronavirus cases are rising nationwide but, so far, upticks have spurred only a few school districts to reinstate mask mandates.
Nationwide, reported infections are up 57% since two weeks ago and 4 percent of counties, including large clusters in the Northeast, are categorized as high risk by the Centers for Disease Control and Prevention's COVID-19 Community Levels Tracker. Another 14 percent are at the medium risk level.
Still, only 2% of the largest 500 school systems are requiring students and staff to wear face coverings, according to the latest analysis from Burbio, a data service that has surveyed K-12 policies through the pandemic.
An outlier, Pittsburgh Public Schools in Pennsylvania recently opted to bring back its mask mandate less than two weeks after having made masks optional districtwide. And Portland, Maine on May 12 also returned to universal indoor masking, but clarified that it would not enforce the rule at end-of-year events like graduation and prom.
Much more common, school and health officials are announcing guidance strongly recommending that residents wear masks indoors as case counts rise, but have fallen short of issuing mandates. New York City leaders are urging residents to wear masks indoors, but the nation's largest school district has made no changes to its face-covering policy thus far. The Cambridge, Massachusetts superintendent put forward a mask advisory May 9, "​​encouraging our entire school community to mask, particularly when we are indoors," but added that "we are NOT reinstating a requirement."
"While a small number of districts are reinstating mask mandates, what we are seeing more often is district superintendents more forcefully recommending use of masks while not requiring them," Burbio co-founder Dennis Roche told The 74.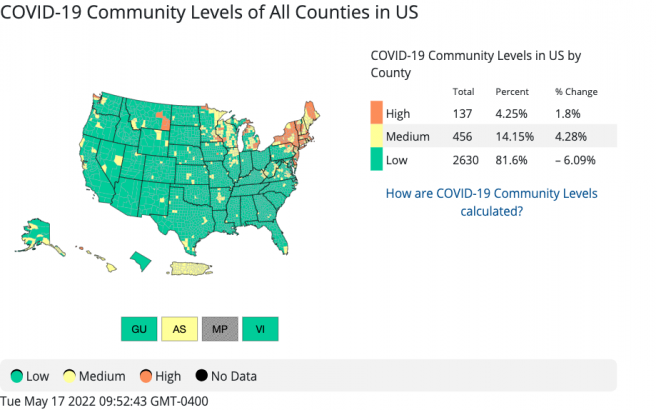 Mia Miron, 13, is weeks from graduating middle school in Pomona, California. Recently, she's noticed far more students and staff catching the virus, she said.
Her friend in science class got infected. And the school called her to the cafeteria last week to notify her of a possible exposure in history class, though she has since tested negative for the virus. Los Angeles County, where Pomona Unified School District is located, has seen a 48% increase in cases over the last two weeks.
"This shot up out of nowhere," she told The 74.
Though the district does not require students or staff to wear face coverings, teachers in most classes now remind Miron and her peers that COVID is spreading and that they should mask up and frequently wash their hands, she said.
The eighth grader has worn a mask in school all year long and continues to now, but few of her classmates have heeded educators' warnings, she said.
"It's kinda like 50-50" in terms of who wears face coverings in the classroom, she said.
Ameera Eshtewi, a Portland, Oregon high schooler who attends the Oregon Islamic Academy, a private school, said her school never dropped its universal face-covering requirement. She's glad: mask-wearing gives her a "level of safety and security," she told The 74.
Across the country, reported pediatric COVID infection counts have steadily increased over the past month, but remain far below levels from the worst of the first Omicron surge. For the seven-day period ending May 12, the country reported about 94,000 youth cases compared to over 1.1 million over the same time span in late January, according to data from the American Academy of Pediatrics.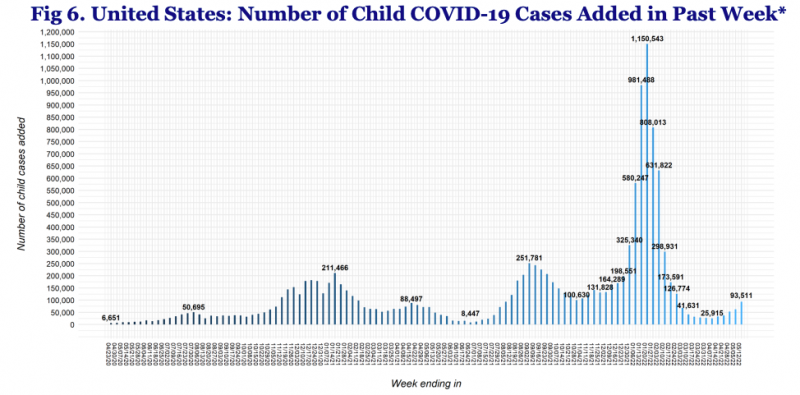 On Tuesday, the U.S. Food and Drug Administration granted emergency use authorization to Pfizer-BioNTech's booster shots for children aged 5 to 11. The agency has hearings scheduled throughout June to review Moderna's vaccines for children 5 and younger.
Meanwhile, as the U.S. surpasses the grim milestone of 1 million lives claimed by COVID, just 58% of youth aged 12 to 17 and 28% of children 5 to 11 have received two vaccine doses. The latest wave of infection includes many people who have been both fully immunized and boosted, leading to a belief that schools cannot realistically take a zero-COVID approach to virus mitigation.
Still, masking requirements should return on a short-term basis in school districts where virus risk is high, believes Benjamin Linas, professor of medicine at Boston University. He serves on an advisory panel for his children's Brookline, Massachusetts school system and advocated for a temporary reimplementation of universal masking, though on May 11 officials instead opted to "strongly recommend," but not require, face coverings.
"Unless we're willing to say, 'That's it, we're 100% done, there's absolutely nothing we can do to mitigate [COVID spread],' — and I'm not ready to say that — … then we're at a point where we should be using masks," he told The 74.
The doctor, who was among the first in his liberal suburb to advocate for off-ramps from mask mandates earlier in the spring, added that "once-in-a-lifetime, big events, where interacting with humans and walking around and seeing each other smiling is mission critical to what the event is," such as prom, should not enforce face-covering rules.
His stance on classroom masking comes less out of concern for curbing community spread, he explained, and more for a desire to keep students from missing school. Face coverings reduce virus transmission in K-12 settings, multiple academic studies have demonstrated, which can prevent young people from quarantine.
"The reason we want people to wear masks is to protect our own education, now" while cases are up, said Linas.
Get stories like these delivered straight to your inbox. Sign up for The 74 Newsletter