This Week's ESSA News: Ed Dept. Pick Gets Grilled, 6 More Plans Get Approved, CA and NY Get Mad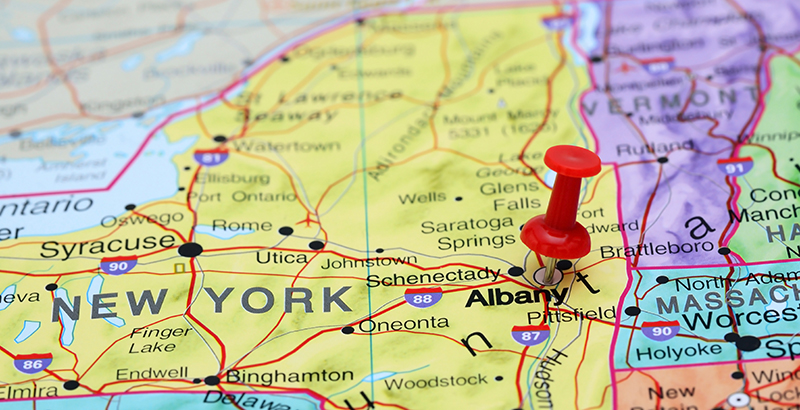 This update on the Every Student Succeeds Act and the education plans now being refined by state legislatures is produced in partnership with ESSA Essentials, a new series from the Collaborative for Student Success. It's an offshoot of their ESSA Advance newsletter, which you can sign up for here! (See our recent ESSA updates from previous weeks right here.)
Thursday's Senate confirmation hearing for President Trump's nominee for assistant secretary for elementary and secondary education turned into an opportunity for Democrats to assail Secretary Betsy DeVos on her diligence in approving ESSA plans, Education Week reports.
Sen. Patty Murray, the committee's ranking Democrat, said DeVos was pushing through plans without the proper protections for vulnerable student groups or adequate strategies for dealing with low-performing schools.
Republican Sen. Lamar Alexander, committee chairman, however, said he believes DeVos is following the law and praised her "for approving plans that give states dramatic new freedom to set goals and hold students accountable," Ed Week reports.
Alexander and Murray were the bipartisan architects of the Every Student Succeeds Act in 2015. Murray said Thursday that DeVos has agreed to meet with the two committee leaders to discussion its implementation.
Meanwhile, nominee Frank Brogan, a former state schools chief, lieutenant governor, and longtime educator, said he believes the approved plans adhered to the law but he can get into more of the details once confirmed, as is expected.
The pace of ESSA approvals continues, with DeVos announcing on January 19 that accountability plans in six more states — Georgia, Hawaii, Indiana, Kansas, Montana, and New Hampshire — had received federal approval.
"I am pleased to approve these plans, which comply with the requirements of the law," she said. "I encourage states to use their plans as a starting point, rather than a finish line, to improve outcomes for all students."
That brings the total to 33 states, plus Washington, D.C., and Puerto Rico.
Education officials in California and New York are not quite as happy, pushing back against the federal response to their state ESSA plans. In California, the Orange County Register reports that, despite "significant criticisms last month by the U.S. Department of Education" (as well as from the Check State Plans peer reviewers), the Golden State "will likely make clarifications but no substantial changes" to its plan.
As for New York, Chalkbeat reports that just days after the Education Department denied its request to create different testing rules for special needs students and English language learners, the state's education chief "vowed to keep up the fight." Regardless, the department announced approval of the Empire State's plan on January 16.
In other ESSA news:
1 National Urban League launches "No Ceilings on Success" campaign
Building on the work of its Equity and Excellence Project, the National Urban League recently launched No Ceilings on Success, a "campaign to hold states accountable through parental and community involvement." The campaign seeks to equip "parents, teachers, students and communities with the knowledge to remove the barriers that prevent every student from achieving academic excellence."
2 Parent engagement, empowerment key to ESSA success
Recently, The 74 launched a new series on parental engagement and ESSA. "Engaging Parents Through ESSA" seeks to examine parents' perspectives on "how districts and schools can best use new funding to make parents partners in improving education in their communities, and how to measure whether those efforts are working." As part of this series, Vesia Wilson-Hawkins — a former student, parent, and staffer in Nashville, Tennessee, schools — writes about the need to engage parents and close the "parent gap" under ESSA. Parents Katie Braude and Chantel Hunter Mah urge districts — specifically Los Angeles Unified School District — to give parents a meaningful role in improving their children's classrooms. They say this is especially important given the link between parental involvement and student achievement.
3 ESSA and the principal principle
New Leaders recently released a report that asks how states are "planning to support principals and other school leaders" under ESSA. Their analysis found the following: "Some states will develop and expand programs to diversify their ranks of principals and other school leaders; others will emphasize building up instructional leadership skills."
Additionally, some "are planning to build stronger pipelines into leadership roles," while others "will strengthen principal-preparation programs" or "retool on-the-job support and coaching for school leaders."
Want to stay up to date? Click here to sign up for the ESSA Advance newsletter to receive all the information in your inbox every Wednesday.
Get stories like these delivered straight to your inbox. Sign up for The 74 Newsletter