This Week in Pandemic Education Policy: Moderna and Pfizer Race to Finalize Shots for Youngest Kids, Signs of a Spring COVID Surge & More Updates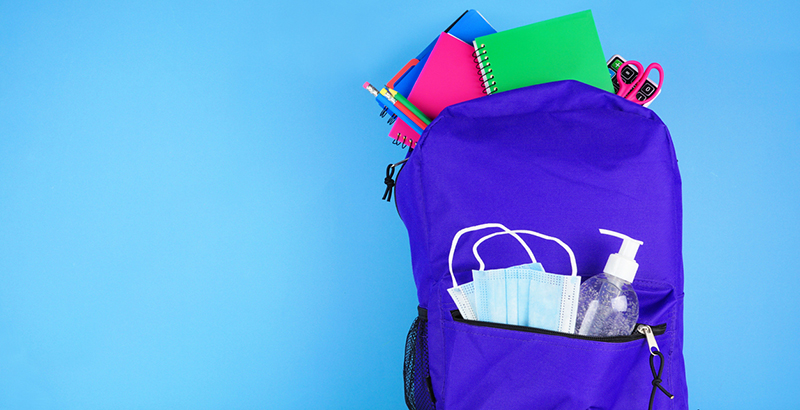 This is our weekly briefing on how the pandemic is shaping schools and education policy, vetted, as always, by AEI Visiting Fellow John Bailey. Click here to see the full archive. Get this weekly roundup, as well as rolling daily updates, delivered straight to your inbox — sign up for The 74 Newsletter.
Which Coronavirus Vaccine Will Work in the Youngest Children?: The New York Times
"Moderna is going head-to-head with Pfizer-BioNTech for the opportunity to vaccinate this group, hoping it has found what some scientists are calling the 'Goldilocks dose: strong enough to offer lasting protection, but not so strong that it causes widespread worrisome side effects, such as high fevers."
"Moderna has opted for a regimen of two doses at a quarter the strength of its adult dose for children under 6. Pfizer is expected to seek authorization next month for a three-shot regimen for children under 5, with doses one-tenth as strong as those for people aged 12 and up."
"Dr. Ofer Levy, a pediatric expert at Harvard Medical School and a member of the Food and Drug Administration's independent vaccine advisory committee, said he thought Pfizer might have selected too low a dose for 5- to 11-year-olds 'in the understandable priority to maximize safety.'"
"Moderna is proposing substantially higher dosing than Pfizer in all three pediatric age groups: 100 micrograms, the full adult dose, for those ages 12 to 17; 50 micrograms in children 6 to 11, and 25 micrograms in those under 6. Regulators are considered likely to review the firm's data for all three age groups simultaneously."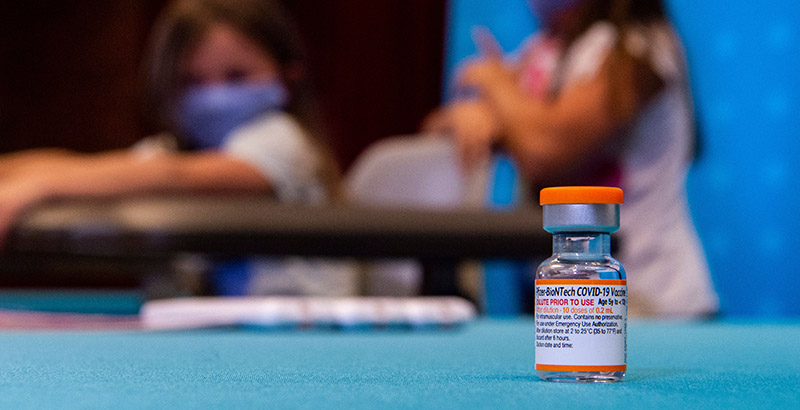 ---
March 18, 2022 — The Big Three
Growing Evidence of a Spring Wave?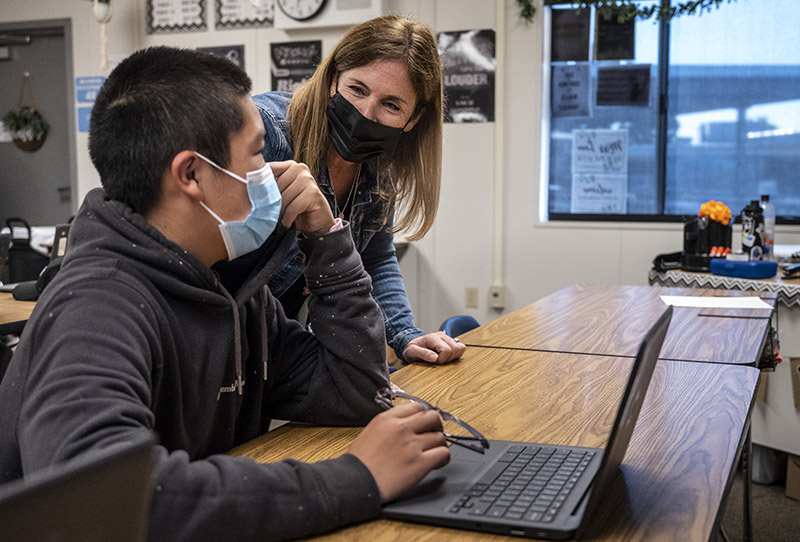 Do Masks in School Affect Kids' Speech and Social Skills?: Via NPR
"'We tend to underestimate how flexible our mind and our brain is,' says Marina Bedny, an associate professor at Johns Hopkins University who studies brain development in people who are blind."
"This sort of research suggests that when sighted children encounter masks in the classroom, their brains adapt quickly."
Stephen Camarata, a professor of speech and hearing sciences at Vanderbilt University, said he "thinks most children won't have any long-term effects from masks in classrooms. But he's concerned about some students with autism who have difficulty adapting to even small changes in their environment."
School Masking Policies and Secondary COVID-19 Transmission: Study that included 61 school districts, more than 3,000 schools, and more than 1.1 million students and adults from across nine states. More via The 74.
"Districts that optionally masked throughout the study period had 3.6 times the rate of secondary transmission as universally masked districts."
"Secondary transmission across the cohort was modest (less than 10% of total infections) and universal masking was associated with reduced secondary transmission compared to optional masking."
"The results of this study clearly show that universal masking reduces school transmission of COVID-19 when compared to optional masking, a finding that is consistent with earlier data," said Dr. Danny Benjamin, co-chair of the ABC Science Collaborative and professor in the Department of Pediatrics at Duke University School of Medicine. "As more students have returned to school, masking and vaccination of children 5 years and older have remained the most practical and effective mitigation strategies to keeping students healthy and learning in-person."
National Institutes of Health: "Schools with mandatory masking during the Delta surge had approximately 72% fewer cases of in-school transmission of SARS-CoV-2 when compared to schools with optional or partial masking policies."
---
Federal Updates
White House: Bipartisan Infrastructure Law webinar on broadband, March 24, 2022.
COVID Supplemental: White House Fact Sheet "Consequences of Lack of Funding for Efforts to Combat COVID-⁠19 if Congress Does Not Act." Several highlights below. More via Stat.
"The federal government does not have adequate resources to purchase enough booster vaccine doses for all Americans, if additional doses are needed."
"The federal government has no more funding for additional monoclonals, including a planned order for March 25."
"The federal government has been planning to move forward with a purchase of preventative treatments for the immunocompromised as soon as March 31 that would begin delivery in September, once the treatments are manufactured. However, absent additional funding the federal government will now be forced to scale back that purchase of treatments for our most vulnerable. Because these treatments take more than 6 months to manufacture, the United States will likely not have enough of these treatments by the end of the year."
CTC: "Child Tax Credit expansion creates refund roller coaster"
"People who received the monthly Child Tax Credit checks lawmakers created last year may be surprised to see those payments are now reducing or even eliminating their tax refunds."
"Some divorced people could be upset to learn they weren't actually eligible for checks they received and now have to pay the money back."
"At the same time, some will see fatter refunds, particularly the several million who opted out of the monthly payments."
Census: "The 2020 census undercounted the country's population by 18.8 million people, the Census Bureau said, acknowledging that the count had underrepresented Black, Latino and Indigenous residents," the NYT reports.
Second Gentleman: Doug Emhoff tests positive for COVID.
---
City & State News
California:
Illinois: Chicago Teachers Union: "Defending our rights against Mayor Lightfoot and Chicago Public Schools"
Indiana: Monroe, Greene County K-12 schools help students access home internet.
Michigan:
Mississippi: Department of Education uses $10.7 million of stimulus funds to launch a virtual tutoring program.
New Mexico: Then & Now – Albuquerque Public Schools.Video documentary of the last two years.
"When we look back on the past two years, we recall feelings of frustration, loneliness, and fear. But don't forget the triumphs, too. It turns out some good can come from a pandemic. We got better at communicating with families and more conscientious of students' social and emotional needs. We became more innovative, collaborative, flexible, and focused."
Ohio: RemotEDx: A closer look at how Ohio spent some of its federal COVID relief dollars.
"One such effort was RemotEDx, a statewide initiative aimed at helping schools "enhance, expand, and more effectively scale high-quality remote, hybrid, and blended education models."
"The Connectivity Champions have directly engaged with schools and families across all eighty-eight Ohio counties, and have provided more than 600 connectivity- or technology-related services."
"The Support Squad is made up of staff from each of Ohio's fifty-one ESCs who were selected by ESC superintendents in December 2020. Collectively, they support schools by identifying and compiling technology, content, instructional, and vendor information that supports remote, hybrid, and blended learning."
"The Exchange is a 'one-stop shop' for Ohioans — both educators and families alike — to explore the resources, services, and tools available through RemotEDx. The website, which is powered by INFOhio, highlights high-quality remote education platforms, standards-aligned instructional materials and curricula, and professional development resources."
Pennsylvania: "Philly health department admits the city is far less vaccinated against COVID-19 than it has been saying."
"Most significant, only a third of Philadelphia's 5-to-11-year-olds have received at least one dose of a COVID-19 vaccine, far fewer than the 53.6% officials have been touting for weeks."
"Adult vaccination rates also were inflated: Just over three-fourths of Philadelphians 18 and older are fully vaccinated, less than the 82% that had been reported."
Texas: Denton ISD hopes to grow size of virtual academy.
---
COVID-19 Research
Hospitalization of Infants and Children Aged 0-4: CDC weekly report. Hospitalizations during the Omicron wave for children less than age 5 were five times higher than with Delta or any other time in the U.S. pandemic.
One-Third of All U.S. Child COVID Deaths Occurred During Omicron Surge: Reports The Guardian.
"Children seem to be facing increasing risks from COVID-19 even as mask mandates drop across the country, and vaccination rates among children stall out at alarmingly low rates."
"Since the beginning of the year, 550 children have died from COVID-19 in the US, compared with 1,017 children in the preceding 22 months, according to data from the CDC."
"The variant may also affect younger children in different ways than previous versions of the virus. Omicron tends to infect the upper airways, which in children are narrower and can be more easily irritated."
Pfizer Vaccine Reduces the Risk of COVID-19 Infection in Children: New study and article
"A single dose of the Pfizer vaccine reduces the risk of COVID-19 infection in children, new research has found. Data also showed a single dose made infection milder during the delta period as well as shorter in duration, benefits that were noticeably less pronounced during the period of omicron."
"Researchers found there was a significant and rapid reduction in infection risk after even a single dose of vaccine, reaching -80.4% and -53.7% at 14–30 days with delta and omicron variants respectively. This reduction in risk persisted, at -86.4% and -57.9% at 31–60 days, and -61.5% and -63.7% after 61–90 days."
As Virus Data Grows, the J&J Vaccine Holds Its Own: Via the NYT: "new data suggest that the vaccine is now preventing infections, hospitalizations and deaths at least as well as the Pfizer-BioNTech and Moderna vaccines."
Pfizer Asks FDA to Authorize Second Covid-19 Booster Dose for 65 Years and Older:  Via WSJ. The FDA "is expected to make a decision in time for the Biden administration to begin a potential fall vaccine campaign." Pfizer press release.
Novavax: Eyeing the COVID "vaccine hesitant" and kids, Novavax unveils new education campaigns as Nuvaxovid nears US finish line. (Website)
"People hesitant about vaccinations may not want an mRNA vaccine because it's new technology, without years of proven safety behind it. But they might use an older, 'tried and tested' tech, as Novavax puts it."
Paxlovid: "Pfizer announced Wednesday that it has started a clinical trial testing its COVID-19 antiviral pill in children as young as 6."
Ten Lessons From the First Two Years of COVID-19: Via McKinsey
Schools are the true fulcrum for the functioning of society. (And nine more)
---
Viewpoints
Once Again, America Is In Denial About Signs of a Fresh COVID Wave: Writes Eric Topol
"The United Kingdom and Europe have provided five unmistakable warnings to America that a new surge was occurring. Within weeks, each time, the United States experienced a new wave, some not as severe (such as with the Alpha variant), some worse (Delta and Omicron variants)."
"At least 12 countries, geographically extending from Finland to Greece, are experiencing new increases in cases, some quite marked, such as Austria exceeding its pandemic peak, and Finland with an 85% increase from the prior week. Many of these countries are also showing a rise in hospital admissions."
"Add to all this is what is happening in China, which has fully relied on a zero-COVID policy, resulting in very little natural immunity, and vaccines that have weak efficacy against Omicron. Now this country is facing major outbreaks in two of its most populous cities, Shanghai and Shenzhen, and undoubtedly the whole country will be affected. We learned in 2019 that what happens in China doesn't stay in China."
Learning Loss and Education Disruptions: New bipartisan poll by Brian Stryker (Impact Research) and Robert Blizzard (Public Opinion Strategies) for the Walton Family Foundation.
Parents report their kids have missed a full month of in-person instruction this school year.
Parents report their kids missing on average 26 days of school this year (despite rhetoric about schools being open).

On average, parents say their children missed 15 days of school this school year due to COVID-19 quarantines. This is higher among Black parents (17 days) and Midwestern parents (17 days).
On average, parents say their kids missed 11 days of school this year due to school closures related to COVID-19.

Related: "Roughly two out of five parents report that at least one child had to quarantine in the past month due to COVID-19" in an EdChoice/Morning Consult poll. (Report / K-12 Parents Crosstabs / Adults 18+ Crosstabs)
Increases in Children Diagnosed with Mental Health Conditions from 2016 to 2020: New Health and Human Services study (press release) in JAMA Pediatrics found that between 2016 and 2020, the number of children ages 3-17 years diagnosed with anxiety grew by 29% and those with depression by 27%.
These Schools Did Less to Contain COVID. Their Students Flourished: Good long piece via The Washington Post.
"While most of the nation kept students at home for part or all of the last academic year, these schools in the suburbs of Colorado Springs, like thousands of others around the country, opened with the overwhelming majority of students in their seats. Masks were optional in elementary school."
"Yet thousands of school districts — typically small ones in conservative-leaning counties — reacted to the pandemic like Lewis Palmer District 38 did. Officials in this largely White and affluent school district of 6,600 students near the U.S. Air Force Academy argue they took the right approach to reopening schools."
"No child was hospitalized with the virus; two school system employees were admitted, though contact tracers did not determine where they contracted the virus, school officials said."
Transforming Education: Vision Is One Thing, But How Do We Get There?: Via CZI's Brooke Stafford Brizard
The Post Post-Cold War World: The Russia-Ukraine War & Its Consequences: New deck from Bruce Mehlman.
The Pew Charitable Trusts Launches Opportunity Broadband: Announcement and website.
One Year After Congress Appropriated Over $122 Billion for K-12, Many School Districts Are Struggling to Spend It: Via The 74
---
…And on a Reflective Note
Welcome: Ukrainian refugee kids arrive in Italy, and start at local schools. On their first day they enter nervously. Here's what happened next.
Ukrainian refugee kids arrive in Italy, and start at local schools. On their first day they enter nervously. You won't believe what the Italian kids did next … pic.twitter.com/XQ1z2gkezb

— Ben Phillips (@benphillips76) March 14, 2022
Tug of War: I think the dog won.
---
ICYMI @The74
Weekend Reads: In case you missed them, our top five stories of the week:
For even more COVID policy and education news, subscribe to John Bailey's daily briefing via Substack.
Disclosure: John Bailey is an adviser to the Walton Family Foundation, which provides financial support to The 74.
Support The 74's year-end campaign. Make a tax-exempt donation now.