'We're Shell Shocked': A Tiny Ukrainian School in New York City Struggles with War in Homeland
By Meghan Gallagher | March 13, 2022
Every morning for the past few weeks, students and staff at St. George Academy in New York City start their day by checking to see if relatives and friends in Ukraine are still alive.
"We're shell shocked," said Andrew Stasiw, principal of the tiny Ukrainian Catholic high school in the East Village. "We have students breaking down and crying. We're trying to run school as normally as possible … but it's impossible not to be thinking of Ukraine."
And because it is impossible not to be thinking of Ukraine, life inside the high school that opened in 1947 in the city's Little Ukraine neighborhood has strayed far from class routines and schedules for its 80 students, their teachers and staff.
For many at St. George Academy, the country currently under attack by Russia is home — and the pull toward home remains strong.
A teacher is desperately trying to get her 11 grandchildren out of Ukraine. A guidance counselor's job has shifted from discussions about college and career with students to discussions about life and death.
Students are fearful Russian spies are hacking their laptops. A student's escape from Ukraine meant leaving his father and friends behind to fight. Now the teen is grappling with guilt and worry — and the lingering question of whether he too should have stayed.
"I know at least four young men that are here … many of them who would go [to fight Russia]. Parents have reached out to me and said, 'Hey, try to talk to them, and let them know that they can do more good from here,'" Stasiw said, "Parents have that knee jerk reaction to protect their children."
Before the news broke, guidance counselor Nicole Giovenco's day revolved around reading college applications and enrolling students in AP exams. Now, students come knocking on her door asking her to listen to their fears about the war.
"Some of them have brothers over there fighting," said Giovenco. "They get that one phone call or WhatsApp message a day from them, if they're lucky, and if they don't they have no idea what to think."
There have been moments when Stasiw has broken down, tearing up about the crisis. Volodymyr Zelenskyy, the President of Ukraine, has inspired him to stay strong for his students.
"Leadership has to lead, and in a microcosm, I'm a leader of a very small school here," he said.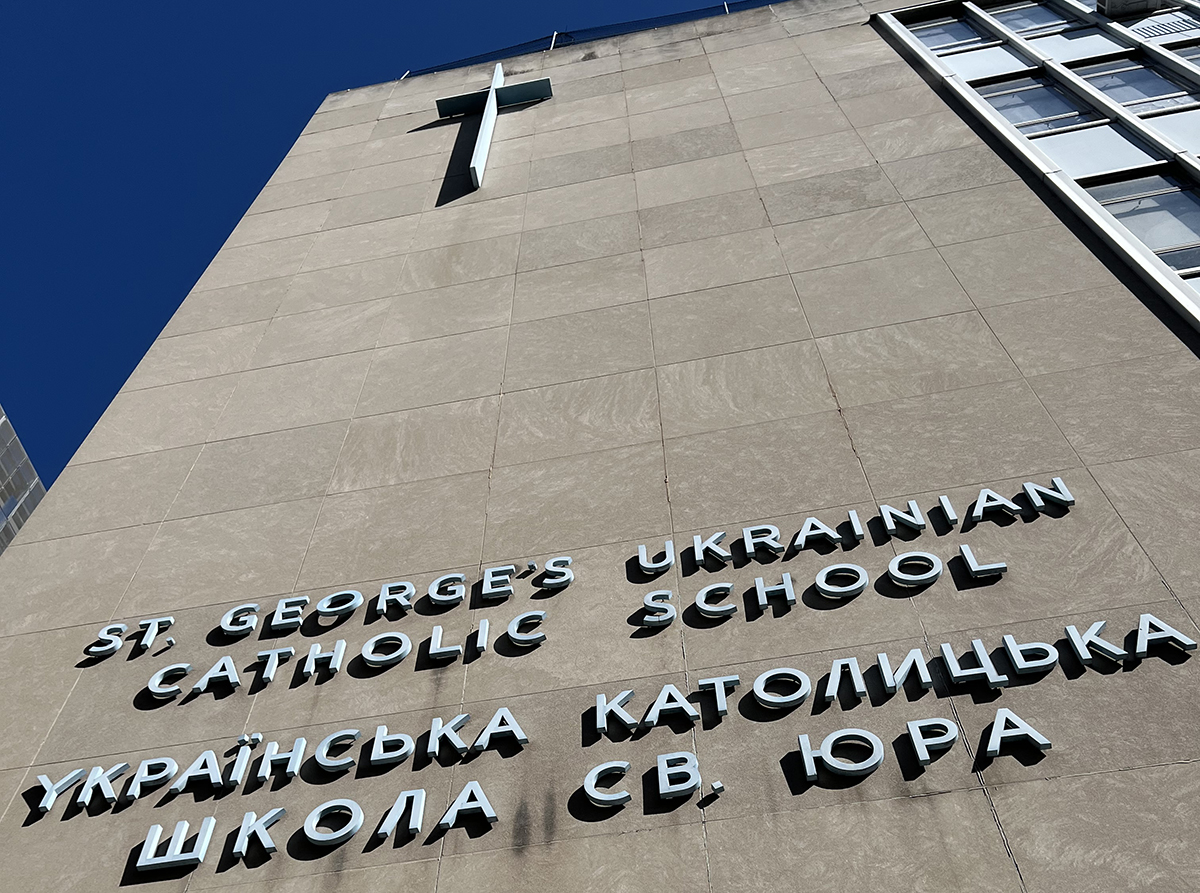 Once, St. George Academy enrolled 900 Ukrainian students. Now just 40 percent are of Ukrainian heritage, though the school still emphasizes the country's culture. Three Ukrainian refugee students have enrolled in recent days — and more are expected.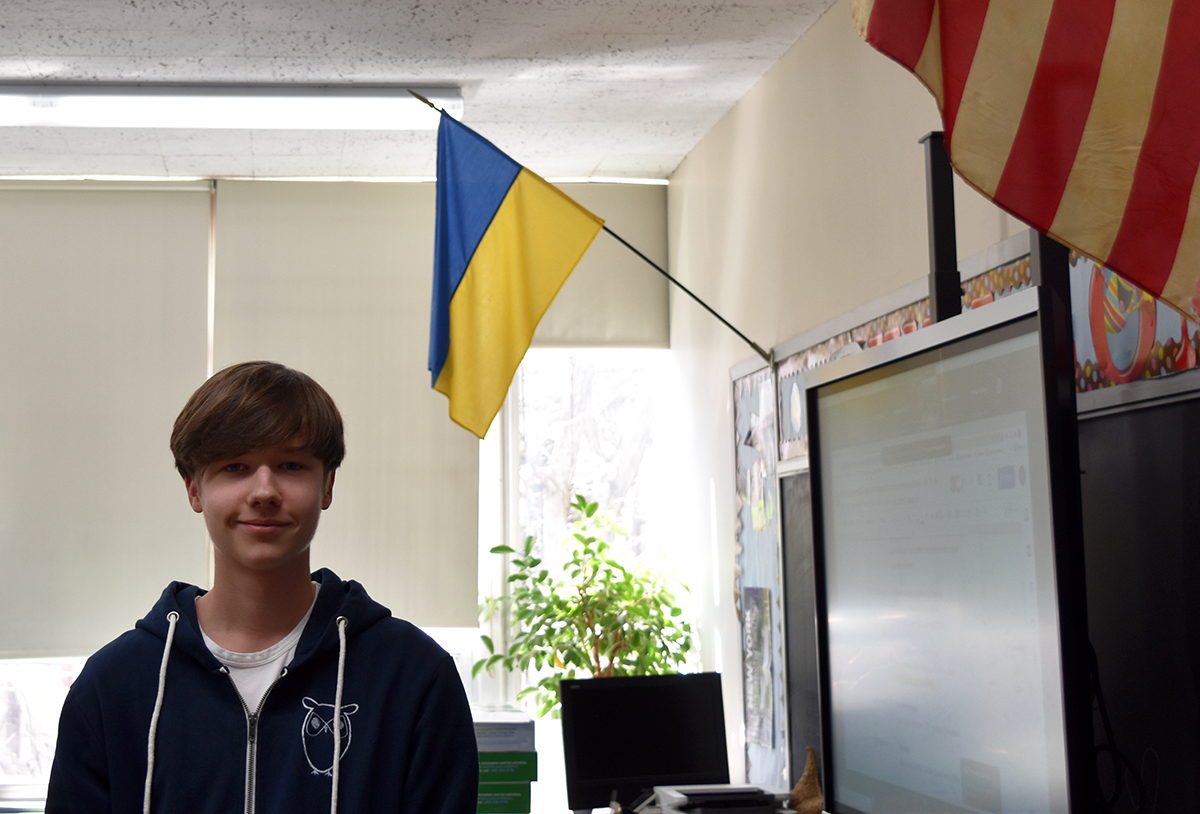 At the urging of his mother in New York who had wanted him to come live with her, Maksym Kosar, 17, packed an escape bag with dried food, water and his passport a week before his hometown, Ivano-Frankivsk, a city in western Ukraine, was invaded. The morning he heard bombs going off he fled on his own. He made his way out safely, but his father stayed behind to fight.
"My dad is in Ukraine because he couldn't leave at the moment," said Maksym during his first day at the school. "I will call him as soon as I get home."
School staff are also managing dire family affairs from afar: A Ukrainian teacher has taken days off, desperate to arrange the escape of her 11 grandchildren, who span 4 months to 11 years old.
"She's wrecked," was all Stasiw would say about the situation.
Irene Saviano, who teaches art and works in the office, was excited to start working on this year's pysanky — Ukrainian Easter eggs — with her students, but the project has been put on hold because everyone at St. George Academy is focused on the war.
Ukrainian culture, from learning about the eggs to singing traditional hymns, is woven into the school culture. Now, said Saviano, those traditions and lessons have taken on a new importance, giving students a renewed sense of pride.
"Everybody's singing Ukrainian," Saviano said. "They don't refuse it. They actually welcome it."
As Stasiw popped in and out of classrooms, students ran up to him eager to share updates. Many found it too painful and dangerous to speak about the war and, in Ukrainian, told their principal why.
"They're afraid the interview will get them in trouble with Putin," Stasiw translated.
Walking down a hallway adorned with blue and yellow posters, Stasiw was stopped by a student with another fear: He thought his laptop's security had been compromised by Russian spies.
"There are threats of cyber attacks happening in this neighborhood," he shared, telling the student he would take a look.
Stasiw said it's been hard to know exactly what to do and say to students, so he prepared a presentation "to explain to them what's going on, especially for the non-Ukrainian students.
"I talked about how we have to be compassionate and how Ukrainians do not hate Russians," he said.
For students like Janna, 17, who lived in Ukraine until she was nine-years-old and still has family there, discussing the war is helping her cope.
"It feels like a nightmare," she said. "Raising awareness is good."
Sparking discussion and keeping his culture close, Oleh Holintayy, 15, like many other St. George students, has swapped out his uniform for a vyshyvanka, a traditional embroidered Ukrainian shirt.
"This vyshyvanka was made by my great-grandmother, who's still in Ukraine," said Holintayy. The teen, who emigrated from Ukraine when he was three, has slept little in recent weeks and become obsessed with checking his phone for updates.
Just like other students at Saint George, seniors Sophia Klyuba and Vitalina Voitenko can only think about the safety of their loved ones in Ukraine.
"My whole family except for my dad is in Ukraine. My mom, my grandma, sister, nephew, aunt and uncle," Sophia, 17. "You cannot really focus on anything else and think about anything else… You call your family to know that they're still alive and well. I really want to be with them right now even though it's very dangerous … I cannot imagine anything happening to them."
St. George students and staff have looked for ways to show support for their homeland — from singing the Ukrainian national anthem in front of New York Gov. Kathy Hochul at their church, to sending messages to soldiers. Stasiw told students they could also help by spreading the word about the charity St. George Academy partnered with, Razom for Ukraine, which raises funds to send over medical supplies.
Together the students traveled to Washington D.C. to protest the war, toting the signs they assembled inside their small, proud-to-be Ukrainian high school.
Get stories like these delivered straight to your inbox. Sign up for The 74 Newsletter