'This Is Beyond Our Control': In 74 Interview, College Freshman Bridgette Adu-Wadier Says Pandemic Taught Her 'Empathy for Myself and Others'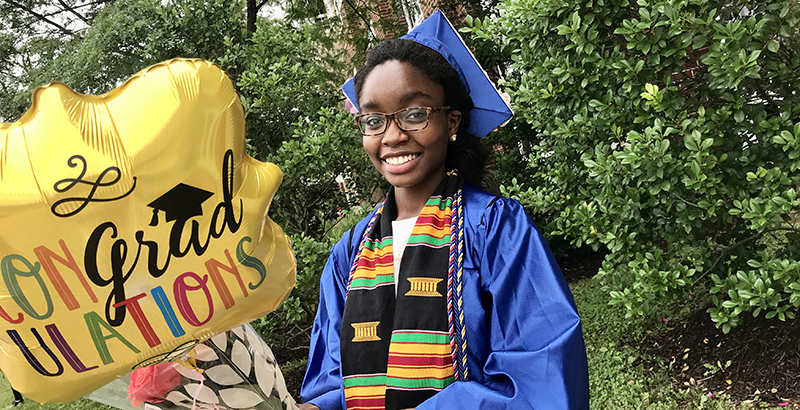 No paywall. No pop-up ads.
Special Report: This is one in a series of articles, galleries and interviews looking back at two years of COVID-related learning disruptions, taking stock at what's been lost — and where we go from here. Follow our coverage, and see our full archive of testimonials, right here.
To mark the 24 months since schools shut down because of COVID-19, The 74 spoke with parents, educators, researchers and students across the U.S. We are running some of these interviews in their entirety to give complete accounts of where we've been and where some think we're going.
Bridgette Adu-Wadier was a junior at T.C. Williams High School in Alexandra, Virginia, when schools closed for the pandemic. Like many teens across the country, she took on additional responsibility — managing remote learning for her younger siblings while also navigating the transition to college. Isolation at home, the stress of applying for college and financial aid, and an abnormal freshman-year experience all contributed to mental and emotional strain.
"The education system," she said in a January interview, "really doesn't adapt to the needs of students as human beings." But throughout the past two years, she said she's learned to let go of things she can't control, that she's more resilient than she realized and that she's "gained a lot more empathy toward myself and others."
The interview has been edited for length and clarity.
The 74: Feb. 14 will be 700 days since most schools began closing. That number even took us by surprise. What's your initial reaction to it?
Bridgette Adu-Wadier: It feels a lot longer than 700 days. The last time I was actually in a classroom under normal circumstances, with no masks or anything, was my junior year of high school.
I also think of my three younger siblings. They all had their education and schooling impacted by this. I was talking to a teacher from my hometown, and she said the pandemic has just really affected the ability for students to develop academically and psychologically. An eighth grader is really a 6th grader, and a fourth grader is really a second grader.
Do you remember when you realized that everything had changed?
Halfway through March, [the district] said we would have virtual classes for two weeks. It was around spring break, so we basically had an extended spring break. There was still a lack of information about how severe the pandemic was. We didn't really know what was going to happen. Everyone was under the impression that we would come back after two weeks and things would be fine.
By the end of March, Gov. Ralph Northam announced all the schools would be closed for the rest of the school year. I watched the live stream t and I was texting my friends. One of them was actually really upset and crying about it, just because it was such a stressful situation to be in — like, things are never going to be the same again.
You made the transition into college during this time. What has that been like?
It was frustrating to see some people complaining about classes being virtual. Of course, nobody wants to be at a school as expensive as Northwestern and not be able to take advantage of everything that the school offers. But this is a pandemic and people are dying. Yes, you're not really getting your money's worth, but I just don't think it matters right now. You're here for your education and to get your degree, and if you have to do that through whatever means necessary, it'll be fine.
Professors have COVID policies in case somebody gets sick and can't attend class, but it was super chaotic. Some professors said if you get COVID or if you get sick, you're kind of on your own. Other professors tried to be understanding and said, "If you get sick, please don't come to class." Some professors tried to record lectures, but the type of accommodations you would get were just very inconsistent.
What has been the darkest part of the pandemic for you?
Graduation was a really tough time. I don't remember enjoying it, honestly. Just collectively, it was like a year or so of the pandemic, and then also, my family was impacted a lot financially, which was stressful. I was basically helping my two younger brothers through virtual school for the whole year. I had a lot more family responsibilities, and it took a toll on me mentally. I had trouble balancing things, especially with Zoom class sessions while my brothers needed help or were playing loudly in the other room.
I was really burned out from applying to college. I needed a lot of financial aid, and normally that would be a time of uncertainty. The pandemic ijust made it all way worse. There wasn't one particular bad moment. It was just cumulative. All of senior year was a really difficult time.
How did you get through the tough times?
I relied on music and audiobooks as a form of escape. I relied on my sister a lot. Even now, I text her and she tells me what's going on back at home and cracks jokes. It was really great to have her and then also get to see her again over winter break. Even though she is my younger sister, just having her around was really helpful for me. She is my favorite person.
My best friends from high school who I keep in touch with have also been really helpful. They are that empathetic ear for when I complain about the college administrations doing weird things with COVID. They're going through the same confusion.
I also took a retail job at a stationery store in September 2020. Since I wasn't going out to school every day anymore, I needed some sort of outlet away from the stress of college applications and online school. It was a really beautiful, small business that I worked at part-time and the atmosphere and my co-workers really helped me to de-stress and not stay cooped up at home for so long.
What have you learned about yourself during this time?
I can be a lot more resilient than I thought I could be. That sounds a bit cliché, but my senior year was pretty stressful and just not what I had planned. I learned that sometimes plans change and sometimes you have a really bad year. I have definitely gained a lot more empathy toward myself and others, understanding that this has been a traumatic time for everyone. Extending that understanding to others has been something that I've been able to do a lot more.
This is beyond our control. You can't change it. I used to try to control things, but I was in a position where a lot of the things that I thought I was going to do or things that I wanted to turn out a certain way just weren't going to be like that. I can't control the environment.
What's one thing you think no one understood about students since the beginning of school closures?
Our education system really doesn't adapt to the needs of students as human beings — not just the needs of students, but the needs of teachers, the needs of parents. A lot of schools just don't have the resources to adapt to something as extreme as a pandemic. That's something that a lot of lawmakers, legislators and politicians had to reckon with.
Get stories like these delivered straight to your inbox. Sign up for The 74 Newsletter