Biden Earns High Marks from Educators on His First 100 Days, But Some Note There Are Still 'Kids Sitting at Home'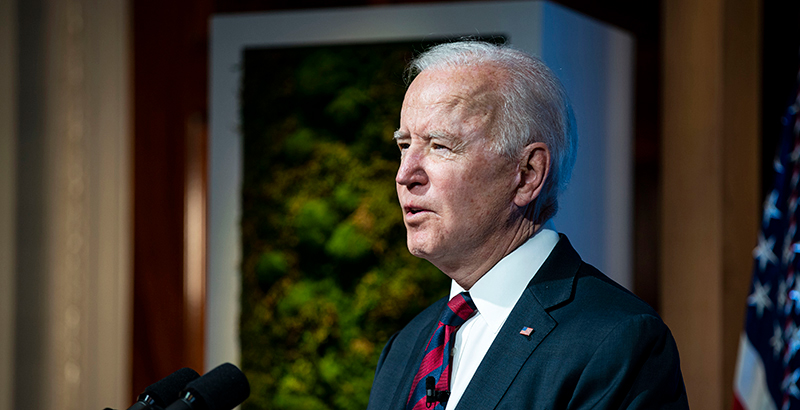 In February, the Baltimore City Public Schools allocated over $9 million for COVID-19 testing to ease the concerns of teachers and staff about returning to the classroom.
But then President Joe Biden announced he would spend $10 billion for routine screening to help schools reopen as part of the American Rescue Plan. Baltimore CEO Sonja Santelises was relieved and saw the president's firm support for asymptomatic testing as a turning point in her efforts to get teachers and students back into the classroom.
"That's an example," she said, "of where I think the clarity in direction, coupled with tangible resource support, has made a difference."
When Biden addresses Congress Wednesday, he can confidently say he's delivered much of what he promised to achieve in education within the first 100 days — aggressive steps to ramp up vaccination rates, masked students sitting at desks and billions in funding to help schools tackle learning loss. Observers say he has largely cleared up early confusion over reopening guidelines and that his Department of Education is pushing out helpful messages from districts trying to manage in-person learning. But looking ahead, some wonder whether he'll have to scale back his bold legislative agenda to win Congressional approval, and the true test of his effectiveness could be the extent to which cautious families return to school in the fall.
"I think the administration is getting its sea legs around rebuilding trust and providing clarity when there is scientific consensus," said Robin Lake, director of the Center on Reinventing Public Education at the University of Washington. "It's been real bumpy, but we're getting there."
To educators, Biden brought an end to a chaotic year in which former President Donald Trump pressured schools to reopen by threatening to withhold funding, suggested injecting a disinfectant to kill the virus and at one point called coronavirus testing "overrated."
To Philadelphia schools Superintendent William Hite, Biden's disciplined approach toward issuing guidance has given district leaders "a path forward."
"The consistency in the messages coming from all the federal agencies is helpful," Hite said.
In addition, Biden has proposed one of the most pro-child, anti-poverty agendas since the Great Society, including universal pre-K, a broad expansion of child care and an extension of a larger child tax credit — a high priority for several Democrats in the Senate and House Speaker Nancy Pelosi.
"The focus on families and the focus on children is bold," said Evan Stone, co-CEO and co-founder of Educators for Excellence. He has suggested the president's agenda for children reaches a level "of federal involvement that is unmatched since the foundation of the [education] department" and said he hopes to see the administration be just as bold about pushing for innovation in helping students make up for lost instructional time.
On those issues, Education Secretary Miguel Cardona has been visible, appearing on multiple webinars and at stops in at least six districts with messages about getting resources to schools and ensuring they serve students that suffered the most during the pandemic.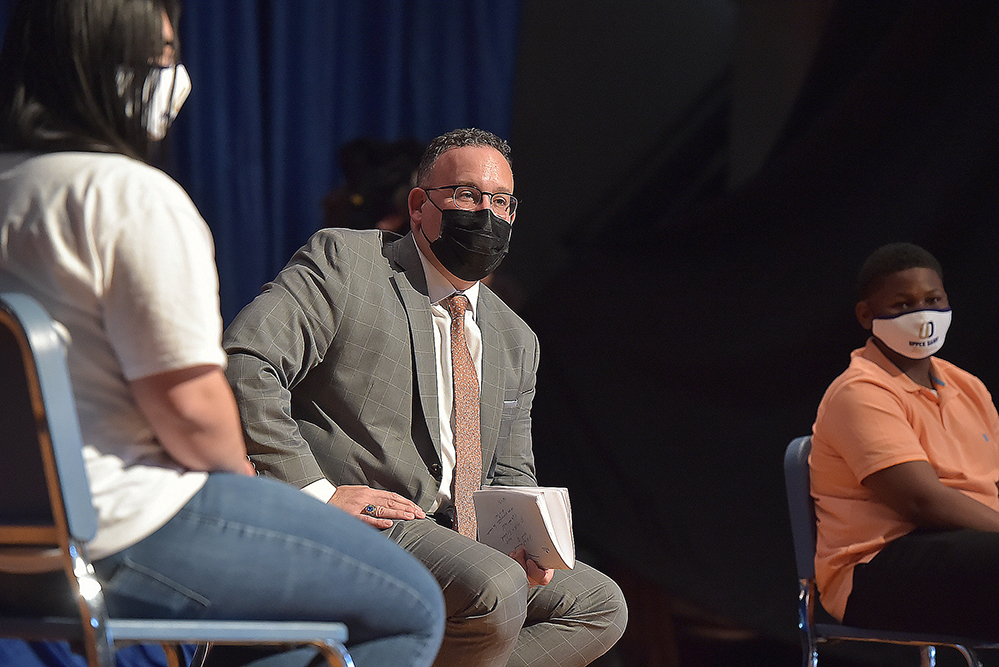 The moves came after early mixed signals from the White House over teacher vaccinations and exactly what constituted reopening. When Centers for Disease Control and Prevention Director Rochelle Walensky said in early February that the science on reopening didn't point toward a need for teacher vaccinations, White House spokeswoman Jen Psaki told reporters Walensky only spoke in her "personal capacity." That same week, Psaki defined a school being open as having at least 50 percent of teachers in classrooms "at least one day a week."
Ultimately, guidance concluded vaccines were not a precondition for in-person learning, but the news came as vaccination rates were already climbing. Earlier this month, the CDC said that almost 80 percent of teachers were vaccinated.
The CDC guidance, Lake said, replaced the "crazy business" during the Trump administration of every state having its own school reopening recommendations.
"There was so much fear and uncertainty and so much politicking, the temperature had to come down a little bit," she said, adding that the guidance "came at a time when parent frustration was at a boiling point."
The CDC's switch on social distancing— from 6 feet to 3 feet — hasn't won universal approval. American Federation of Teachers President Randi Weingarten initially rejected the change, calling the research inconclusive, only to reverse course about three weeks later. Several districts, including Baltimore reached agreements with unions and communicated reopening plans to parents based on the 6 foot guideline. The change is more likely to make a difference in the fall when the pressure on districts to open for full in-person learning will increase, Santelises said.
Biden's early priorities included getting funds to districts to support reopening. Less than two months after taking office, Biden signed a sweeping relief package that provided $122 billion for K-12 along with another $3 billion for special education. The law requires states and districts to implement summer and afterschool programs to address learning loss, and includes almost $40 billion for child care, over $7 billion to improve students' at-home internet access and $800 million specifically for homeless students.
Some have questioned the size of the plan. Rick Hess, director of education policy studies at the conservative American Enterprise Institute, said the amount was "unhinged from any rational assessment of what's needed."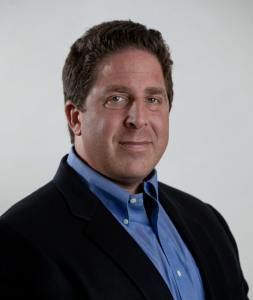 And Thomas Toch, the director of FutureEd, a Georgetown University think tank, wonders whether there will be "friction" between those who want state leaders to direct funds toward teacher raises and those who argue it should be used for immediate needs like tutoring and curriculum improvement. The education department, he said, "is going to have to work really hard to support [districts] in making effective use of the federal funding windfall."
But Hite said the funding allowed educators to plan for recovery and "provided some daylight at the end of what was a dark tunnel."
'Credibility and trust'
State and district leaders aren't the only ones who have regained some confidence in the White House and the education department, In a March National Parents Union poll, 70 percent of parents said they approve of how Biden has responded to the crisis and 64 percent approved of his push to reopen schools.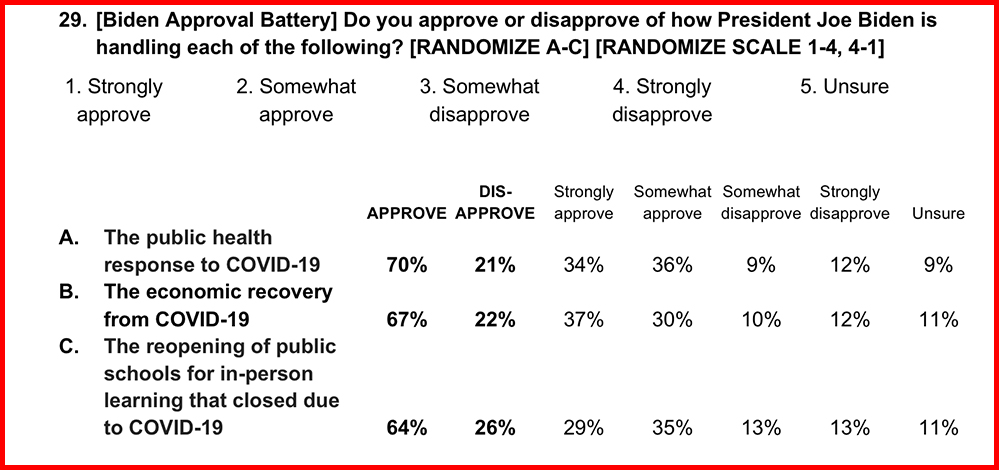 But that doesn't mean everyone is on board.
"The parents who have been heard are the parents who wanted schools to reopen, but there are still a lot of kids sitting at home right now," said Annette Anderson, an assistant professor at Johns Hopkins University in Baltimore.
According to the department's reopening data, 39 percent of 4th graders and 29 percent of eighth graders attend school in person. But students of color are far more likely to be learning at home. In fourth grade, 52 percent of white students attend school in person, compared to 30 percent of Black, 32 percent of Hispanic and only 15 percent of Asian students. The pattern is similar in eighth grade.
A recent analysis showed that politics, school policies and local COVID-19 outbreaks all influence parents' decisions to send their children back to school. Another paper on the same topic confirmed what Hite said he's seen in his own district. "The more children we bring back, the more families want children back," he said. "Credibility and trust create more credibility and trust."
But Anderson noted that concerns unrelated to the pandemic, such as bullying and previous instances in which teachers discriminated against their children, factor into decisions as well. "Parents are in the driver's seat in education in a way they have not been before," she said.
While Cardona has participated in virtual events with union leaders, some parent groups wonder whether he's giving them adequate time. They point to his March 24 reopening summit which featured school, district and union leaders. A few students spoke during the event, but parent organizations weren't featured.
"We need dramatic change and that starts with giving parents a real seat at the table," said Sarah Carpenter, executive director of Memphis Lift, a parent advocacy organization and part of the larger Powerful Parent Movement. "In Dr. Cardona's first act as secretary — hosting a national summit on school reopenings — he failed to include us."
But Leslie Fortin, the parent of a first grader at Olney Elementary in Philadelphia, had a chance to give her perspective during one of Cardona's recent "Help is Here" tour stops. She listed unreliable internet access, mixed messages about scheduling and needed school repairs among her concerns.
"He was taking notes. He was very engaged in the conversation," said Fortin. Her mother, who works at the school, asked her to participate, but Fortin admits she wasn't sure what she was in for. "I didn't know who he was until after he left. I looked him up."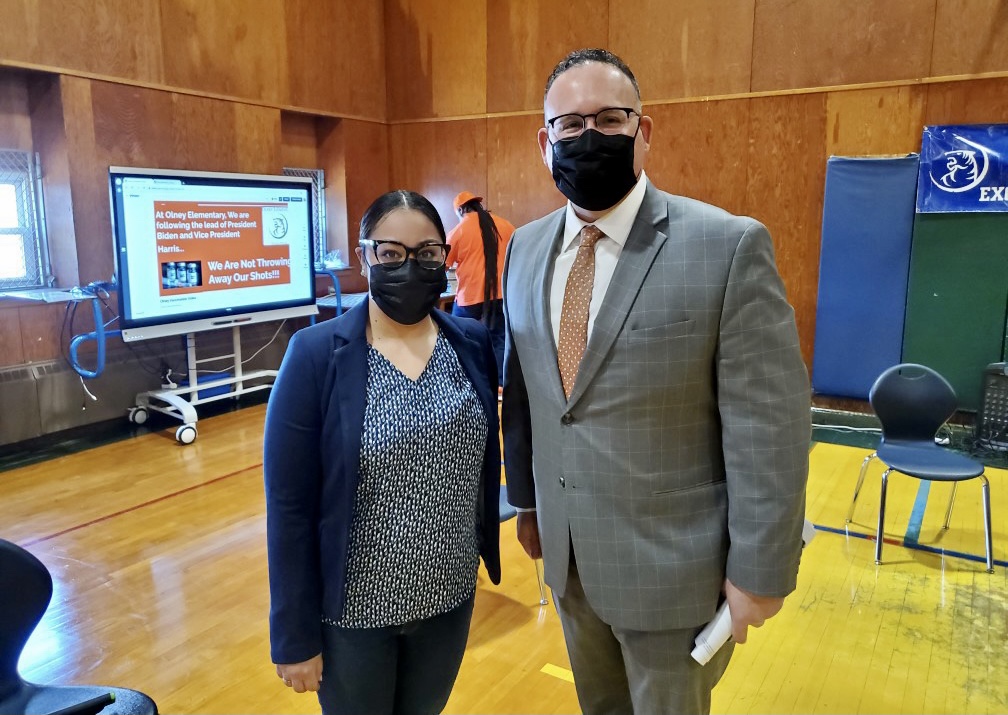 Eliminating online options this fall — as New Jersey Gov. Phil Murphy has announced — could push more parents to virtual charters or other options, Anderson said. Online charter schools are seeing pandemic-related growth, and while Biden pledged to end any federal funding to for-profit charter schools, it's unclear if the administration will take a stand against other online charter options.
Colin Sharkey, the executive director of the nonunion Association of American Educators, said so far the administration hasn't reassured charter school families that he'll support their choices. His group was one of 50 last month that sent Education Secretary Miguel Cardona a letter asking to discuss ways to increase the availability of charter schools.
GOP opposition
Parent organizations aren't the only ones complaining about being on the sidelines as the president seeks to advance other pieces of his education agenda.
The partisan divide hit an all-time high during the Trump administration. During the campaign and at his inauguration, Biden spoke of unity. But Hess said, "We've seen zero evidence that Biden is committed to his campaign talk of bipartisanship."
Biden used the budget reconciliation process, which required no Republican votes, to get the March relief package through Congress. He has floated the idea of using it again for his $1.9 trillion infrastructure proposal and, Hess said, "he's suddenly reversed course on decades of support for the filibuster" — the Senate rule that forces the majority party to work across the aisle to pass major legislation.
Senate Minority Leader Mitch McConnell has called much of Biden's plan "a multi-trillion-dollar slush fund for unrelated bad ideas," That means even early-childhood education — which has long received bipartisan support — could face trouble.
GOP leaders aren't alone in panning some of Biden's ideas. Even a few Democrats have expressed concern over raising corporate taxes to pay for the American Jobs Plan — the first phase of the infrastructure plan. In recent weeks, Biden has held White House meetings with both Democrats and Republicans to drum up support for the infrastructure proposal.
In his address to Congress this week, Biden is expected to roll out his American Family Plan, with proposals for universal pre-K, family support and free community college. Including tax increases on the wealthy, the plan is likely to see even more Republican opposition than the first phase.
But Stone, with Educators for Excellence, noted, "Scaling back from a really bold, somewhat transformational agenda is still landing in a really good place."
Support The 74's year-end campaign. Make a tax-exempt donation now.