The Week in COVID & Education Policy: The Long History of Vaccine Mandates, Comparing the Risk of COVID for Kids and More Key Updates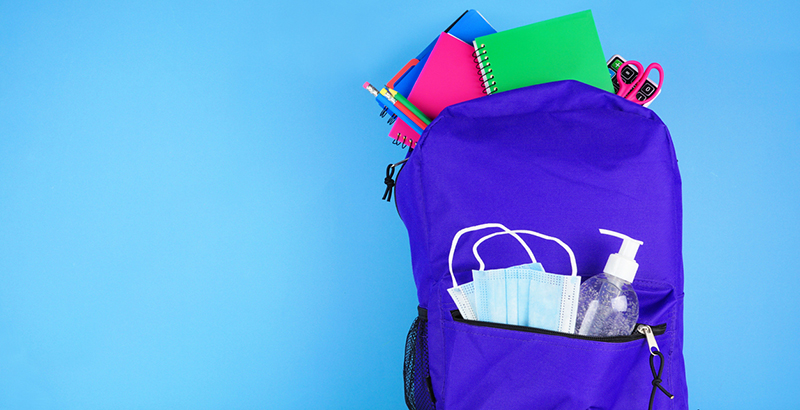 This is our weekly briefing on how the pandemic is shaping schools and education policy, vetted, as always, by AEI Visiting Fellow John Bailey. Click here to see the full archive. Get this weekly roundup, as well as rolling daily updates, delivered straight to your inbox — sign up for The 74 Newsletter.
States Have Mandated Vaccinations Since Long Before COVID-19: Great background via Pew Research Center.
"Of the 16 immunizations the CDC recommends for children and teens, all 50 states (plus the District of Columbia) mandate diphtheria, tetanus, pertussis (whooping cough), polio, measles, rubella and chickenpox. In addition, every state except Iowa mandates immunization against mumps."
"Vaccination mandates in the U.S. date back to the 19th century, when many cities and states started requiring children to be immunized against smallpox; the Supreme Court upheld such mandates in a landmark 1905 decision."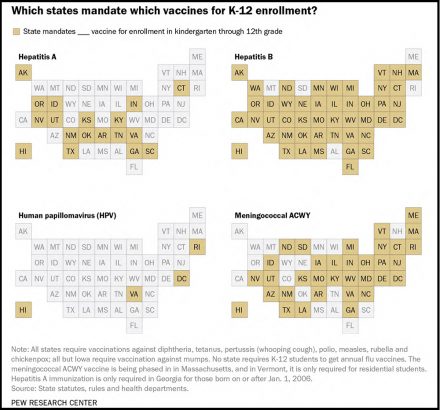 October 15, 2021 — The Big Three
How the Risk of COVID-19 for Kids Compares to Other Dangers: Via Vox
"The death rate for Americans under 18 who are infected [with COVID] is about 0.01%, compared to 5% for 65- to 74-year-olds, 12 percent for 75- to 84-year-olds, and 25% for people 85 and older. In total, people 50 and up make up 94% of COVID-19 deaths."
"The number of children under 18 who died in vehicle crashes from January through September in recent years was nearly six times higher than the number of children who died of COVID-19 from January through September of this year."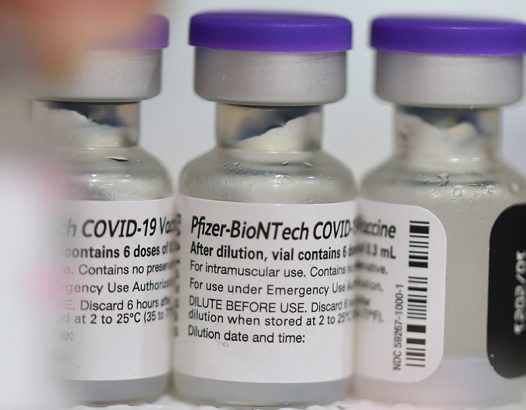 Children's Vaccine Updates
Timeline: The White House says the "new [Pfizer] vaccine for children aged 5 to 11 could be ready as early as November pending approval from federal regulatory health agencies."


Pfizer officially submitted its request to the FDA for Emergency Use Authorization of their COVID-19 vaccine in children 5 to 11 in late September. (More from the AP)
"Pfizer aims to give 5- to 11-year-olds one-third of the dose that's given to everyone 12 and older."


Strategy: A New Vaccine Strategy for Children: Just One Dose, for Now, via The New York Times: 


"Agency research has estimated that for every million vaccinated boys ages 12 to 17 in the United States, the shots might cause a maximum of 70 myocarditis cases, but they would prevent 5,700 infections, 215 hospitalizations and two deaths."
"Studies have also shown that the risk of heart problems after COVID-19 is much higher than after vaccination."
Schools With Mask Mandates Have 1% Lower COVID-19 Positivity Rate Than Those Without Mandates: Analysis of Texas data from The Texan
"From the beginning of this school year to the end of September, 1.89% of students at schools with mask mandates have tested positive, compared to 2.93% of students at schools without mask mandates."
"Schools with mandates serve about 1.8 million students, and schools without mandates serve about 3.4 million."
"Of the total number of kids enrolled in schools without mask rules, 0.21% of positive cases were traced to a source on campus, compared to 0.11% of school-borne cases among students under a mandate."
"According to state data, 88 Texans under the age of 20 have died with the disease, accounting for 0.14% of the state's total fatality count."
Federal Updates
U.S. Education Department: Confirmations
Lisa Brown as general counsel
Roberto Rodríguez, as assistant secretary for planning, evaluation, and policy development
Gwen Graham, as assistant secretary for legislation and congressional affairs
New Law Requires Federal Government to Identify K-12 Cyber Risks, Solutions: Via EdWeek
"By Feb. 5, the U.S. Department of Homeland Security must conduct a study on specific K-12 cybersecurity risks, including an evaluation of challenges that schools face in implementing cybersecurity protocols and securing sensitive student and employee records and information systems that they use."
Congress: Punchbowl's survey of Hill staff:
54% of all staffers believe that Democrats will eventually lift the debt limit through reconciliation.
61% of Democrats believe Republicans will control the House next Congress. Just 39% of Democrats believe their party will keep the House.
64% of all staffers say Democrats will keep the Senate. 43% of Republicans staffers say so, and 84% of Democratic staffers.
City & State News
Florida: Florida Board of Education approves sanctions on eight school districts over mask mandates.
Illinois: The Illinois Education Association filed a motion to intervene in the lawsuit by 10 teachers from Triad CUSD 2 and Edwardsville CUSD 7 that argued the two districts did not have the authority to require school employees be vaccinated against COVID-19 or tested weekly.
North Carolina: Testing data show that only 38% of first-graders were proficient in reading during the 2020-21 school year. That was a significant drop from the 2018-19 school year, when 71% of first-graders were proficient on reading tests.
Ohio: Half of Ohio's K-12 schools have reported COVID-19 cases this school year.
Virginia: State School Boards Association issued a statement about the National School Boards Association letter to President Joe Biden asking for federal help combating violence and threats toward education leaders during the pandemic.
"While the Virginia School Boards Association (VSBA) is currently a member of NSBA, it was not consulted about this letter, did not provide information to NSBA, and was not informed that the letter was being sent."
"There is no justification for physical or verbal threats directed against them, their staff and certainly not the students. Nor is there any excuse for disrupting a public meeting. When such unfortunate events occur, the local officials, working with local law enforcement, must deal with the situation appropriately. While we look for support to our state and federal governments, we do not seek the involvement of federal law enforcement or other officials in local decisions."
COVID-19 Research
More than 120,000 Kids Had Caregivers Die During Pandemic: The AP reports on a new study.
More than half the children who lost a primary caregiver during the pandemic were Black or Hispanic.
"There is an urgent need to mount an evidence-based comprehensive response focused on those children at greatest risk, in the states most affected."
COVID and Age: Via David Leonhardt:
"An unvaccinated child is at less risk of serious COVID illness than a vaccinated 70-year-old."
"The annual risk of death for all vaccinated people over 65 in Seattle this year appears to be around 1 in 2,700. The annual average risk that an American dies in a vehicle crash is lower — about 1 in 8,500 — but not a different order of magnitude."
"There is not the scientific consensus about vaccinating children that there is about adults. It remains unclear how many countries will recommend the vaccine for young children. In the U.S., many vaccinated parents have decided not to vaccinate their eligible children yet."
The Association of Opening K-12 Schools With The Spread of COVID-19: New study
"We find that counties that opened K-12 schools with in-person learning experienced an increase in the growth rate of cases by 5 percentage points on average, controlling for a variety of policies, past infection rates and other factors." 
"This association of K-12 school visits with case growth is stronger when mask wearing is not mandated for staff at school."
Case rates "may depend not only on in-school mitigation measures but also on contact tracing, testing strategies and the prevalence of community transmissions."
"Finally, our result does not imply that K-12 schools should be closed. … However, given their relatively low implementation costs, our findings strongly support policies that enforce masking and other precautionary actions at school and prioritizing vaccines for education workers and elderly parents/grandparents."
Where Biden's Vaccine Mandate Will Hit and Miss: Fascinating analysis from Politico
Most workers — many of whom work in counties with low vaccination rates — will be affected by the vaccine mandate.
Workers who are less likely to be covered by the mandate are also less likely to be vaccinated. One-third of Americans in the private sector work at businesses with fewer than 100 employees.
It will be a while before the rule comes into effect — if it ever does.
Mixing and Matching: Highly anticipated National Institutes of Health study.
Recipients of Moderna or Pfizer's original vaccines could easily swap third doses; the results were about the same.
But the study, which encompassed 458 volunteers, suggests Johnson & Johnson vaccine recipients may be better off getting a booster shot from Pfizer or Moderna.
"In an email to NPR, Nathaniel Landau, a microbiologist at the New York University Grossman School of Medicine, said the findings show that getting a J&J boost after the initial one-shot immunization is 'not as good' as receiving one of the other vaccines as a booster. The antibody levels of people in those groups went up 10 to 20 times higher than in those people who got another J&J shot."
Moderna: FDA scientists declined to take a stance on "whether to back booster shots of Moderna's COVID-19 vaccine, saying data shows two doses are still enough to protect against severe disease and death."
Merck: Applied for emergency use authorization for its drug to treat mild to moderate patients of COVID-19, putting it on course to become the first oral antiviral medication for the disease.
Children Face Similar Risk of COVID As Adults: New study in JAMA, plus an op-ed and a CNN story.
Myocarditis After COVID-19 Vaccination: Two New England Journal of Medicine studies (here and here). Main takeaway: It's extremely rare and often mild. 
Viewpoints
School Board Protests:
Watch this video of Brevard, Florida, school board member Jennifer Jenkins describing some of the threats she and her family have received. 
And Brian Jones with a thoughtful piece in The Washington Post.
 

"Violence or the imminent threat of it, we can all agree, is beyond the pale. But I worry about the Justice Department's actions seeming to imply that angry, even disruptive and intimidating parents should be silenced."
"In the vast territory of civic anger and frustration lies the opportunity for growth and enlightenment, and better decision-making among public servants willing to listen."
The Pandemic Changed American Education Overnight. Some Changes Are Here to Stay: Great long piece via Erin Richards in USA Today.
Parent Polling: New EdChoice/Morning Consult Poll (Summary / Crosstabs / Parent sample)
Roughly 2 out of 5 school parents have had to quarantine a child because of COVID-19. Parents who are Hispanic, of lower income or living in a small town/rural area are most likely to have had to quarantine multiple times.
About 1 out of 5 school parents have switched the type of school their child is attending this year when compared with last year.
Grit: Angela Duckworth's Grit Lab to launch a new course for high school students.
The Guide to Assessments (for Non-Assessment Experts): Via Data Quality Campaign
Realtime Research: NWEA, Harvard University's Center for Education Policy Research and CALDER, at the American Institutes for Research, will partner with a consortium of districts to provide information about tutoring, afterschool programs and other interventions.
High School Graduation Hit All-Time High Just Before Pandemic, but COVID-19 Could Jeopardize Gains: Via America's Promise Alliance (Press Release / Report)
Seeding Accounts for Kindergartners and Hoping to Grow College Graduates: Great NYT article on child savings accounts, programs that automatically provide children with money.
Student Monitoring: "Baltimore City student laptops are monitored for mentions of suicide. Sometimes, the police are called."
"In Baltimore City, on weekends and at night when school psychologists or social workers aren't available, school police officers have been sent to students' homes to check on them after alerts from the software, as first reported by The Real News Network."
"Since March, the city schools have gotten 786 alerts from [the software]. Of those, clinicians responded 401 times, while school police went to homes 12 times. In addition to the nine students referred to an emergency room, 12 students were referred to a crisis response center. The races and ages of the affected children were unavailable."
… And on a Lighter Note
It's Friday! We made it. Together.
ICYMI @The74
Weekend Reads: In case you missed them, our top five stories of the week:
Disclosure: John Bailey is an adviser to the Walton Family Foundation, which provides financial support to The 74.
Get stories like these delivered straight to your inbox. Sign up for The 74 Newsletter