The Week in COVID & Education Policy: FDA Turmoil Could Delay Child Vaccines, California Mandates Shots for Teens, Illinois Shortens Quarantines and More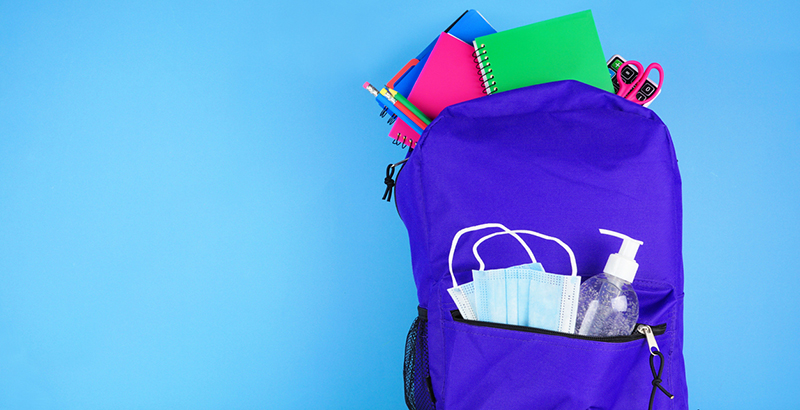 This is our weekly briefing on how the pandemic is shaping schools and education policy, vetted, as always, by AEI Visiting Fellow John Bailey. Click here to see the full archive. Get this weekly roundup, as well as rolling daily updates, delivered straight to your inbox — sign up for The 74 Newsletter.
California to Require Vaccine for All Students: Gov. Gavin Newsom announced that all California students (private and public K-12) will be required to get vaccinated against COVID-19 as soon as January.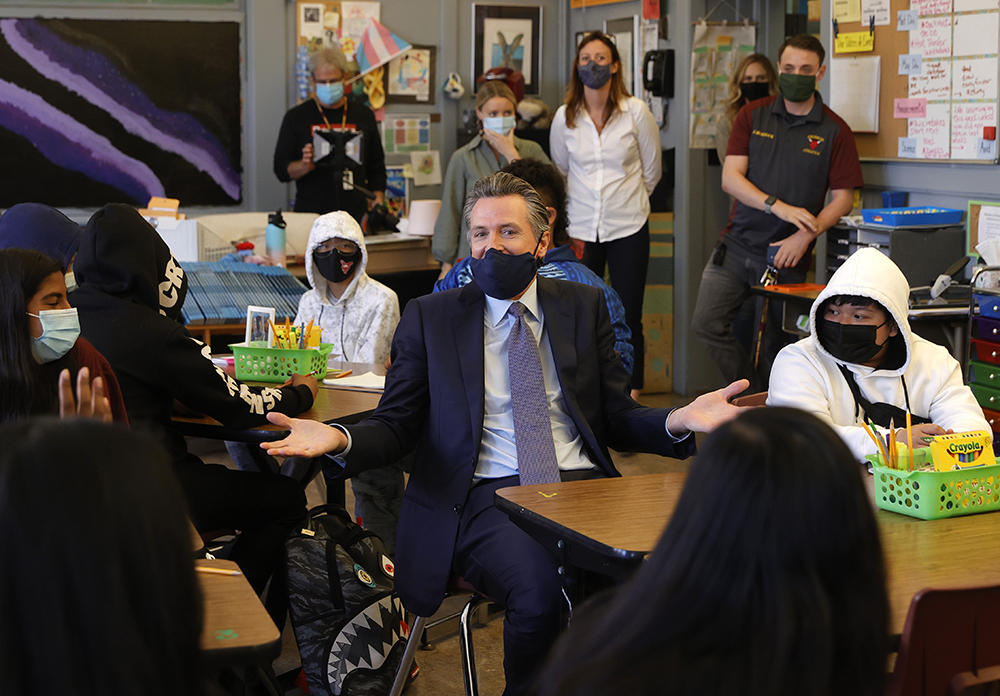 Oct 8, 2021 — The Big Three
COVID Vaccine for Children:
"Denmark said that, while it used the Pfizer/BioNTech vaccine as its main option for people aged 12-17 years, it had decided to pause giving the Moderna vaccine to people below 18 according to a "precautionary principle."
"The Danish Health Authority said it had made the decision even as 'heart inflammation is an extremely rare side effect that often has a mild course and goes away on its own.'"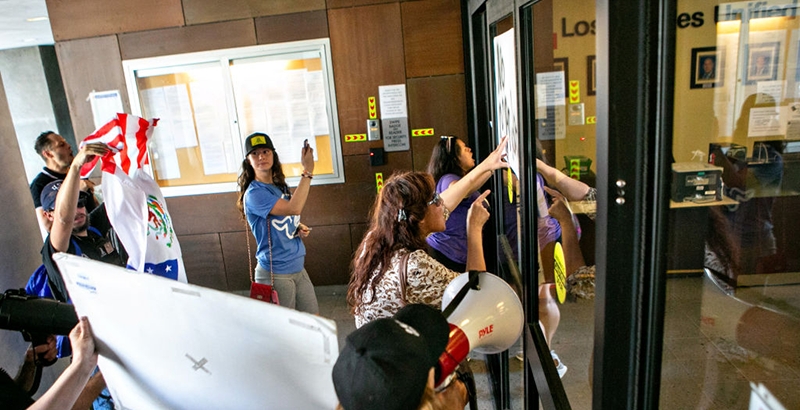 President Biden Asked to Combat 'Domestic Terrorism' Toward Educators and School Boards: The letter / Details from The 74 
School Quarantines Keep Too Many Kids at Home — With Barely Any Effect on COVID: Argue Jeffrey Vergales and Monica Gandhi in The Washington Post.
"With a pathogen as contagious as the Delta variant of the coronavirus, there is a place for quarantines in the public health tool kit. But it's important that they pass a basic cost-benefit test: The risks of quarantine, in a given situation, must be outweighed by the risk of contracting the virus."
"But in many cases, quarantines are probably doing more harm than good — given the well-documented costs, intellectual and social, of keeping children out of school and the low rates of transmission of the coronavirus within schools."
The low transmission "may be a testament to the layered mitigation strategies that schools have implemented in this country — including masking, physical distancing and testing. (Although studies from around the world, examining school systems with vastly different approaches to masking, testing and distancing — including in Norway, Canada, Germany, France, Ireland and Australia — affirm that in-school transmission remains rare across multiple contexts.)"
City & State News
Arizona: "The Biden administration warned Arizona on Tuesday that it could lose some of its state and local recovery funds because it has been using money meant to combat the pandemic to undercut mask requirements in schools."
"The Treasury Department is giving [Gov. Doug] Ducey 30 days to change or end the programs, otherwise the federal funds invested in them could be clawed back."
California:
Disturbing video of parents opposing vaccines confronting parents walking their kids to Hawthorne Elementary School
Illinois: Chicago Public Schools shortens quarantine time from 14 to 10 days.
"More than 15,000 CPS students had been traced as close contacts of someone found to be in a school while they were infectious with COVID-19. But of those students, only 1.6% have tested positive for the virus."
"Surveillance testing, for those without symptoms, was at about a 0.2% positive rate"
New York:
Tennessee:
Vermont: An in-school COVID-19 testing program designed to keep children in class after coming into contact with someone who has the disease should be ready within the next couple of weeks
Virginia: Fairfax County Public Schools is surveying parents to see if they plan to vaccinate their kids once they're eligible
Washington: Seattle Public Schools' enrollment dip to cause $28 million loss in state funding
West Virginia: Gov. Jim Justice says there's "no chance" of COVID-19 vaccine mandate for students
Federal Updates
CDC Updates Quarantine Guidance: Read the new guidance here.
It reiterates that those who come into close contact with someone with COVID-19 should immediately quarantine for 14 days unless "they receive different instructions from their school official or a public health official."
People who are fully vaccinated do not need to quarantine if they come into close contact with someone diagnosed with COVID-19. They should:

Get tested 3 to 5 days after their last known exposure — even if they don't have symptoms.
Wear a mask indoors in public for 14 days following their last exposure or until their test result is negative.
Monitor for symptoms of COVID-19 for 14 days, get tested and isolate immediately if they develop symptoms of COVID-19.
Flush With COVID-19 Aid, Schools Steer Funding to Sports: Via the Associated Press
"When school officials in Whitewater, Wisconsin, learned they would be getting $2 million in pandemic relief this year, they decided to use most of it to cover their current budget, freeing up $1.6 million in local funding to build new synthetic turf fields for football, baseball and softball."
"In September, the Pulaski County school board in Kentucky allocated $1 million in pandemic aid to resurface two outdoor tracks. Superintendent Patrick Richardson called it a health-and-wellness project that falls within the scope of the federal funding, saying it will 'allow our students to be taken out for mask breaks, by class, in a safe environment.'"
"Federal officials failed to provide clear funding guidelines, while state education departments didn't police their schools' spending, said Terra Wallin, an associate director of the Education Trust. She also questioned whether districts spending on athletics have considered what's best for students."
COVID-19 Research
Vaccination Trends among Children and COVID-19 in Schools: Via Kaiser Family Foundation COVID-19 Vaccine Monitor
Nearly half (48%) of parents of children ages 12 to 17 say their child has received at least one dose of a vaccine.
About a third of parents (34%) say they will vaccinate their 5- to 11-year-old child "right away" once a vaccine is authorized for their age group.
Almost one in four parents of a child attending in-person school (23%) say their child has been required to quarantine at home due to a possible COVID-19 exposure since the school year began.
FDA Approves Rapid Antigen Test: The FDA approved a new test that will soon double the nation's limited supply of non-prescription tests.
Vaccines and Other Prevention Strategies Helped Summer Camps Avoid COVID Major Outbreaks: According to two recent CDC reports. More from The New York Times.
Study Withdrawn: A widely circulated study that linked heart inflammation with COVID-19 vaccines has been withdrawn by researchers at the University of Ottawa Heart Institute because of a math error.
Israeli Data on Teen Vaccines: New data shows few cases of heart inflammation after vaccination.
According to Israeli Health Ministry data, 331,538 children aged 12 to 15 received one dose of the vaccine, and 255,444 received two doses. The ministry says 12 children contracted myocarditis after two doses, but there is no clinical proof that links the vaccine with the condition since, for example, there were about 10 to 20 cases of myocarditis per 100,000 young people in the U.S. before the pandemic and vaccines.
Is the Coronavirus Getting Better at Airborne Transmission?: Asks the NYT
"Newer variants of the coronavirus like Alpha and Delta are highly contagious, infecting far more people than the original virus. Two new studies offer a possible explanation: The virus is evolving to spread more efficiently through air."
Children and COVID-19: AAP's State Data Report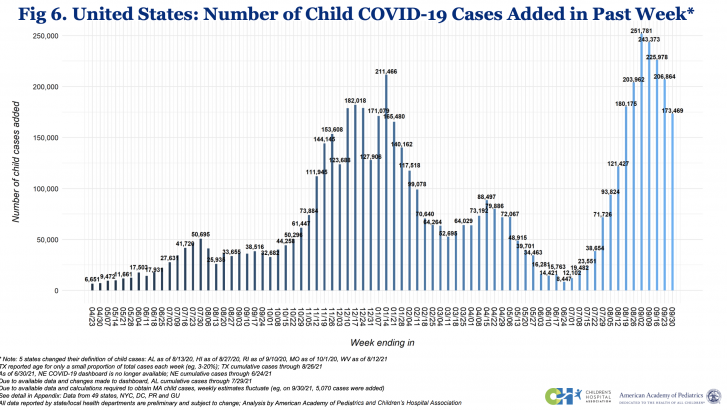 5.9 million total child COVID-19 cases reported, and children represented 16.2% of all cases
173,469 child COVID-19 cases were reported from Sept. 23 to 30 and represented 26.7% of the weekly reported cases
Children were 0.00% – 0.26% of all COVID-19 deaths
Cases are falling in the South, dipping in the West, but rising in the Midwest and Northeast
COVID-19 Infections in Kids Are Lower in States With Higher Vaccination Rates: Must-read long piece from the The Washington Post
COVID-19 Long-Haulers Plead for Government Action: Via The Hill.
"Their requests range from direct funding for long-haulers to a 9/11-style commission to investigate how the pandemic led to hundreds of thousands of deaths and potentially millions of long COVID-19 cases."
Johnson & Johnson: Reports suggest the company will seek FDA authorization for a booster shot
Merck's Antiviral Pill Reduces Hospitalization: "A possible game-changer for treatment"
Pfizer Vaccines: Effectiveness drops after six months, according to a new study.
Viewpoints
Addressing Learning Loss: Nathan Storey and Qiyang Zhang: Younger students were among those most hurt during the pandemic.
"Our analysis of these studies confirmed that the pandemic had the most serious impact on students in grades K-2, who lost 0.10 more years of learning than upper-grade students."
"The results from our analysis also pointed to more adverse effects for U.S. students than for many of their European counterparts: They've lost twice as much as international students, perhaps due to longer periods of school closures in the U.S."
Teachers' Lessons From the Pandemic Will Last: According to a YouGov poll for Khan Academy
58% said they're more confident trying out new ideas to engage students
56% are more confident about collaborating with their colleagues
52% are more confident in communicating with families
50% are more confident using technology to engage students
Belgium: "The official body that coordinates Belgium's various pediatric organizations has called for the current coronavirus measures to be dropped in schools for children under 12 years old."
An Experiment at the Crossroads: In Year Two, Pandemic Pods 'Find Their Legs' — and Face Their Limitations: Great long piece via The 74
"In July, Tyton Partners, a consulting organization, released a survey on the durability of such alternative schooling models. Of the 2,500 parents responding, three-quarters of those who chose pods last school year … planned to stick with them. The authors estimated that enrollment in pods and microschools, which are larger but still offer personalized instruction, would reach 1.5 million this fall."
Transforming Mental Health Care in Schools: Via California Health Care Foundation:
"Jennifer Maldonado, a licensed clinical social worker, spent the summer counseling high schoolers in Stanislaus County as part of a pilot program using virtual therapy to close the gap in mental health services for young people."
"'Students had a lot more trauma and historical mental health issues than I was expecting,' said Maldonado. … In a county with a population that is nearly half Latinx residents, the need for culturally competent mental health services is great — and largely unmet."
"Hazel Health has been making inroads into school districts in 12 states. Today, almost 2 million students can access culturally competent telehealth services via an iPad that connects to a remote network of pediatricians and medical professionals."
Healthy Minds Campaign: National PTA launches a new campaign to help families prioritize mental health. (Website here)
… And on a Lighter Note
We All Have Bad Days: So find yourself an Owen who shows up when you need them.
3 yrs ago, best friends Stevie & Owen where separated when Owen moved to Missouri

Recently, Stevie had a bad day at school & asked to be picked up early. He had no idea Owen had traveled to Chicago & was waiting in the car to surprise him.?:Dianemstroudpic.twitter.com/In1Uh5Q20U

— GoodNewsCorrespondent (@GoodNewsCorres1) October 3, 2021
ICYMI @The74
Weekend Reads: In case you missed them, our top five stories of the week:
Disclosure: John Bailey is an adviser to the Walton Family Foundation, which provides financial support to The 74.
Support The 74's year-end campaign. Make a tax-exempt donation now.