The Week in COVID & Education Policy: 18 Key Updates on Schools, Students and the Fine Print on Who Is (and Isn't) Learning in Person Right Now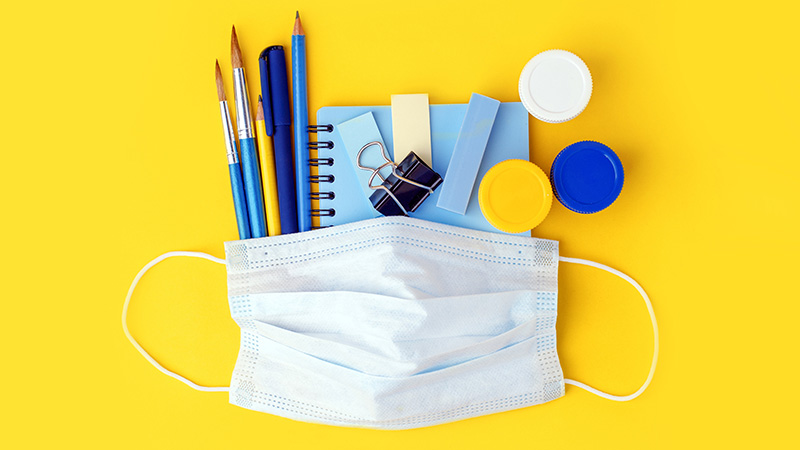 This is our weekly briefing on how the pandemic is shaping schools and education policy vetted, as always, by AEI Visiting Fellow John Bailey. Click here to see the full archive. Get this weekly roundup, as well as rolling daily updates, delivered straight to your inbox — sign up for The 74 Newsletter.
COVID Experiences Survey — Who Is (and Isn't) Learning in Person Right Now?: From the CDC
Survey of parents with children aged 5-12 years, conducted Oct. 8-Nov. 13
45.7 percent reported that their children received virtual instruction only, 30.9 percent in-person only, and 23.4 percent combined virtual and in-person instruction.
Public school parents more commonly reported that their children received virtual instruction (47.6 percent) compared with parents of children enrolled in private school (20.3 percent).
Virtual instruction was also more commonly reported by Hispanic parents (65.9 percent), non-Hispanic other/multiracial parents (64 percent), and non-Hispanic Black parents (54.9 percent) than by non-Hispanic White parents (31.9 percent).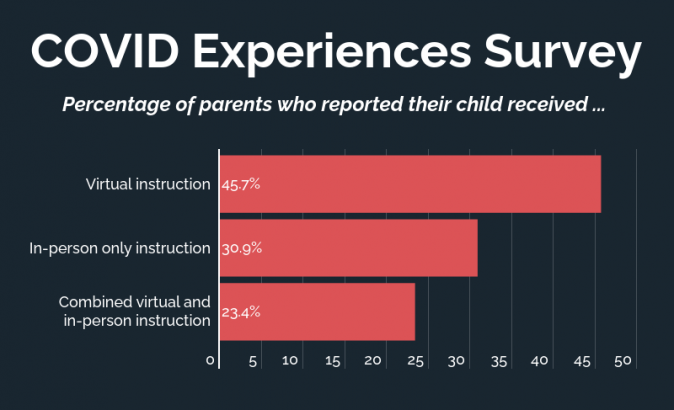 March 26, 2021 — The Big Three
COVID Testing in School: Results of a new study that explored a school district's use of COVID testing over 18 weeks: "In this school district with layered mitigation measures, in-school transmission was rare."
"The program identified one cluster with in-school staff-to-staff transmission and spurred enhancement of safety strategies. A weekly COVID-19 screening program can provide critical data to inform mitigation efforts, and provides school-specific, current data to inform decisions about in-person learning models."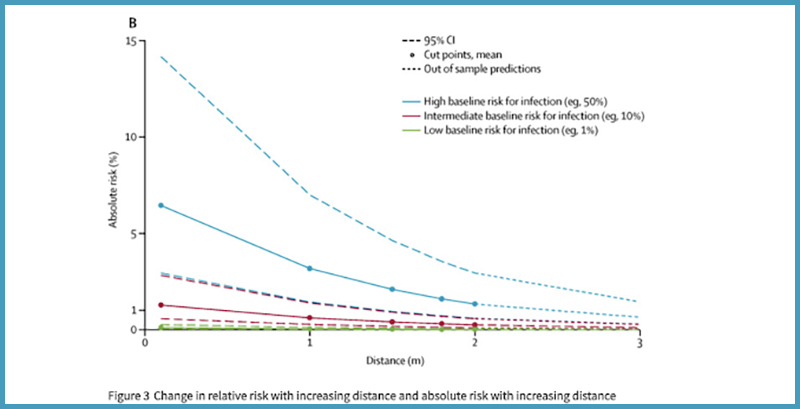 The New Guidance (and Debate) — 3 Feet vs. 6 Feet of Distance: CDC updated its guidance on social distancing in K-12 schools:
Under the new framework, students could be spaced at least 3 feet apart in elementary schools. Middle and high school students would be spaced at least 3 feet apart in communities with lower community transmission.
However, middle and high schools should resort back to the 6 feet standard in communities of higher transmission if cohorting students is not possible. Schools should maintain 6 feet between adults (teachers and staff) and between adults and students.
But: The American Federation of Teachers is not convinced social distancing can safely be cut to 3 feet: "We are not convinced that the evidence supports changing physical distancing requirements at this time. Our concern is that the cited studies do not identify the baseline mitigation strategies needed to support 3 feet of physical distancing."
My Analysis of the Situation: "What's the Difference Between 3 and 6 Feet When it Comes to COVID-19 Spread? Not So Much, New Summary of 130 Studies Shows"
Back to Classrooms: Education Secretary Miguel Cardona expects 100 percent of schools to be reopened by fall — or sooner.
"I think if we continue with mitigation strategies that we know work and we utilize the American Rescue Plan funding to put in those safeguards that are needed to provide safe environments for our students, we can really continue to make the progress that we're making to get students (back in school) in the spring."
Cardona is also launching the Summer Learning & Enrichment Collaborative with state education chiefs and the National Governors Association and a School Reopening Tour.
City & State News
Connecticut: State creates education task force to help with pandemic-caused learning loss
The group will "include more than 80 teachers, school administrators and staff, students, families and advocates."
They will be charged with developing a plan for learning recovery after the pandemic, enrichment programs for spring and summer and ways to reduce opportunity gaps
Maryland: Failure rates surged in Maryland schools during the second quarter, with new data showing percentages doubling or tripling in key classes in most of the state's 24 school districts.
California: State health department updates school guidance to have desks 3 feet apart, following the change in CDC guidance
Massachusetts: Parents helping hundreds of teachers get vaccinated
Texas: One Texas town, two school districts, clashing mask policies: How science and politics collided in New Braunfels' classrooms
COVID-19 Research
Minimal Transmission — With Mitigation Strategies in Place: CDC Study
New Jersey boarding school with 520 full-time resident students and 255 commuter students (grades 9-12), as well as 405 faculty and staff members.
Mitigation measures included universal masking, testing, upgraded air-handling equipment to improve ventilation, physical distancing of at least 6 feet, contact tracing, and quarantine and isolation protocols to prevent and control transmission of SARS-CoV-2 among students, faculty, and staff members.
"Only two identified cases were plausibly caused by secondary transmission on campus." 25 of 27 (93 percent) of cases were likely off-campus contacts.
Teacher Vaccinations: NEA reports that half of its members have received at least one COVID-19 shot.
IES: Monthly School Survey Dashboard shows about half of all white students were attending school in person full-time in January, the survey found. But that was true for just 28 percent of Black students and 33 percent of Hispanic students.
Homeschooling Surge: Census report estimates the number of U.S. households homeschooling doubled at the start of the 2020-2021 school year, compared to the previous year.
Children and COVID: Children who are 10 and younger produce more antibodies in response to coronavirus infection than adolescents and adults according to a new study.
Viewpoints
Some Schools Have Been Open for Months. Here's What They Learned: Via The Wall Street Journal:
"Researchers have found that schools implementing measures like Montgomery's — with mask mandates, physical distancing and increased ventilation — have lower COVID-19 transmission than in the wider community."
"The district also obtained carbon-dioxide monitors to gauge how well-ventilated a given room is, something aerosol scientists have recommended schools do if possible. People exhale carbon dioxide when they breathe, and if a room isn't well ventilated, it will build up in the air, a signal that the space may require more ventilation. School employees go to classrooms every month to sample the carbon-dioxide levels to make sure they aren't above 700 parts per million. If they are, the school might consider opening more windows in the classroom or upgrading the HVAC system."
Surveying the Perspectives of Black K-12 Parents: New poll from EdChoice and Morning Consult — "In a nutshell: We found Black parents were less comfortable with in-person schooling due to the pandemic." Read the blog overview and the more detailed brief.
'Our Kids Are Not Broken': "I am concerned about how this growing narrative of loss will affect our students, emotionally and academically," writes Ron Berger in The Atlantic
COVID Testing in Schools: Schools already testing students and staff for coronavirus say it's crucial to in-person class: 'It's worth it' (Erin Richards and Ken Alltucker in USA Today)
…And on a lighter note
Fagradalsfjall Volcano: This drone footage is incredible!
ICYMI @The74
Weekend Reads: In case you missed them, our top five stories of the week:
Disclosure: John Bailey is an adviser to the Walton Family Foundation, which provides financial support to The 74.
Get stories like these delivered straight to your inbox. Sign up for The 74 Newsletter