Spared Debt Over Missing Students, NYC Principals Plan How to Use Money to Ease COVID Learning Loss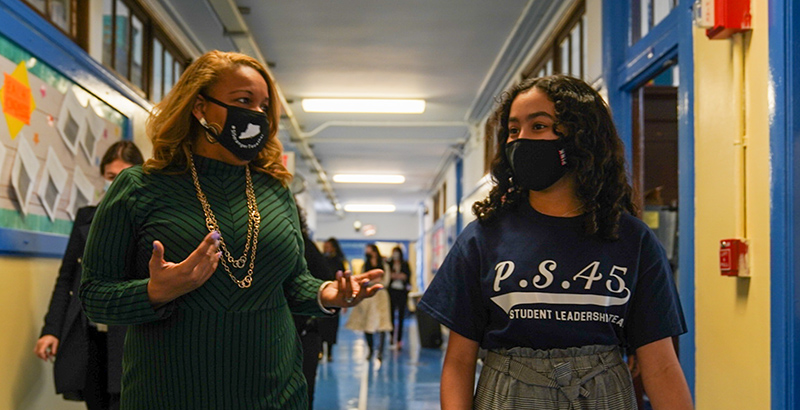 New York City Principal Jodie Cohen received some much-needed good news Monday: Mayor Bill de Blasio and new Schools Chancellor Meisha Ross Porter announced the city would cover the debt owed by schools for children who didn't show up in classrooms this year.
For Cohen, who runs James Madison High School in Brooklyn, that was $180,000 she wouldn't lose — money she could spend on two-to-one tutoring sessions for students, air conditioning units, and incorporating Department of Education-issued iPads into the curriculum.
"It's great news for us," she said. "It means that some of our wish list items might be able to become a reality."
The relief is possible due to the $4.5 billion in funds that New York City is projected to receive from the latest federal stimulus package, the mayor said during a Monday press conference. It will spare 877 schools a total of $130 million in budget cuts.
"As a former principal, I know what a huge relief this will be for our school leaders who have the opportunity to be forgiven the debt based on their register loss," Porter said. "I'm happy we can do this for them, but more importantly what this will do for our students during this most challenging time."
Back in December, Darlene Cameron, principal of S.T.A.R. Academy on Manhattan's Lower East Side, was worried about the $145,000 she had to repay to the DOE in per-pupil funding reimbursements. While she still has to worry about paying back debt from previous years and hopes for funds for hiring from the district, she plans to use the newly available money to buy September school supplies for her pre-K to 5th-grade students, and curriculum geared at catching them up from a year of lost learning.
Officials said in early March that schools would have to pay back 75 percent of the money owed due to enrollment loss. The decision not to hold them responsible for any portion of per pupil funding for students who registered but never materialized followed months of pushback from City Council members, as well as the head of the principals' union, who said the standard rules shouldn't apply during COVID.
The mayor acknowledged those conversations during Monday's briefing.
"We've heard so much concern on this issue," he said. "Speaker [Cory] Johnson and City Council asked us to reexamine the situation, and we have done that. And obviously, in the meantime, we've also gotten the stimulus funding, which is tremendously helpful. So we will now return to the schools the money that they would have had to give back to the DOE budget."
Principals, teachers, and other school staff "should not be punished for enrollment shifts they have no control over," said Johnson, the City Council speaker. "I'm glad the city is forgiving debt from schools that lost enrollment, allowing them to maintain the support our students so desperately need. These educators need our support and gratitude now more than ever."
"We commend the city for hearing our concerns and ensuring that students do not suffer the consequences of reduced funding at a time when we are in need of significant additional resources to support all students," said Mark Cannizzaro, the head of the principals' union. "Making sure every school has its fair share has never been more important."
The restored funds are for "anything the school community needs, as part of this crucial moment of bringing the schools back," the mayor said. That could mean more teachers, substitutes, tutors, or additional social and emotional support, he explained.
Marguerite Roza, director of Georgetown University's Edunomics Lab, who writes extensively about school finance, told The 74: "If you have the money to insulate the schools from any radical, big budget impacts, this would be the year to do it. It sounds like, in the end, with the new federal money, the district was able to do that."
A Bronx principal who asked not to be named because she did not have DOE approval to be quoted said she felt "elated" about Monday's news, and that she plans on using the money to incorporate research-based culturally responsive programs and resources into curricula at her school.
"That requires money," she said. "This is not a one-shot deal conversation."
She's also looking forward to using the funds to replenish her school's iPad and laptop supply for students in the coming year.
"Our children have to have this tech in place," she said, explaining that she anticipates not getting some of the distributed devices back from families, and needing enough to ensure that the incoming class has them.
According to city and state data released in January, NYC public school enrollment dropped 4 percent during the pandemic — some 43,000 fewer than the former population of 1.1 million students, with the biggest declines in the youngest age groups.
Meanwhile, the country's largest school district continues to push to get as many students as possible back to in-person learning. On Monday, de Blasio also announced a new opt-in period for all student age groups, which will run from March 24 through April 7.
The city is hoping to offer in-person instruction to students with complex disabilities and any 3-K, pre-K or elementary school student who wants it by the end of April. The in-person timeline for middle and high schoolers who use the new option is unclear, although de Blasio said the intention behind gathering opt-in numbers now across all grades is to help officials map out that process.
NYC high schools reopened Monday to students who chose in-person learning the last time it was offered in November. Some 70 percent of school district families decided back then to have their children remain fully remote, but two major factors have changed since then: the arrival of the vaccine and the decision on Friday by the Centers for Disease Control and Prevention to change the social distancing guidelines for schools from 6 to 3 feet.
The easing of the CDC distancing guidelines, as long as mask wearing is strictly enforced, immediately freed up additional space in schools to let more children attend full time in person. In situations where community transmission rates are high, the guidance said middle and high school students should be kept 6 feet apart, unless they are taught in small groups.
The city's seven-day citywide positivity rate has recently plateaued at around 6.5 percent, considered a moderate transmission level by the CDC, while 3.4 million New Yorkers have been vaccinated, including at least 40,000 educators.
Support The 74's year-end campaign. Make a tax-exempt donation now.