The Week in COVID & Education Policy: 17 Key Updates on Schools, Students and Why One District Is Investing in Cell Towers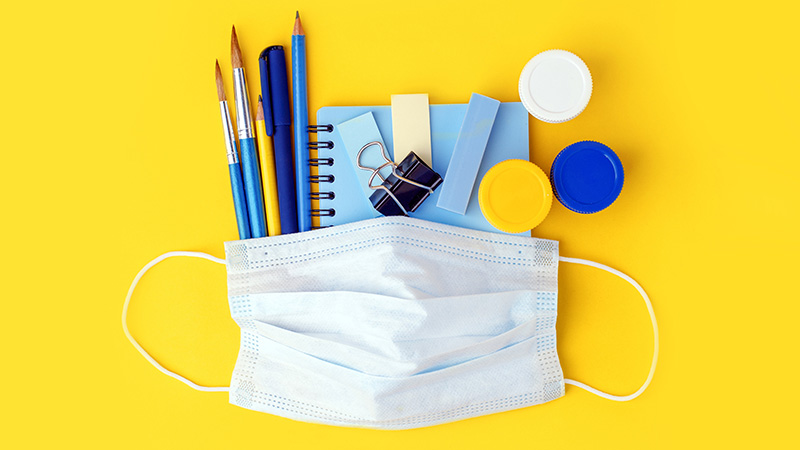 This is our weekly briefing on how the pandemic is shaping schools and education policy, vetted, as always, by AEI Visiting Fellow John Bailey. Click here to see the full archive. Get this weekly roundup, as well as rolling daily updates, delivered straight to your inbox — sign up for The 74 Newsletter.
Why Some Schools Are Investing in Cell Towers: Via NBC:
Dallas ISD has been buying mobile internet hotspots for 40,000 students this school year as a short-term measure to keep them connected while taking classes at home. Each one costs about $25 a month.
"The solution they decided on was to take the district's wholesale internet service — it has had a fiber-optic network for a decade — and broadcast it for free to the neighborhoods most in need."
"Dallas is starting with cell towers at five sites, each at a cost of about $500,000."
Read the full story from NBC; more in The Dallas Morning News.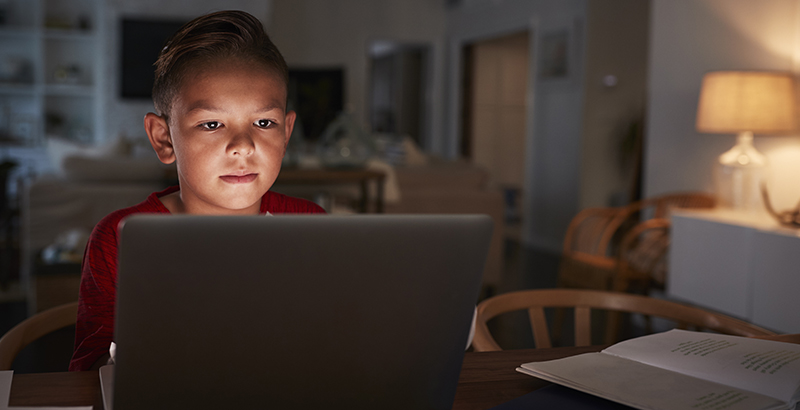 March 19, 2021 — The Big Three
Mark Your Calendar for Wednesday: U.S. Department of Education School Reopening Summit
U.S. Department of Education will hold a National Safe School Reopening Summit Wednesday, March 24.
First Lady Jill Biden, Secretary of Education Dr. Miguel A. Cardona, and CDC Director Dr. Rochelle Walensky will speak.
Topics include "effective school reopening approaches that have a focus on collaboration and equity," implementing CDC guidance and addressing student academic and social-emotional learning, according to the press release.
The department also released Elementary and Secondary School Emergency Relief funds for all 50 states Wednesday.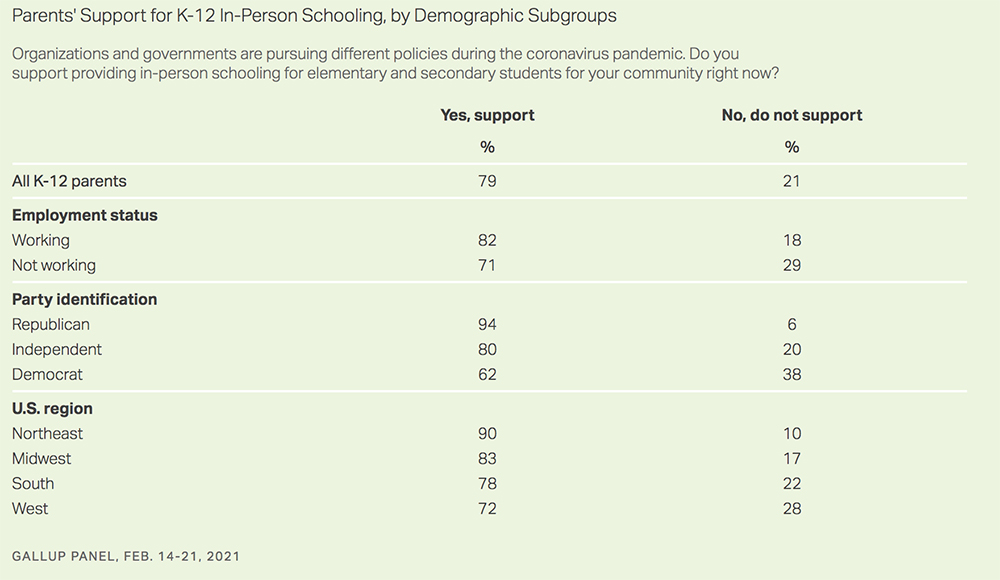 Gallup Poll: 79 percent of parents favor in-person learning in their communities right now.
"Republicans and working parents more supportive than counterparts."
"13 percent of parents cut back hours, 7 percent quit jobs to help with at-home learning."
Early Data from Public Health Institute's "Safely Opening Schools" Pilot Indicate Utility of Rapid COVID-19 Testing:
"SOS is an on-site, rapid COVID-19 screening pilot that began in January in 11 California school districts with more than 209 elementary schools and over 95,000 students."
"Data from the first eight districts where testing has started shows that out of the first 3,256 tests conducted, there have been only 7 positive tests, a positive test rate of just 0.21 percent, or one in every 465 staff and students tested."
Federal Policy Updates
Department of Health and Human Services: Released $12 billion for COVID testing, $10 billion of which is reserved for schools (scroll down for the amount allocated to each state)
Institute of Education Sciences: Launched a national survey of students in grades 4 and 8, asking questions related to modality of learning and amount of interaction with teachers.
Missing: Any digital divide questions, which many were expecting to see on this survey.
City & State News
California: A San Diego County judge issued a temporary restraining order blocking California from enforcing a wide swath of rules that limit and regulate school openings, saying the state has denied children their right to an education by forcing many to stay in online learning.
"The state's January framework prohibited middle and high schools from reopening while their county is in the most-restrictive purple tier. It also required schools that reopened to have at least 4 feet between students in classrooms."
"Parents argued the tier rule unfairly prevents schools from reopening at a time when many children are suffering from depression, learning loss and other harms they say are being worsened by school closures."
"Judge Freeland agreed with parents that the January framework was 'selective in its applicability, vague in its terms and arbitrary in its prescriptions.'"
The state will get a chance to defend its policies during a March 30 hearing.
Illinois: The state adopts the 3-foot standard for schools reopening for in-person learning. The teachers unions are objecting.
"'The union's school reopening agreement was "built on" the six-foot distancing guidance,' CTU spokesperson Chris Geovanis said. He called it 'a basic and vital safety protection that we intend to continue to vigorously observe.'"
Ohio: "How One School District Bridged the Divide and Reopened Classrooms," via WSJ.
District leaders in Georgia, Mississippi, Missouri, South Carolina, Utah and Wyoming have said schools will have virtual options for the 2021-22 school year.
Governors' Education Priorities: Great new resource from NGA and ECS. In the 42 addresses delivered so far this year, ECS and NGA identified six high-level trends related to education:
Funding (at least 32 governors)
Remote learning (at least 29 governors)
Workforce development (at least 24 governors)
Reopening schools (at least 22 governors)
Student achievement and learning loss (at least 21 governors)
Physical and mental health (at least 18 governors)
Interactive analysis: FutureEd and The 74 also took a close look at the governors' addresses. Click the map to see more.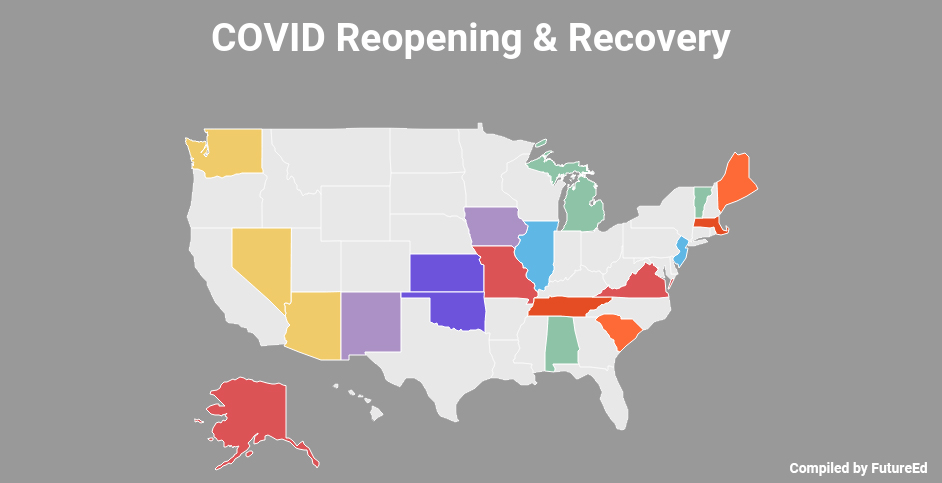 COVID-19 Research
K-Shaped Recovery: NYT has a story and charts showing the unevenness of the lockdown experiences and economic recovery.
Vaccine Trials for Children: Moderna announced it will begin trials for children as young as 6 months old and up to 11 years old.
Academic Performance and Disciplinary Consequences of School District Internet Access Spending: New study.
"Increased internet-access spending by Texas public schools improved academic performance but also led to more disciplinary problems among students, a study of 9,000 schools conducted by a research team from Rice University, Texas A&M University and the University of Notre Dame shows."
"The authors find that a one-standard-deviation increase in school district internet access spending (SDIAS) (an average increase of $.6 million) is associated with an improvement in eight academic performance indicators, with effect sizes ranging from 2 percent to 5 percent of a standard deviation, amounting to a $.8 million to $1.8 million increase in cumulative income for the current students of a school district. (Read the study)
Annual Booster Shots: Pfizer CEO said people will likely have to get regular coronavirus vaccine boosters, perhaps annually, for at least the next decade.
AstraZeneca/Oxford: "The European Union's drug regulator said Thursday that the AstraZeneca vaccine was safe and effective, a finding that officials hope will alleviate concerns about possible rare side effects involving blood clots and allow more than a dozen countries that halted its use to add it back into their arsenal against the resurgent coronavirus," The New York Times reported.
Viewpoints
"Just Reopen the Schools Now": Via Jonathan Chait
"It is entirely possible that when we look back at the coronavirus pandemic decades from now, we may see the gravest catastrophe as a generation of schoolchildren whose formative years were irrevocably stunted."
"Schools have remained shuttered not for any rational calculation but because they're easy to close and difficult to open. Closing can be done with an order by a governor or public official. Opening requires negotiating a gamut of government guidelines, negotiation with often recalcitrant teachers unions, and persuading parents who have (in some cases) come to see in-person schooling as a serious risk."
"But that requirement, chosen hastily last year, turns out to be useless. The most important scientific advance is the recent conclusion that the guideline that students must maintain six feet of distance in schools has no value."
"Students 'are learning more about their families and their cultures, spending more time with each other,' San Francisco school board president Gabriela López suggested hopefully. 'They're just having different learning experiences than the ones we currently measure.'"
"It would be ideal to vaccinate every teacher and equip every classroom with advanced filtration systems. But masks, three feet of space and cracked windows (winter is over) will do well enough. Remote education has outlived any purpose it might have had. There is nothing left to do but end it." (Read the full essay)
"Kids Don't Need to Keep Six Feet Apart in Schools. Three Feet is Just as Safe": Via researchers in The Washington Post
"Our statewide study found that case rates were similar among students and staff in both types of districts; the extra three feet made no difference in terms of reported cases of viral infections."
As America's Schools Reopen, Here's How to Rebuild Trust Among Parents, Educators: USA Today op-ed from Rick Hess and Pedro Noguera
"If we focus less on sweeping declarations and more on practical solutions, we may find that the particulars and the politics aren't as intractable as they can seem."
Reimagining the Future of Public Education After COVID: Nina Rees in The Hill
"We must broaden the definition of school infrastructure to include portable technology."
…And on a Lighter Note
Bedtime: This time-lapse video of when 2-year-old twins are put to bed is incredible.
ICYMI @The74
Weekend Reads: In case you missed them, our top four stories of the week:
Disclosure: John Bailey is an adviser to the Walton Family Foundation, which provides financial support to The 74.
Get stories like these delivered straight to your inbox. Sign up for The 74 Newsletter