Redrawing NCAA Brackets for Income Mobility: If March Madness Were About Moving Students Up the Economic Ladder, Research Says We'd All Be Celebrating Georgetown
By Jorge Klor de Alva | March 18, 2021
For the hundreds of schools, thousands of students and millions of fans left dismayed by the cancellation last year of the NCAA men's Division I basketball tournament, the return of March Madness is cause for much celebration and, of course, much caution. The Big Dance comes at a time when vaccinations are leading the nation out of a devastating pandemic, but infections are still wreaking havoc as the coronavirus has kept some teams out and threatens to force out participating teams that fail to keep it at bay.
As its moniker suggests, the madness in March is about much more than basketball. For millions of fans, Sunday's announcement of which teams have been selected to play set in motion a much-anticipated communal time for friends, co-workers and strangers to gather (socially distanced, of course) in person or remotely to compete to see who knows best which will win or lose. Along with excitedly following one's favorite teams, this collective exercise at comparative bracketology will dominate much of the attention of fans throughout the tournament, as joyful congratulations and good-natured taunting help to momentarily remove the pandemic from top of mind.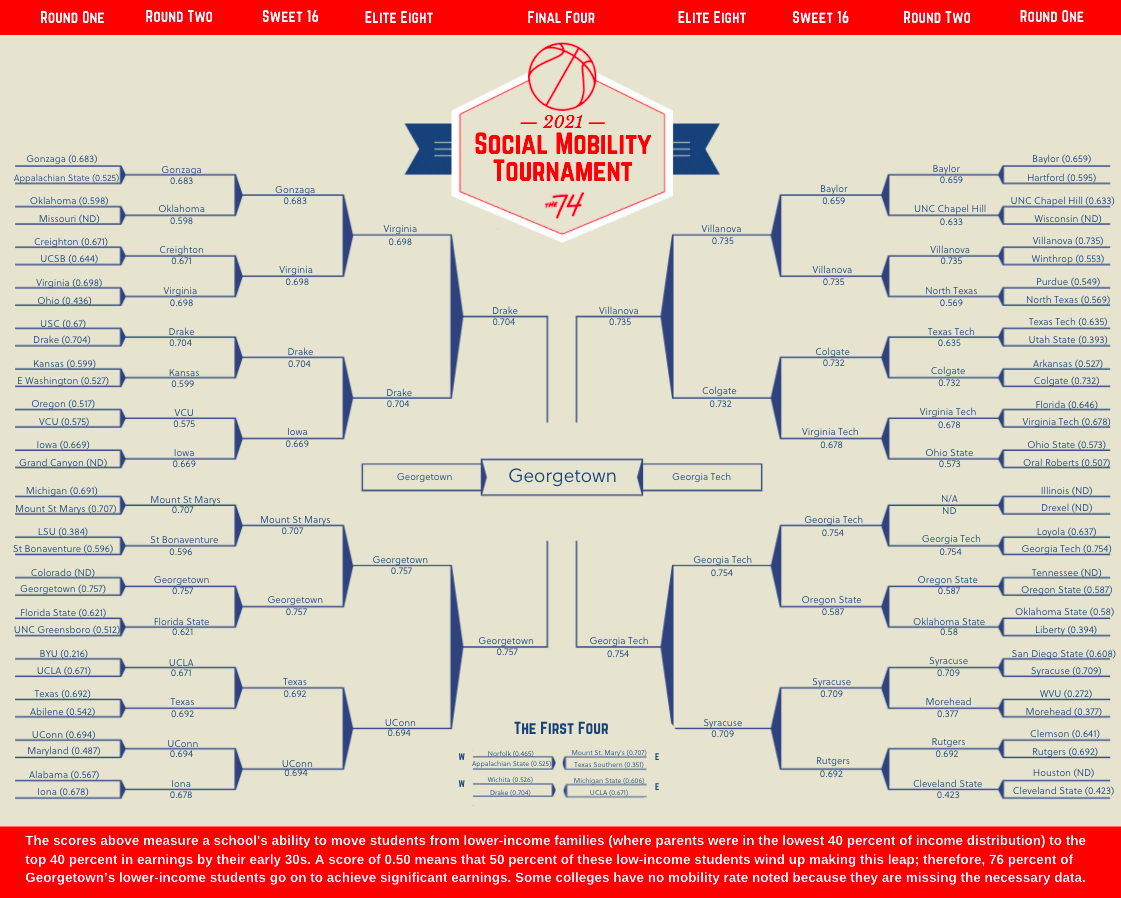 For the past four years, we have also participated in March Madness bracketology. We have done so by creating a parallel competition that plots the tournament's participating colleges on a Social Mobility Tournament bracket based on how well each school helps its students reach the American Dream of upward mobility. Over the years, our bracket has served to highlight how well or how poorly colleges in the tournament have managed to place their most disadvantaged students on the road to family-sustaining earnings, as opposed to how well their players have done on the court.
Unfortunately, even as more students than ever have been attending college, the American Dream — a big part of which rests on children doing better than their parents — has become progressively more elusive. For example, children born in 1940 had a 90 percent chance of outearning their parents, but only half of millennials can expect the same. As the economy evolves toward a more knowledge-based workforce, young men and women with limited education and marketable skills will find it even harder to succeed in the race for upward mobility and the financial security that comes with it.
As a result, we believe colleges that show they can move large percentages of first-generation and underserved students to where they can form strong families, civic-minded communities and thriving local economies deserve more of our praise than those that excel on the court.
To figure out which schools can perform this important feat best, we use the Harvard-based Opportunity Insights dataset, which combines millions of anonymous income tax returns with information on thousands of American colleges. We map each school in the tournament using a mobility rate that represents the percentage of its students born to parents in the bottom 40 percent of income distribution who reach earnings in the upper 40 percent of household income by their early 30s.
While all the colleges in the tournament dream of advancing to the Sweet Sixteen, if not the Final Four, only the very few top performers have much to gain from winning besides bragging rights and the momentary joy of defeating their opponent. Most players will leave with memories that will last a lifetime, but only an exceedingly small number will be able to translate this thrilling time into a source of lasting economic reward. In fact, fewer than one senior in 75 playing in the tournament will be lucky enough to be drafted by an NBA team.
However, a school that scores high in the mobility bracket is putting low-income students on the path to a life-transforming future of financial well-being. In effect, as we have stated in previous iterations of the Social Mobility Tournament, winning a basketball game feels good, but being on the road to success is good.
To better grasp the importance of what we seek to convey by transforming the NCAA bracket into one based on mobility rates, consider the following. The 68 schools participating in this year's March Madness have succeeded in making the intergenerational income leap possible for about 109,000 students out of their total student population of over 1.5 million, a somewhat disappointing 7 percent (it was 11 percent in 2019). However, these 109,000 students represent more than 57 percent of the 191,000 who attended these colleges while their parents' income was in the bottom 40 percent of wage earners. Clearly, many of these colleges and universities have contributed significantly to paving their students' way to family-sustaining earnings, but some, as we can see among the losers in our First Round, unfortunately have not.
The colleges providing the best path to success in this year's Social Mobility Tournament bracket are Georgetown (0.76), Georgia Tech (0.75), Villanova (0.74) and Drake (0.70). These Final Four schools help more than 7 out of 10 low-income students reach incomes that place them in the top 40 percent of American earners by their 30s.
Furthermore, among the Sweet Sixteen in the Social Mobility bracket, only one school, Oregon State (.59), failed to put at least two-thirds of their poorer students on the escalator advancing to financial success. Put another way, our Sweet Sixteen, with a total enrollment of disadvantaged students numbering 33,200, moved nearly 26,500 of them to the top 40 percent of households. That's a stunning 80 percent.
To understand how significant this success is, compare it to the success rate of the 16 colleges that made it to the tournament but registered the lowest percentage of upwardly mobile low-income students. This group, which includes powerhouses such as the third-seeded West Virginia Mountaineers (18-9), sixth-seeded BYU Cougars (20-6) and eighth-seeded Tigers of LSU (18-9), managed to put only 40 percent of its 52,900 low-income students on the road to financial security by their early adulthood — half the success rate of our best performers.
Nothing contributes more to upward mobility than completing college. Given today's low graduation rate — 59 percent before the pandemic and dropping further to 45 percent when part-time and transfer student data is included— how well are the mobility bracket's Sweet Sixteen schools doing in getting their students across the finish line when compared with the 16 colleges in the four top seeds in the NCAA tournament? According to the latest figures available, the NCAA tournament's top-seeded 16 teams have, on average, a 74 percent eight-year graduation rate, 69 percent for their low-income Pell eligible students. Both are well above the national average; however, the mobility bracket's Sweet Sixteen did even better, with an average graduation rate of 81 percent overall and 78 percent for those receiving Pell grants.
How have the winning schools in the Social Mobility Tournament bracket accomplished this?
After four years of analyzing the colleges that make it to the NCAA tournament, we are confident that what makes these schools a success for students is not determined by whom they enroll. For example, this year's top seeded NCAA 16 and mobility tournament Sweet Sixteen have about the same percentage of Black (5 percent) and Hispanic (11 percent) students, and nearly the same percentage of Pell recipients (22 versus 18 percent).
Is the secret sauce, then, based on selectivity? While many schools that succeed in setting their students on the path to upward mobility are very selective, many are not. For instance, in the 2019 tournament, Purdue, Iowa State, Iona and the University at Buffalo, all with admittance rates between 75 and 85 percent, had higher mobility scores than the average of the NCAA Sweet Sixteen. Others with similar acceptance rates that lost during our First Four or in Round 1 — Old Dominion, Seton Hall, Temple, St. John's and Saint Mary's College of California — were also worth mentioning. Not for the talent they showed in making it to the tournament, but for the praise they deserve for the work they do in helping their students turn the American Dream into a reality. All these colleges, like the mobility champions of 2021, whatever their size or financial resources, attend effectively to the needs of their at-risk students who are eager to prosper.
Like millions of others, we can't wait to see who makes it to the Sweet Sixteen and on to the Final Four. And we long to see nail-biters and exciting upsets by underdogs like the legendary loss of the 2018 Virginia Cavaliers, ranked No. 1 in the AP poll, to the 16-seed UMBC Retrievers.
But most of all, we look forward to the day when schools that win on our parallel bracket proudly announce on their T-shirts, marketing materials and websites that they are "Income Mobility Champions."
Now, on with the tournament, and may the winner do as well for the rest of its students as it has done on behalf of its triumphant players.
Click to see Social Mobility Sweet Sixteen: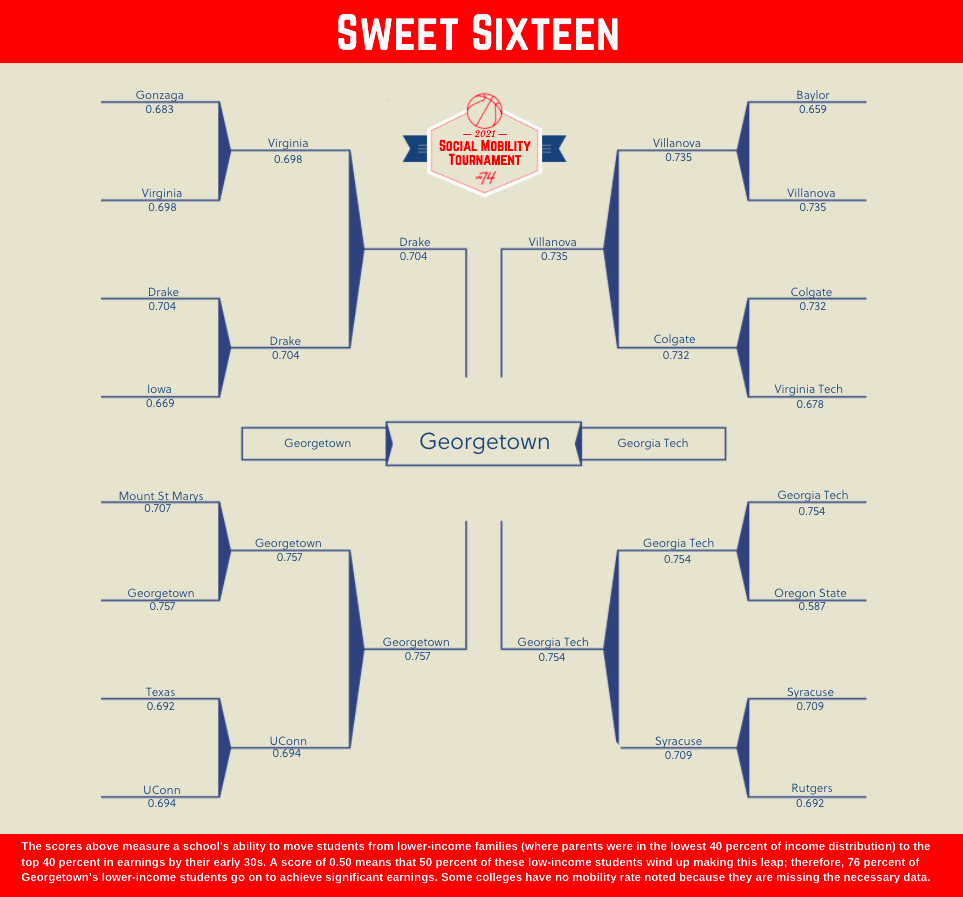 Jorge Klor de Alva is the president of the Nexus Research and Policy Center. He was previously a senior executive at Apollo Education Group, Inc., a professor at Princeton University, and the Class of 1940 Professor at the University of California, Berkeley.
---
Lead Video: Getty Images
Get stories like these delivered straight to your inbox. Sign up for The 74 Newsletter