The War That Wasn't: A Year After Its Much-Hyped Launch, the NAACP's Push for a Charter School Moratorium Has Run Out of Steam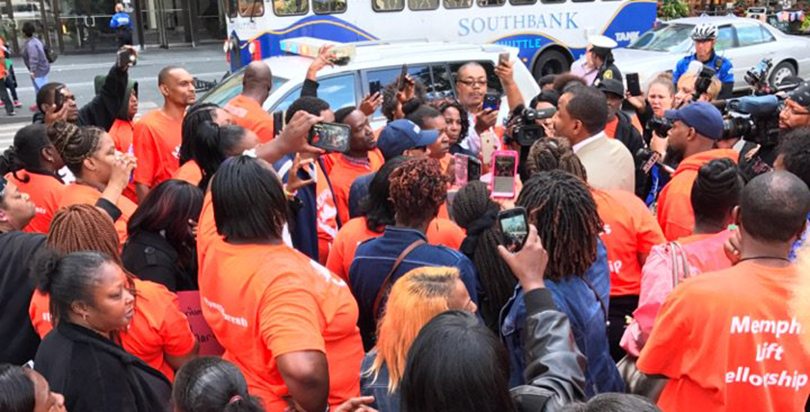 Social media, livestreams, and heated debates: Repeated calls for a moratorium on new charter schools were among the most contentious topics on the NAACP's agenda for nearly two years. Arguments over the demand sparked fireworks at both the 2016 and 2017 national conventions, with a host of other civil rights organizations pushing back and delegates returning home with model legislation to lobby for.
A lockstep push, however, has failed to materialize. The group's 2018 national convention, held in July, featured a single education workshop, led by the American Federation of Teachers; a screening of the controversial documentary A Backpack Full of Cash; and, with the exception of the chief activist behind the moratorium, California NAACP Education Chair Julian Vasquez Heilig, virtually no Twitter chatter.
Indeed, in an interview with Politico published a few days before this year's convention, new NAACP president Derrick Johnson struck a conciliatory tone, saying the organization does not oppose charter schools but plans to keep the heat on concerning "a wide range of problems," including the need for more oversight and transparency.
"There are some charter schools that have some really good best practices," said Johnson. "Why shouldn't those practices be implemented in a public school setting? There are some dog-awful public schools. How do I know? Because we try to sue them every chance we get. Our position is, a quality education should be afforded to all children."
How did the issue go from red hot to tepid? Publicly, many education advocates say they won't talk about the shift out of fear of reopening the debate. But privately, several say the change in tone underscores shallow support for the measure within the NAACP, as well as agreement that defending civil and voting rights protections in the Trump era is a much higher priority.
Several advocates who track state education policy point to vocal opposition to the resolution among allied groups such as the UNCF, a lack of support by local NAACP chapters, and quiet personal outreach by charter school leaders to NAACP officials at the grassroots level. Few of those local leaders, they say, are willing to work against schools opened by members of their own communities.
"They don't have the ability to make the case," said one of the advocates, who asked not to be named. "Especially when, at the local level, they will have to go up against other leaders of color."
The organization did not respond to multiple requests for comment.
'Promoting a false narrative'
Opposition to the call for a moratorium arose immediately after the introduction of the resolution, drafted by the NAACP's California-Hawaii chapter, at the 2016 national convention. UNCF CEO Michael Lomax and more than 150 education and community leaders wrote to the NAACP's national board, describing the rapid growth in black enrollment in charter schools and citing research from Stanford University that found that academic progress for black students — and in particular, low-income African Americans — at charters dramatically outpaced that of their peers in traditional district schools.
"There is a reason for enthusiastic support in the Black community: parents see for themselves how their children are flourishing in charter schools," the letter said. "For many urban Black families, charter schools are making it possible to do what affluent families have long been able to do: rescue their children from failing schools. The NAACP should not support efforts to take that option away from low-income and working-class Black families."
In early 2017, hearings held in seven cities by an NAACP charter school task force yielded protests from parents and complaints from charter advocates that they had been given scant time to testify.
In Los Angeles, Margaret Fortune, chair of the California Charter Schools Association board, dismissed the moratorium as a "distraction" from efforts to resist Betsy DeVos's nomination as U.S. secretary of education, LA Weekly reported. She testified that a few years before, she and California NAACP chapter president Alice Huffman had sought approval for a new charter school to be named for Huffman — one of the "living, local African-American community icons" for whom Fortune School of Education designates its schools.
"Imagine my surprise when I found out in August that my NAACP had gone national with a resolution calling for a moratorium of all charter schools," Fortune testified, according to LA Weekly. Soon after, the Fortune board voted to remove Huffman's name from the school, which has yet to open.
A few weeks later, Jamar McKneely, CEO of New Orleans's InspireNOLA network of schools, testified at a hearing that devolved into a shouting match. He told the task force it ought to focus on school quality instead of debating how schools are governed. "Our high school, Edna Karr High School, is the [city's] No. 1 school when it comes to academics in kids in poverty," he said. "I see our kids competing and getting into the top colleges in our nation. I'm seeing black kids defy odds like never before."
There are too few high-performing schools — charter or district — to serve New Orleans students, McKneely testified. "I don't see those opportunities, and I am tired of going to funerals each and every year of the students we are educating because of what's happening on the streets," he said. "I encourage our community to keep having that dialogue and, yes, keep the pressure on us as school operators to do the right things."
In Orlando, Rashad Turner, former head of the St. Paul chapter of Black Lives Matter, was escorted out of a task force hearing after protesting that dissenters were forced to wait until the last few minutes to speak. The previous year, Turner had stepped down after a faction of the Black Lives Matter national leadership voiced support for the moratorium.
Few were surprised, then, that there was immediate pushback after the resolution was formally adopted at the NAACP's July 2017 convention and the draft legislation handed out.
Within days, the group's Tennessee and Memphis chapters dissented, noting that many of those states' charter schools had been started by black educators and advocates concerned about the lack of quality options for children of color.
Lobbyists and education policy watchers waited anxiously to see whether the draft "Accountability and Transparency for Charter Schools Act" would make its way onto state legislative agendas, but there was little action — with the notable exception of Pennsylvania, where a bill freezing new online-only charter schools was introduced but has yet to be heard.
"It's been rather silent" in Louisiana, said McKneely, who added that after his testimony, he heard from several local NAACP and community leaders who wanted to talk about improving school performance in New Orleans. "Hopefully, we've changed the conversation to focus on quality for all our students, whether in traditional district or charter schools."
Turner, who now is community engagement director for the school improvement nonprofit Minnesota Comeback, said the moratorium wasn't raised in his state, either. "Neither Minneapolis nor St. Paul [NAACP chapters] hopped on the bandwagon," he told The 74. "The amount of time the NAACP spent promoting a false narrative about charter schools was wasted. It was time that could have been spent working on the Voting Rights Act."
Indeed, the Voting Rights Act and black voter turnout for the upcoming midterm elections topped the agenda at the 2018 convention. In May, the NAACP sued the U.S. Department of Education over DeVos's decision to allow the department's Office for Civil Rights to dismiss complaints it finds burdensome, merit notwithstanding.
More recently, the California NAACP and the California Charter Schools Association have supported two measures in the state Assembly: a bill redistributing education funding so the lowest-performing students — African Americans, in this case — receive a larger share, and a measure to prohibit for-profit companies from owning or operating public schools in California.
Support The 74's year-end campaign. Make a tax-exempt donation now.