Inside the NAACP's New Strategy to Shut Down Charter Schools: A 50-State Legislative War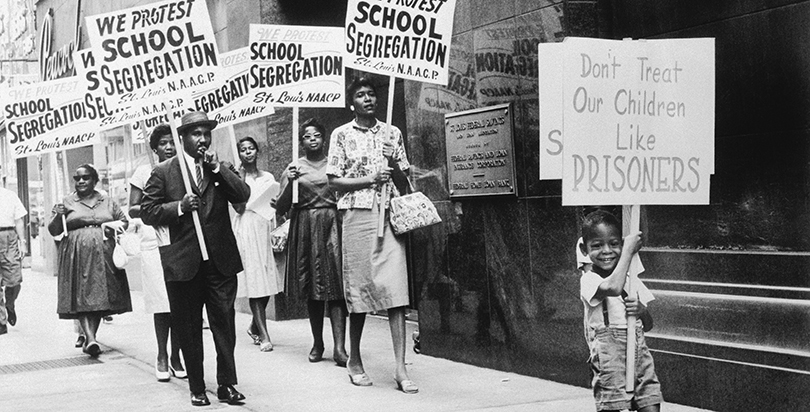 When an NAACP task force released a report Wednesday calling for
new restrictions on charter schools
, one of the panel's members took up the mic to refute accusations that the process was biased.
"As we travel the country, people would say the NAACP is so against charter schools, you don't know anything about charter schools," said NAACP national board member Da'Quan Love. "And then faces would turn when our chair, Ms. [Alice] Huffman, would say, 'Oh, Da'Quan, who is on our task force, is a charter school administrator."
In concurring with the call for a moratorium on new charter schools and a number of other sweeping changes, Love struck perhaps the most conciliatory note of the task force members who spoke at the group's 2017 convention.
"There are good charter schools that are doing phenomenal work in some communities where, quite frankly, some of our public schools are not," he continued. "We have come to the conclusion that while there definitely are some good charter schools that are serving our scholars well … there are some problems with the operation of some charter schools that truly deserve our attention."
It's a sentiment many charter school proponents would agree with wholeheartedly: Ensuring that low-income children of color and children with disabilities have access to high-quality schools should be a universal goal.
They part ways, though, over many of the NAACP's policy prescriptions, which charter school accountability proponents say aren't good substitutes for the oversight mechanisms that are driving school quality in many places.
"I don't think anyone would argue across our urban centers that we have enough high-quality options for kids," said Karega Rausch, vice president of research and evaluation at the National Association of Charter School Authorizers. "Rather than a national moratorium, what you need is an understanding of where the charter model is working well and why."
The policies the venerable civil rights organization called for won't address the task force's concerns, he and other education advocates say. Meanwhile, many of the proposed checks and balances are already in place in states with strong charter school laws.
In Minnesota, where Love works, for example, a relatively recent overhaul of the state charter law is one of the strictest in the nation. The year-old St. Paul school, T.R.U.T.H. Preparatory Academy, where Love is dean of scholar achievement and institutional advancement, had to vault numerous hurdles to open and must produce continual evidence of its academic performance and financial health or face closure.
Charter applicants there typically must include information in their applications about the dearth of high-performing schools in the communities they hope to serve. Authorizers are held responsible for the performance of the schools in their portfolios. They, too, face potential closure if they don't deliver.
In the case of Love's school, the authorizer is the Minnesota Guild of Public Charter Schools, which was started in 2011 by the Minneapolis Federation of Teachers and funded in part by the American Federation of Teachers. The union-backed authorizer now oversees 11 schools and has drawn fire for rescuing at least one school slated for closure because of numerous improprieties.
Critics of the NAACP's call for a charter moratorium have decried the steady stream of contributions from the AFT and the National Education Association, an amount documents drawn from public records put at least in the hundreds of thousands.
From the dais Wednesday, Huffman singled the unions out for praise, saying the three groups would move forward as partners in their efforts to curtail charter school growth. She also announced that delegates would go home from the national convention with model legislation regulating charters to present to local governments.
"I kind of used the Koch model," said Huffman, president of the California chapter. "We have a sample legislation here, a template, that you should be able to take to your state legislators and get them to … make some legislation."
Huffman was referring to the way the right-wing American Legislative Exchange Council (ALEC) disseminates the priorities of its members, many of them powerful conglomerates and billionaires like the Koch brothers looking for sweeping changes to policy, to state lawmakers who take them home and introduce them, usually verbatim.
The "Accountability and Transparency for Charter Schools Act" calls for laws halting the opening of new charter schools, the elimination of for-profit charter schools, and the outlawing of networks, nonprofit or for-profit, that operate numerous schools using the same model.
The proposed bill asks state lawmakers to give traditional districts sole control over public charter schools and to require charter school boards be elected by the general public. The measure also directs lawmakers to study a host of education issues.
NAACP board member Peter Rose also served on the task force. Model legislation makes sense in this instance, he said.
"It was the coming together of two serendipitous and related things," Rose said. "Education is very much a state, local, and county decision. So that's where we ought to put our resources.
"At the same time, the NAACP is very much a grassroots organization," he added. "We have the ability to mobilize people on the ground."
An executive in the financial services industry, Rose said he was surprised by the extent to which decisions are made on the basis of what he called anecdotal evidence.
Rausch, of the authorizers association, disagrees, and testified at one of the task force's hearings about the research on the best charter schools. If the goal is better options for children of color, some of the model bill's most dramatic provisions may actually move things backward, he cautions.
Right now, 90 percent of charter authorizers, the entities that grant charters permission to open and decide whether their performance merits renewal, are traditional school districts, he said.
Some charter school supporters say they suspect the NAACP has called for districts to be the only authorizers and to oversee all charters because districts often perceive the nontraditional schools as competition and reject large numbers of applicants.
Whether that's true or not, Rausch noted that his organization has found that districts are some of the most inconsistent authorizers, compared with colleges and universities, state boards of education, and stand-alone nonprofits. Issues range from a district's capacity in terms of staff time and expertise to provide adequate oversight to the many conflicting constituencies placing demands on elected school board members.
"Do they see it as a kind of side project or do they see it as something that has the potential to be truly transformational?" he asks. "We see strong authorizers of all types. Denver Public Schools, for example. D.C. has a very strong independent charter board. The State University of New York."
Rausch's association also has advocated for making sure states have at least two authorizers, which ideally are focused solely on making sure the autonomous schools are living up to their promises in terms of student outcomes and fiscal responsibility.
Kathy Saltzman was involved in efforts in Minnesota to strengthen charter school oversight, first as a lawmaker and later as a lobbyist for the since-shuttered school reform group StudentsFirst. Faced with questions about how to use policy to promote high-quality schools, she said she consistently looked for two things in legislation.
"What are best practices?" she explained. "What are other states doing and what is working?"
Beyond that, as a lawmaker, she always looked to the motives of anyone looking for a sponsor for a bill: "Who is being best served by this? You should always look at what's best for kids."
Education activist Chris Stewart, who attended the convention, said the NAACP was wrong to focus its energy only on charter schools, which he points out serve 7 percent of public school students.
"We're talking around the fringes of the things that we know are the biggest levers to pull in terms of helping our kids," he said. "We really can't be serious until we are looking systemically at the schools that are taking care of 93 percent of our public school students and until we are looking at the things that are within our control to make a difference.
"There are 14,000 school districts in the United States with wildly different standards, wildly different rules, and wildly different resources," Stewart added. "So to spend our time talking about schools that serve 7 percent of our students is either an exercise in politics or a waste of time."
For his part, Rausch is glad the NAACP is interested in accountability and transparency in schools. He repeated what he told the group during its winter "listening tour," that his association would gladly partner with the group on elevating school quality.
"This is deeply personal for someone like me who is a person of color and someone who has watched them be a strong voice on racial equity," said Rausch. "It's imperative that by whatever means necessary, they reverse course on this."
Get stories like these delivered straight to your inbox. Sign up for The 74 Newsletter