The Texas Story: Why Strong School Governance and Effective Education Ecosystems Are Key in Helping Students Thrive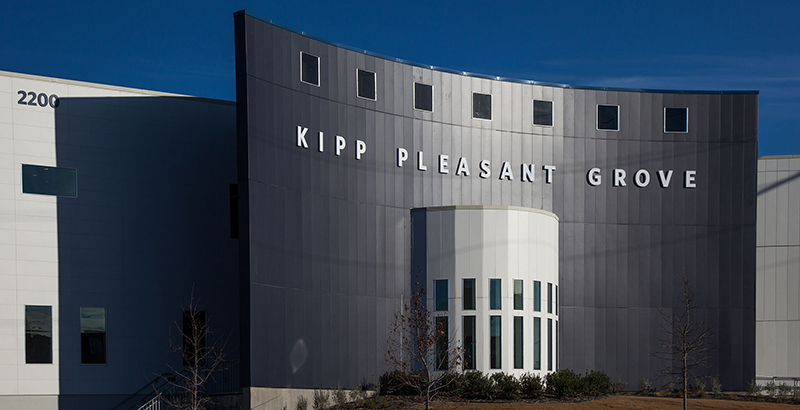 No paywall. No pop-up ads.
This piece is part of "The Texas Story," a four-week series produced in partnership with the George W. Bush Institute examining how well Texas students are being prepared for the workforce as the country recovers from the pandemic. Read all the pieces in this series as they are published here. Read our previous accountability series here and here.
This article explores the importance of effective governance and community ecosystems. Part one focused on outcomes data and student perspectives. Part three will address innovation in each of the three regions. Part four puts forth recommendations for leaders.
We define "governance" as both the school board and the opportunistic use of legislation and public policy. We define "ecosystem" as the broad coalition of organizations and community leaders focused on education and workforce outcomes across a city or region. Finally, we define "innovation" as the use of strong practice, sometimes new and sometimes not, with the goal of improving student outcomes.
Houston: Recapturing "It"
If this story had been written 15 years ago, Houston would have been the star. The Houston Independent School District had "it": effective governance and a supportive community, both of which were leading to impressive innovations and improving outcomes. At the same time, two successful charter networks — KIPP and YES Prep — launched and expanded in the region.
Today, Houston has lost "it." While the charter sector in Houston remains strong, progress for students in the district has ground to a halt.
For the last five years, Houston ISD's governance has been a mess, to be blunt. One superintendent lasted just two years and was followed by two interim superintendents over a three-year period. Meanwhile, bitter trustee divisions were fueled by political infighting, and student outcomes took a backseat. The Texas Education Agency moved to take over HISD in 2019, prompting more backlash and lawsuits. The agency has asked the Texas Supreme Court to hear the case, but it remains unclear whether the court will take it up. Legislation passed this year would allow the state to take over failing campuses if need be.
Adult infighting has upended Houston students' march toward progress. From 2012 to 2019, for example, third grade reading scores in the district only increased by 4 percentage points on the State of Texas Assessments of Academic Readiness exam. By contrast, third grade reading scores for Dallas Independent School District students improved by 9 percentage points during that period.
Sadly, this is the same district that twice won the Broad Prize for Urban Education, the once-coveted, but now-discontinued award that honored districts that were improving the quality of schools in major urban centers. In 2002, HISD won the award under former Supt. Rod Paige for such strengths as improved reading and math scores, clear academic goals, and effective management and accountability systems.
HISD won again in 2013 under then-Supt. Terry Grier for advances such as improving its graduation rates faster than peer districts, closing achievement gaps for low-income and Hispanic students from 2009 to 2012, and improving the readiness of its students for college.
The charter school sector established a firm foothold in Houston as KIPP, YES Prep and others launched and grew. Houston families had more choice inside and outside the district to find the right fit for their children.
A combination of factors upended that progress. The reform movement lost momentum, and some reformers retired, moved on to other cities, or, in the case of exemplary leader Charles Miller, passed away. The ecosystem ran short of champions and outcomes-focused board candidates who were willing to stand up for students. The school board turned over, candidates opposed to the successful reforms gained control, and Houston's respected ecosystem faded.
Status quo is not the only option, despite the challenges. There is new energy in Houston around positive change. Houston ISD now has a new superintendent, Millard House, who promises to use research to guide best practices, especially in low-performing schools. And the ecosystem is reorganizing.
Organizations such as Good Reason Houston, the Houston Endowment, and the Greater Houston Partnership have important institutional memories, hold key relationships across the region, and share an outcomes focus. Leadership ISD recruits and supports prospective school board candidates in three regions of Texas, with Harris County as one of them. Lone Star Governance, a research-based TEA program designed to train and support sitting school board members to focus on student outcomes, can provide critical support to Houston ISD board members.
This type of ecosystem worked before in Houston. Starting in the early 1990s and lasting for the next two decades, business leaders, nonprofits and philanthropists were crucial supporters when the district introduced a merit-pay system for educators, used data to drive innovative classroom strategies and bolster effective campuses, and expanded choice for families. Houston's ecosystem also supported reform-minded trustees such as Dianne Johnson and Natasha Kamrani. As John Fitzpatrick of Educate Texas puts it, "Houston had a coherent theory of change and the board worked hard to pursue it." 
That coherent theory of change can return if Houston's leaders take action, including making student academic outcomes the bottom line. Getting derailed into metrics like "student experiences" will take Houston ISD's eye off mastering reading and other fundamentals. It is great for students to visit the Houston Zoo or the Museum District. But students can only move forward with agency and opportunity if they can read, write, do math and think critically. 
Good Reason Houston's Blueprint for Change codifies the vision and aspirations for a high-quality education that every child in every neighborhood growing up in Houston deserves. The polices outlined in the blueprint include expanding or replicating successful schools; creating systems to identify and reward highly effective teachers and giving them incentives to teach in Houston ISD's most struggling schools; using classroom curricula that have proven effective; giving students the individualized supports and interventions they need to master academic content; and involving parents in all levels of campus decision-making. This is a smart road map of priorities that all stakeholders can and should embrace.
Dallas: How to Sustain "It"
In 2011, a group of Dallas business leaders, Dallas Independent School District administrators and trustee and nonprofit representatives toured cities around the country to learn how big, urban school systems can steer themselves in the right direction. At the time, Dallas ISD sorely needed a North Star. 
In 2002, Dallas voters rewarded then-Supt. Mike Moses's leadership by passing a $1.36 billion bond package, which was the largest ever in the state. In 2009, the district became the third Teach for America site in Texas, welcoming about 100 corps members as teachers to the district. And by 2011, the school board included a few data-driven trustees such as future Texas Education Commissioner Mike Morath.
But a financial shortfall in 2008 had rocked and nearly overwhelmed the district, contributing to then-Supt. Michael Hinojosa's exit three years later. (Hinojosa later returned to the district). The state ranked 33 of its 230 schools "academically unacceptable" in the 2010-2011 school year. And the business community had largely stepped away from district engagement.
Fortunately, a commitment to improve Dallas ISD's governance and create a network of community support evolved from those tours to Los Angeles, Denver, Houston, and Cincinnati.  First, the district hired Mike Miles as superintendent in 2012, and second, businessman and philanthropist Todd Williams launched The Commit Partnership, a data-driven nonprofit that rallies partner organizations to drive educational success and economic mobility in Dallas County. 
Miles, formerly a superintendent in Colorado, developed a new merit-pay plan for teachers and principals to reward and encourage the district's best educators, reforms that remain in place today and that have been copied around Texas. He placed an intense focus on stronger instruction and created a program to bring high-performing teachers and principals to low-performing schools, matching expertise with high-need campuses.
Commit's focus on gathering, reporting and analyzing data ensured that a focus on outcomes became normal in discussions about district policy and goals across Dallas County. School trustees like Morath had new, quality data and information to help guide their decision-making. 
Strong mayoral leadership under then-Dallas Mayor Mike Rawlings bolstered the reform movement, too. He championed improving the school district, even though he had no real authority over Dallas ISD. Nevertheless, Rawlings saw himself as the town crier, willing to tell the truth about the schools' needs and how those needs were impacting Dallas's ability to grow. As Rawlings told us, "We couldn't grow with marginal schools." A child of teachers, he also saw education reform as an equity issue. "Education is the only thing to overcome the gaps between Dallas' haves and have-nots," the former Pizza Hut CEO said.
At the same time, organizations such as Dallas Kids First, which supports and promotes high-quality, student-focused board members, helped elect new trustee leadership. EducateDallas and Leadership DISD, which later spread around the state as Leadership ISD, began engaging parents and others to learn more about governing and district priorities. Support organizations such as the Teaching Trust and TFA added capacity and leadership focused on strong instruction and student outcomes. And charter school networks such as Uplift and KIPP blossomed around Dallas and North Texas.
Important student-focused changes to practice took hold. For example, Dallas ISD began differentiating effective teaching. Instead of an evaluation system in which 95 percent of teachers earned the highest two rankings, the district shifted to a multi-measure evaluation system that identified the most effective teachers as well as the lowest performers. The most effective instructors were also given financial incentives to teach in the Accelerating Campus Excellence initiative, which Miles created to serve the most underperforming campuses.
Student academic progress has been uneven. As one example, Dallas ISD eighth grade math scores on the 2019 installment of the respected National Assessment of Educational Progress exam showed that Dallas ISD students scored below the level of students in other urban districts. On the other hand, as we note above, reading scores for Dallas ISD third graders improved by 9 percent between 2012 and 2019 on the STAAR exam. That increase was better than for third graders across Texas and in the Houston and Austin school districts. 
"Improvement in education in Dallas is the most exciting part of the past decade," former Dallas ISD School Board President Miguel Solis contends. "Collectively people came together and united around a new approach to a long-standing challenge." 
How does Dallas sustain this momentum to ensure that improvement in student outcomes becomes consistent? Thanks to the new ecosystem, most Dallas ISD school board members are focused on student outcomes, paying particular attention to gaps across race and ethnic groups. But as Houston's experience reveals, a results-oriented, students-first approach can evaporate quickly without a bench. It only takes an election or two for effective governance to diminish and a supportive ecosystem to wither.  
Austin: Developing "It" for the First Time
If Houston must regain an effective governing model and a supportive ecosystem, and Dallas must sustain the leadership and support it has developed over the last decade, the Austin Independent School District has never had "it" to regain or sustain. The lack of both strong governance and an outcomes-focused culture is surprising for a city that keeps attracting residents and businesses from well beyond Texas. Why aren't the burgeoning creative class and the problem-solving technologists paying closer attention?
To be sure, Austin has had its bright periods. Former Supt. Pat Forgione, who once was state superintendent in Delaware and served as a commissioner for the National Center for Education Statistics, led the district from 1999 to 2009. He ushered in initiatives such as free kindergarten, small learning communities and a portfolio of high school choices, which helped keep some middle-class families from Austin's university, government, and technology communities in Austin ISD schools.  
During Forgione's tenure, the district twice scored first or second among urban districts on the National Assessment of Educational Progress exams. Voters invested in three significant bond packages. And an intensive public engagement campaign led to a student enrollment growth of 8.5 percent. Stanford professor's Larry Cuban's book, As Good As It Gets, noted Forgione's "shrewd appointments of key staff in instruction and data assessment."
Even today, with fast-growing suburban districts like Leander ISD nearby and increased charter competition, a number of Austin's middle-class families enroll their students in Austin ISD schools. The district's scores, in aggregate, are decent compared to many large urban districts, considering that 53 percent of students met or exceeded the state's standards on the 2019 STAAR reading exam.
But when you drill down into the data and study how students across racial and economic lines perform, a different picture emerges. Consider that only 35 percent of economically disadvantaged students met or exceeded the state's  reading standards in 2019. Only 33 percent of Black students and only 40 percent of Hispanic students met or exceeded the standard. However, 78 percent of white students met or exceeded the state reading standard. The divide between the haves and the have nots across racial lines in Austin is stark.  
Encouragingly, the charter school movement has gained some momentum. From 2008 to 2018, Austin had the highest percentage gain in charter school enrollment than Houston, Dallas or San Antonio. The result for parents and students is greater choices among schools.
At the same time, declining enrollment is now a serious challenge for Austin ISD, as enrollment has dropped by more than 10,000 students in the last decade. Per pupil funding, of course, follows the student to their new district or public charter school, so the impact on Austin ISD's budget is material as enrollment numbers shift. This drop is a signal to the board and the district about what families value. Travis County is booming, but that population influx is not reflected in Austin ISD enrollment.
And in recent years the school board has been bogged down in issues unrelated to student outcomes and school quality. Public battles have focused on closing neighborhood schools as enrollment has declined instead of concentrating on improving quality to attract more families into the district. One oversight has been the board's failure to enact an extended calendar to address learning losses stemming from the pandemic.
Austin's young people will benefit when adults prioritize outcomes above sound bites. Thanks to the TEA's efforts to administer the STAAR exam in 2021, we have data detailing the gaps that existed pre-pandemic as well as how the pandemic has impacted students over the last 18 months. Gaps widened over the pandemic, disproportionately impacting the region's students of color.
Can Austin finally make education the cause of choice in the region? That remains to be seen. The work of public schools is to prepare their students for future opportunity. We will address the important role of innovation next in this series and then conclude with recommendations for leaders.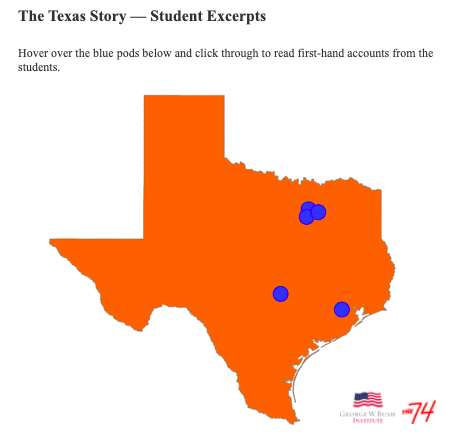 Click here if you are having trouble viewing the graphic.
Follow this four-week series here.
Anne Wicks is the Ann Kimball Johnson Director of the George W. Bush Institute's Education Reform Initiative.
William McKenzie is senior editorial advisor for the George W. Bush Institute.
Get stories like these delivered straight to your inbox. Sign up for The 74 Newsletter