The Latest Chapter in the Texas Culture Wars: Sex Education and Textbooks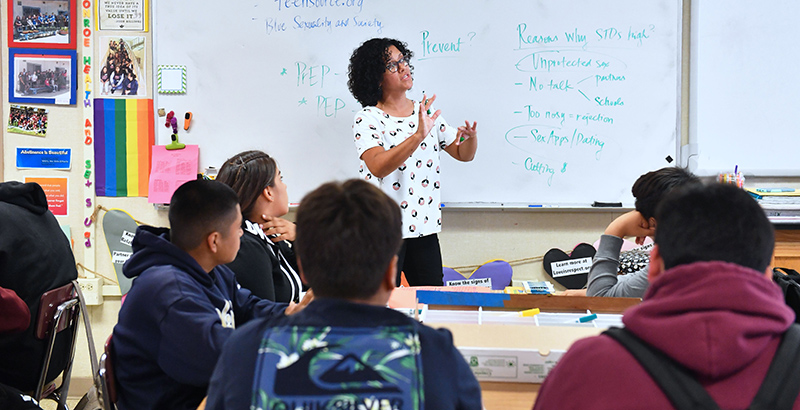 Support The 74's year-end campaign. Make a tax-exempt donation now.
Updated Nov. 19
At a meeting Friday, the Texas State Board of Education officially refused to recommend three health textbooks, including two books mentioned in this report. Board members voted along party lines to reject the middle school textbooks from LessonBee, Inc. and Human Kinetics that include sex education, with opposition citing content about masturbation and abortion, insufficient attention to abstinence or a lack of constituent support. A third health textbook for elementary school failed on a 6-6 tie.
The culture wars keep coming in Texas, and the latest one involves sex, textbooks, and the LGBTQ experience.
On Tuesday the State Board of Education will decide whether proposed textbooks that include content on gender identity and sexual orientation will make their way into the backpacks and laptops of children in Texas and across the country.
Both sides are gearing up, the latest in a series of polarizing fights in Texas schools, which recently included school mask mandates, teaching about systemic racism and library books with sexual content. Just last week, Governor Greg Abbott wanted charges brought against educators offering "pornographic" books to students after pointing out two LGBTQ memoirs as examples.
Now, after last year's approval of new state standards for health classes, the board must approve new textbooks—and that's where the new battlefront is.
"Gay people can get married today; you can't fire LGBTQ people because of their sexual orientation or gender identity," said Dan Quinn, a spokesman for Texas Freedom Network, a left-leaning social justice group.
While much has changed in the last few decades, he fears, "textbook adoptions in Texas have not."
Conservative activists and parents have issues with all five of the health textbooks the board must approve, but are particularly focused on two for middle schoolers, saying they go too far by "normalizing" sexual activity, questioning gender identity and going beyond the new state standards.
State law now requires parents to opt-in their children to lessons on sex education. Parents groups, like the Tarrant County Chapter of Moms for Liberty, a right-leaning organization focused on preserving parental rights, argue they want to be the ones instilling morals about sex to their children. They say the new textbooks would rob them of that right.
"The attitude of devaluing family and oversexualizing education is detrimental to children, even adults, as well as harmful to society," said Mary Lowe, Moms for Liberty Tarrant County chair.
This base has been galvanized. Loud groups of parents are fuming about what their children are being taught about systemic racism and, using that frustration as a road map, Republican Glenn Youngkin won the Virginia governor's race by making critical race theory and schools key issues in his campaign.
Red meat topics like inappropriate sexual content in schools are ripe for conservative Texas Republican politics ahead of the crowded March 1 GOP primary elections, said Rice University political science professor Mark Jones.
In addition, political attacks like Abbott's fit the narrative that liberal school boards are dropping the ball when it comes to educating the country, he added. And those are the people Abbott wants to show up at the primary election, he said.
"It's not what do average Texans think. It's what does the average Republican primary voter think," said Jones. When it comes to teaching about sex, he said, it's "that nothing should be taught or the bare minimum."
Textbooks and Standards
Up until last year, the state's teaching standards for health and sex ed hadn't changed since 1997. After more than a year of public hearings and panels, the State Board of Education updated the standards in 2020, with the most significant change requiring seventh and eighth-grade students to learn about birth control, including condoms and other forms of contraception. The new standards go into effect in August 2022.
Progressive advocates urged board members to add topics like abortion, consent, gender identity and sexual orientation to the mandatory curriculum, but the heavily conservative 15-member board declined.
When it comes to high school, sex education is optional. Many schools don't offer sex ed at all. State law requires those that do teach sex ed present abstinence as the preferred choice to all sexual activity, encouraging abstinence until marriage.
A teacher can go further and offer an "abstinence plus" curriculum, but must devote more attention to abstinence from sexual activity than any other behavior.
On Tuesday, the elected board will take an initial vote to recommend textbooks school districts could buy that cover the new standards. A final vote is expected Friday.
How the final vote will play out is unclear. Several conservative members of the board who voted on the standards in 2020 have since left the policy-making body, replaced by Republicans who skew toward the center. Advocates for comprehensive sex education hope the shift will mean the two textbooks that teach beyond the standards will be approved as is.
Textbook publishers are not bound to those standards and will try to provide content they believe makes their books attractive to school districts in Texas and across the country. While waning, with more than five million students in Texas public schools, the lone star state makes up a giant share of the national textbook market and continues to have outsize influence on content.
But parents like Lowe and advocates like Mary Elizabeth Castle believe the books violate the standards.
"The fact that so much public input and agreement among the board went into the standards, it would be transparent and the right thing to do to have the books aligned with the standards," said Castle, senior policy advisor for Texas Values, an organization dedicated to preserving conservative family values.
While parents can yank their students out of sex ed instruction, groups like Texas Values last year convinced the board to keep LGBTQ content out of the standards and is frustrated it's still showing up in textbooks.
In the textbook by Human Kinetics, Castle said the text uses two students engaging in sexual activity as an example in a lesson, and in another case has students question whether their gender identity is similar to the one they are assigned at birth. The other textbook, by LessonBee, Inc., includes a text message conversation about ejaculation and arousal.
Advocates for stronger sex ed say the textbooks are needed because students want medically accurate and age-appropriate information about sex.
"We want young people to be able to engage in sexual activity if and when they feel comfortable to do so, when they feel they have all the information they need to make that decision for themselves and for their future," said Gabrielle Doyle, state partnership coordinator for Sex Ed for Social Change, a group in favor of the textbooks.
Texas Leads in Repeated Teen Births
What to teach students in school, particularly when it comes to sex, is a touchy subject in Texas. The state has some of the highest teen pregnancy rates in the nation. A baby is born to a teen mother every 23 minutes in Texas, according to Jen Biundo, director of policy and data at the Texas Campaign to Prevent Teen Pregnancy. And Texas is the top state in the country for repeated teen births.
Texas has historically opted to promote abstinence among teenagers to reduce teen pregnancies.
Despite whether more in-depth teaching about sex ed could be beneficial, Jones, the political science professor, said Republicans have little political incentive to encourage it.
As a Republican, said Jones, "you're not going to win any votes in an election by pushing a more progressive agenda on sex ed."
Support The 74's year-end campaign. Make a tax-exempt donation now.