The Frontrunners for Florida Governor Are Still a Question Mark But The Many Education Issues That Will Play Big in the Race Are Not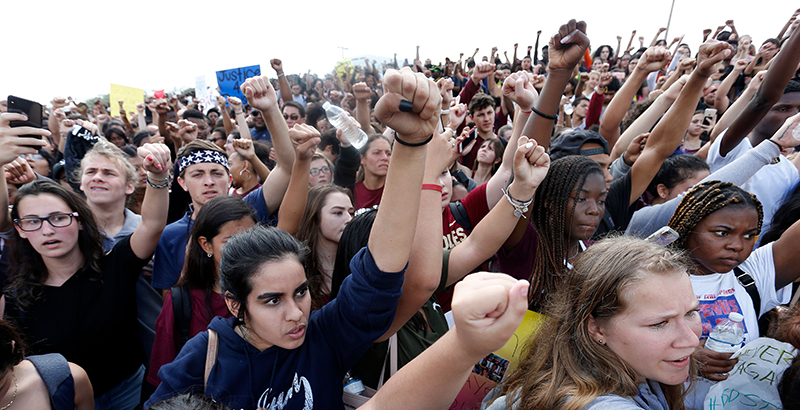 Updated, March 29
In the summer of 1996, a veteran advocate for Miami's black community and his colleague, an affluent white real estate developer and failed conservative candidate, received important news: their proposal for a charter school, the first in Florida, had been approved by the Dade County school board just weeks after Gov. Lawton Chiles signed a bill that allowed charters.
The founders of the new school, which would serve one of Miami's most troubled neighborhoods, spoke about changing the mindset they'd seen in traditional schools.
"When 35 of 37 kids in a class flunk, we don't challenge the abilities of the teacher," said T. Willard Fair, president of the Urban League. Fair was a co-sponsor with the most influential advocate of the new charter law and the man Chiles defeated two years earlier: Jeb Bush.
"We say, 'Oh, those dumb kids. They're poor. They're disadvantaged,'" Fair lamented.
Liberty City Charter School struggled through years of financial and management difficulties before closing in 2009, but its approval opened an era of far-reaching educational change in Florida. Led by Bush, who won the governorship on his second try in 1998, and continued by current Gov. Rick Scott, who will term out of office in November, state policy has reflected the school reform movement's conservative wing — especially in removing obstacles that might constrain parents from choosing charter or virtual schools or that prevent lower-income families from paying for private schools. (The Orlando Sentinel reported that the state spent more than $1 billion last year on scholarships to private schools.)
Florida lawmakers have also implemented merit pay for teachers, the use of results from high-stakes tests to evaluate schools and teachers, and ending social promotion. (Conservative-side pushback against standardized testing has resulted in fewer required tests.)
These concerns — along taxes, health care, and affordability issues —will divide right and left in the campaign to succeed Scott, who is expected to run for Senate against Democratic incumbent Bill Nelson. The crowded race is considered a toss-up by pollsters eight months out, with no Republican supported by more than 19 percent of voters and no Democrat by more than 13 percent, according to a February Gravis poll.
The state's complexity — the north votes with the Bible Belt while diverse South Florida is deep blue — creates political cross-currents. Conservatives continue to guide the education system, expanding charters and vouchers, while Democrats appear ready to post electoral gains across much of the state.
Some seat-flipping in the Democrats favor is bound to happen in a midterm election under an unpopular Republican president, but the party will also owe a debt to the student anti-gun movement, whose passionate opposition to traditional gun culture has become the most electrifying political force in years and set GOP leaders in Florida (like those elsewhere) back on their heels.
Many question whether the survivors of the Parkland school shootings and their supporters will shake loose additional weapons restrictions — a safety bill passed by Florida lawmakers and signed by Scott in the tragedy's aftermath omitted key demands. But they have already succeeded in forcing gun violence to the center of every Florida race in 2018 and may be reaching new or sidelined voters.
"It could galvanize people who traditionally don't turn out to turn out," says Darryl Paulson, an emeritus political scientist at South Florida University and close follower of state politics.
Paulson considers Florida "essentially a 50-50 state," as evidenced most famously by George Bush's 537-vote margin of victory in 2000, out of more than 5.8 million cast, and several hair's-breadth contests since. But with President Donald Trump's approval rating in the state idling at 41 percent (and nearly 40 percent saying he should be impeached), the midterm election is expected to give Democrats a chance not only to take the governor's seat but also the state Senate and other local and federal races.
A Democrat hasn't been elected governor in Florida since Chiles in 1994; the party hasn't controlled the Senate since 1992.
"Democrats are in a better situation than they've ever been in the last 30 years to pick up seats everywhere," said Paulson, a lifelong Republican who has written about leaving the party after Trump's election. "Everything seems to be working to their political advantage. You're going to get a sort of momentum effect: it's going to bring out more money and bring out more candidates."
The state of state education: highlights
Florida's next governor will inherit the nation's third-largest school system, with more than 2.7 million students, 63 percent of whom are low-income. Nearly 40 percent of students are white, one-third are Hispanic, and 22 percent are black. Learning gaps between white and black students, as measured by the National Assessment of Educational Progress are about the same as national averages.
The 12-point gap between Florida's white and Hispanic students in reading is significantly smaller than the median gap in other states.
Statewide, Florida NAEP scores have tracked the country in trending upward over the last 15 years. The state's eighth-graders perform about as well as their peers nationally in reading but lower in math.
Thanks to charter-friendly laws, almost 300,000 students attend more than 650 charter schools, while the number of students using the state's tax credit scholarship program — which allows businesses to pass tax savings to organizations that provide scholarships — has grown from roughly 1,500 in 2003 to more than 100,000, making it the largest program in the nation, according to EdChoice, a non-profit that advocates for vouchers and other alternatives to traditional schools.
While an earlier voucher program that more directly sent funds to schools, including religious schools, was found unconstitutional by Florida courts, the use of tax credits has survived legal challenges from the NAACP and the Florida Education Association, the state's main teachers union.
Multi-year research has found Florida students who use tax credits to attend private schools perform about the same as other students, though there is a small positive effect on neighboring schools that must compete for students. Another study found students who used tax credits were more likely to enroll in college, but not to earn a degree.
---
"I have a sense that these students from Parkland are going to be political influencers through the 2018 election. I've been doing this since 2006 and have never seen anything like it."
— Kevin Akins, Florida pollster
---
The issues
Much of the education conversation in the gubernatorial campaign will revolve around the state's recent gun safety law, sweeping education laws signed by Scott in 2017 and 2018, and proposed amendments to the state constitution that will appear on the ballot in November.
Gun safety. Little more than three weeks after February's mass shooting, energized lawmakers passed The Marjory Stoneman Douglas High School Public Safety Act, which raised the minimum age from 18 to 21 for gun purchases, created a three-day waiting period, and dedicated funds to school safety, among other measures. Controversially, it also allowed some school personnel to carry guns in schools.
The bill was seen as a repudiation of the National Rifle Association in a state that hadn't passed gun control legislation in 20 years and under a governor with an A+ NRA rating, But by omitting action on assault weapons and expanded background checks, and countenancing the idea of shootouts in school, it also ensured that education and gun safety would continue to be a focus of the campaign.
"I have a sense that these students from Parkland are going to be political influencers through the 2018 election," said Kevin Akins, a Florida pollster whose firm, ALG Research, is working on the campaign of Gwen Graham, who was considered the likely Democratic favorite but hasn't broken loose. "I've been doing this since 2006 and have never seen anything like it."
Even earlier, on the night of the shooting, gubernatorial hopeful Philip Levine, the brash former mayor of Miami Beach, tweeted a video in which he declared "the time to act is now." A few days later he ran an ad blaming the state's weak gun laws for "14 school shootings in eight years" — a figure that Florida Politifact rated a "mostly untrue" exaggeration.

Graham is a former U.S. congresswoman and daughter of Florida political legend Bill Graham, a two-term governor and three-term U.S. senator. She has tried to add heft to her demands for much stiffer laws by noting that her husband was a police officer — and that the NRA spent $300,000 to defeat her congressional bid.
The other prominent Democratic contender, Tallahassee Mayor Andrew Gillum, is the only African-American in the race and the only Democrat who appeals to young progressives who supported Bernie Sanders. Gillum said the Florida gun safety bill "falls well short of addressing this state's gun violence epidemic."

Leading Republican hopefuls Adam Putnam, the state's agriculture commissioner, who has amassed a war chest in excess of $20 million, and U.S. Congressman Ron DeSantis, a Tea Party conservative endorsed in a presidential tweet, applauded Scott's effort to "harden schools." But DeSantis criticized the state for "rushing to restrict the rights of law-abiding citizens" and Putnam said he opposed raising the minimum age for purchases.
Florida House Speaker Richard Corcoran is expected to join the race. He is fluent in education policy — he shepherded the state's recent education laws — but isn't widely known outside of Tallahassee, race-watchers say.
"I think in the age we live in our schools need to be hardened and they need to be looked at from a different point of view," said Manny Diaz, a South Florida Republican and one of the architects of school choice in the legislature. He said he visited the section of Stoneman Douglas where the shooting occurred.
"I met with kids that were in the freshman building," he said. "You could see that they were scared. Their biggest concern was not gun control, it was 'Hey, keep us safe.'"
Jeffrey Solochek, an education reporter at the Tampa Bay Times, says the students are both dynamic and frightened.
"They are mobilizing people to talk and act about education beyond the usual suspects," he said. "They're also saying: 'We're the children who grown up in the age of active shooters in schools. Please put up fences, please put up walls.' Things that would their schools more like prisons.'
The primary is August 28.
HB 7069. The education bill, passed in July 2017, was transformed in committee from a six-page amendment of a teacher scholarship program to a 274-page omnibus that gathered dozens of education proposals into a single piece of legislation. Its provisions range from requiring daily recess (except for charter schools) to easing rules for the location of Schools of Hope, a program that sites charter schools near low-achieving traditional schools.
Most controversially, it requires districts to give a percentage of taxpayer dollars earmarked for capital projects to charter schools.
Nine school districts are suing the state on the grounds that the legislation violates a requirement that bills may not bundle several items in the hope of attracting more support. The state Supreme Court referred the complaint to the Leon County court in Tallahassee, the state capital.
HB 7055. Passed in March, this law primarily boosts voucher programs, adding sources of funding for scholarship for students who are bullied, students with disabilities, and students who struggle to read. It also added accountability to prevent charters from profiting unethically in school construction — the Miami Herald exposed widespread corruption in the for-profit industry in 2011 — as well as a provision that at least 50 percent of eligible workers must be dues-paying members of the local teachers union or the union can be decertified.
The Florida Education Association didn't return requests for comment.
Constitutional amendments. Every 20 years, the Florida Constitution Revision Commission reviews and proposes amendments. After several rounds of vetting, the group is considering 25 proposals, including two that involve education. One would implement term limits for school board members and the other creates a state authority for charters, which currently operate until local board control.
The proposals have been backed by a commission member, Erika Donalds, who was appointed by Corcoran, and by national advocates. Polling suggest that around 80 percent of Floridians support term limits.
"I think there's mixed opinions," said Bridgit Ziegler, chairwoman of the Sarasota County School Board and president of the Florida Coalition of School Board Members, a right-leaning networking association. Donalds previously served as the organization's president.
"I don't traditionally support terms limits because i think the voters should make the decision. But you see in school districts that the longer board members are in office, they don't serve stakeholders the way they were intended to."
Paulson, the political scientist, believes an amendment that would restore voting rights to released felons could also influence election outcomes. A petition to change the current law, which permanently strips felons' voting ability and which a judge called "fatally flawed," appears to have grass-roots support. An ACLU petition calling for change was signed by nearly one million Floridians, according to the Miami Herald.
Florida's law, one of the nation's most stringent, affects as many as 1.5 million people, a disproportionate number of whom are African-American.
"More people turn out to vote for or against an amendment and they will vote for other races," said Paulson.
The sense among Florida observers that this may be a good year for Florida Democrats was amplified by the February victory of Democrat Margaret Good in a special election for a formerly red legislative seat, in a district Trump won handily. Her surprise win, suggested to party faithful that November might bring about a large shift in power.
Florida's education initiatives seems to stand apart from the current political winds. They've become baked in over time. One fan of Florida's reforms is Secretary of Education Betsy DeVos, who has visited Florida more than any other state, according to a U.S. News & World Report.
"I suspect that the reason the secretary has visited Florida so often is the fact that the state has come furthest in redefining what public education actually means," John Kirtley, vice chairman of American Federation for Children, told the news outlet.
Get stories like these delivered straight to your inbox. Sign up for The 74 Newsletter