The Best of April: Our 7 Most Popular Articles About Students, Families & States' Education Priorities This Month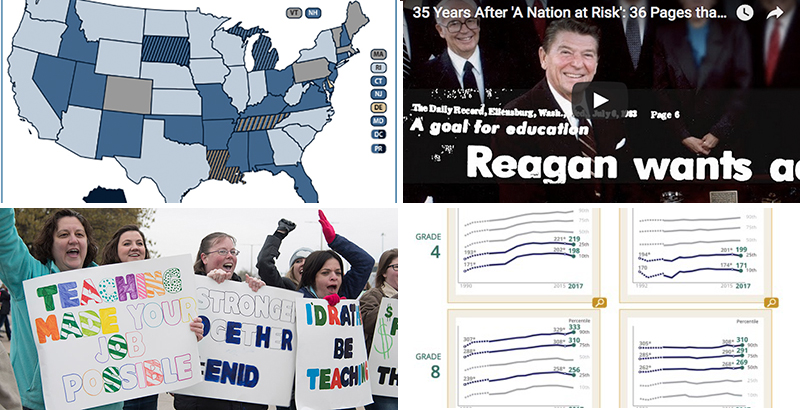 Every month, we round up our most popular and buzzed-about articles from the past four weeks. (Go deeper: See all our monthly recaps here.)
From our summary of this year's "Nation's Report Card" to breaking coverage of the ongoing teacher protests and a new report on the widening gap between many high school exit requirements and the entrance requirements of nearby colleges, it was a busy news month on the education beat. Check out the top highlights below. (FYI: You can get these monthly highlights from The 74 delivered right to your inbox — sign up for The 74 Newsletter.)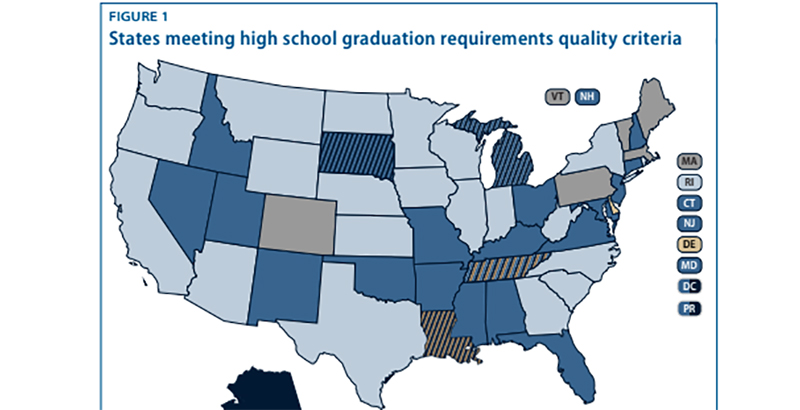 1 New Report: In 46 States, High School Graduation Requirements Aren't Enough to Qualify for Nearby Public Universities
Across the country, high school graduation rates have soared to levels never before seen. But even while millions more seniors have crossed the graduation stage over the past decade, fears have grown that many are being waved through without truly being prepared for college or the workforce. Now, a new study released this morning from the Center for American Progress shows that just four states — Louisiana, Michigan, South Dakota, and Tennessee — align high school graduation requirements with entrance eligibility for public colleges. That means millions of students are finishing high school every year without realizing that they need additional course credits in math, science, and foreign languages before they can enroll in their state university systems. Many will begin college in remedial classes — a virtual guarantee that they won't earn a college degree on time. (Read more)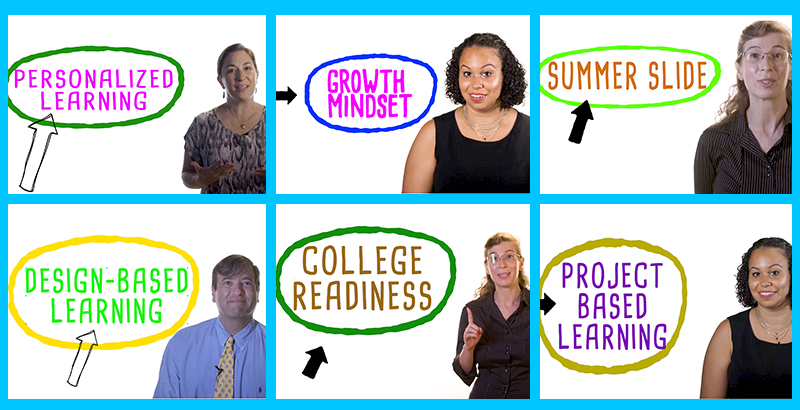 2 Introducing 4Fams: A New Resource to Help Parents Better Understand, Appreciate, and Engage With Their Child's School
With the Every Student Succeeds Act set to scale back the federal role in education next school year, states and districts will soon have greater authority and autonomy to implement more localized, customized approaches to education. As that power slides back from Washington, D.C., families will arguably have more influence than ever before over the decisions of their local school boards. Here at The74Million.org, it has always been our goal to empower parents to engage in this dialogue and debate. And it all starts with decoding, translating, and then explaining education issues and information so that average families can understand the language and the stakes. That's why we're thrilled to announce the launch of 4Fams — a new channel at The 74 specifically designed for our growing audience of families who want to better understand their school system, spotlighting an array of articles, essays, explainers, and videos that have been crafted to make education policy and practice more approachable. See the full archive and video playlist at The74Million.org/4Fams.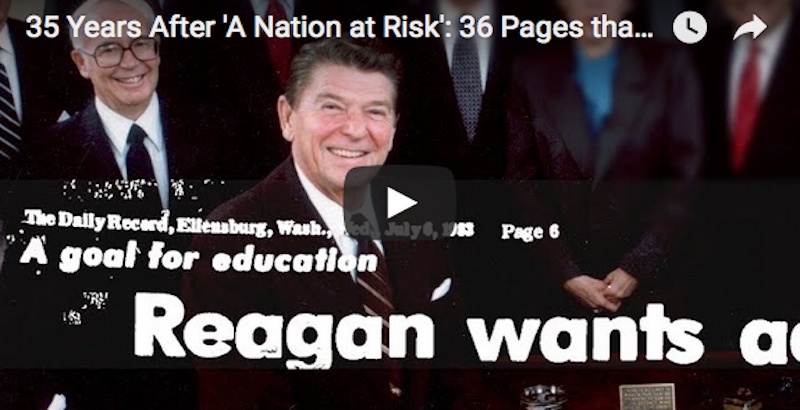 3 Documentary: A NATION AT RISK, 35 YEARS LATER
As the Reagan Institute organized a special education summit to commemorate the 35th anniversary of the "A Nation at Risk" report, The 74 went deep on everything you need to know about the impact and ongoing implications of the document — as well as some very surprising things you likely didn't know about what went on behind the scenes in 1983. Here's our new documentary and a sampling from our special ANAR series:
"They Certainly Had No Idea That the Risk Was the School." No, they (the Reagan administration) and we (the American people) didn't. That revelation landed like a nuclear bomb, which, as former North Carolina governor Jim Hunt points out, is what most Americans thought they had to fear 35 years ago when "A Nation at Risk" was released. In this gripping 74 video, Hunt and other key players recall how they went about determining that "the condition of American education K-12 had deteriorated badly in the previous 25 years," and the essential promise they extracted from President Ronald Reagan beforehand that the report would be published regardless of what it revealed about America's schools. (Read our full series: "A Nation at Risk" Turns 35)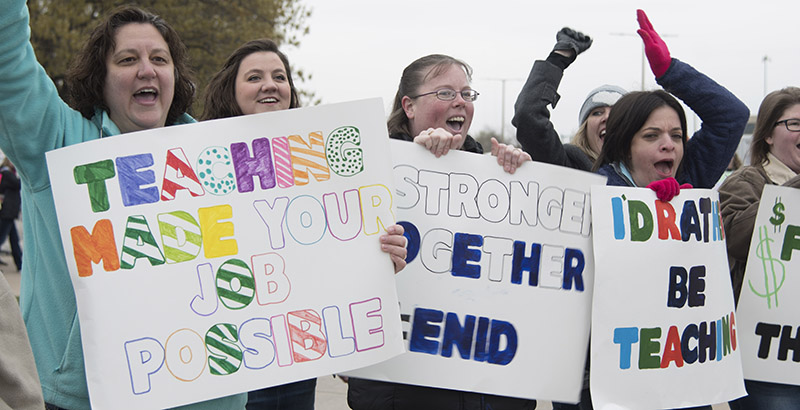 4 Oklahoma's Teacher Walkout: How Did Something That Started So Right End So Wrong?
The Oklahoma teacher walkout felt like a big success in large part because the state's poorly paid educators earn $6,000 more than they did one month ago. But that increase, passed by the state legislature, was awarded two days before the action began. Lawmakers refused to budge after that, and the walkout eventually concluded with a sour taste, writes Mike Antonucci. He argues that poor planning and overconfidence hurt the union's chances. Union leaders hope to make further gains supporting candidates in the fall election, but they will have to compete with a horde of special interests also seeking a share of tax dollars, and a deeply red state may feel it's done enough. (Read more)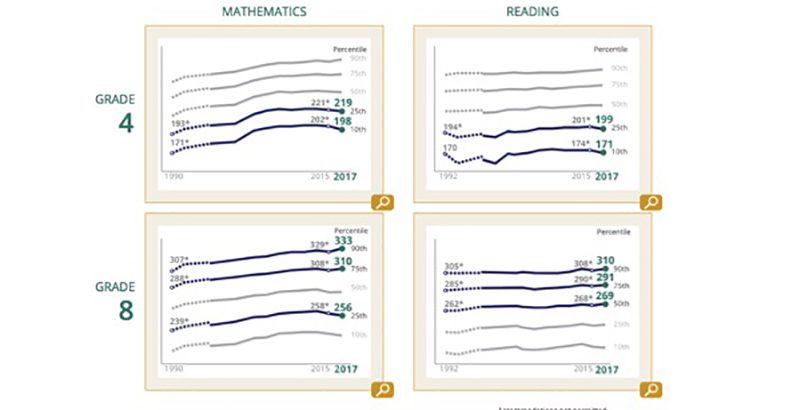 5 A 'Lost Decade' for Academic Progress? NAEP Scores Remain Flat Amid Signs of a Widening Gap Between Highest and Lowest Performers
Math and reading scores on the biennial National Assessment of Educational Progress have been released, and education observers don't have much to cheer. Happily, performance for fourth- and eighth-graders hasn't meaningfully declined, unlike 2015's results. But except for a slight uptick in eighth-grade reading this year, scores for both age groups have been largely stagnant over the past 10 years. While education reformers bemoan the lack of progress and the widening gap between the highest and lowest performers, Kevin Mahnken reports that some researchers say NAEP scores offer an incomplete and possibly deceptive snapshot of what's going on in schools. A few of the key findings from this year's release:
Flat: Scores from the 2017 NAEP remained stuck at roughly the same level they've been at for the past decade, though small progress was made in eighth-grade reading.
Better Than Down: In some ways, the flat trajectory provides relief for educators after the especially bitter NAEP news in 2015, when results for three out of four age/subject groupings declined.
But a Widening Gap Between Students: The National Center for Education Statistics, which administers the exams, noted a troubling trend in scores since two years ago: Even as the status quo kept stable for most test takers, scores for the highest-performing eighth-graders (those scoring at the 75th and 90th percentiles) nosed higher, while those for the lowest-performing students (those at the 10th and 25th percentiles) declined in both math and reading for each grade level.
A 'Lost Decade'?: While states with disparate academic approaches have made some strides over the past few years, national averages have varied only slightly, despite billions of dollars invested to improve performance at the national, state, and local levels. Fordham Institute President Michael Petrilli says that "this has been education's lost decade."
Big Gains in Florida and California: Florida's performance in math was singled out for praise by NCES Commissioner Peggy Carr, while California saw some of the biggest gains in fourth- and eighth-grade reading. Major districts in both states, such as Miami-Dade County and San Diego, made major strides. (Read more)
6 A Civil Rights Activist Filed Thousands of Disability Complaints. Now the Education Department Is Trying to Shut Her Down
Advocate or "unreasonable burden"? Over the course of several years, Marcie Lipsitt, a Michigan-based special education advocate, has filed thousands of federal civil rights complaints against school districts, universities, and libraries. Across the country, she said, education institutions offer websites that are not accessible for people with disabilities, in violation of federal law. Through her persistence, she's forced schools across the country to update their websites. But things aren't going so great for Lipsitt in 2018. Last month, after several rules changed at the Education Department's Office for Civil Rights, federal investigators dismissed hundreds of pending investigations that stemmed from her complaints. We dig into the motivations behind Lipsitt's work — and the reasons she says the Education Department has turned its back on children with disabilities. (Read more)
7 What You Never Realized You Were Teaching Your Child About Grit & Resilience: MIT Study Captures Techniques That Work for Babies as Young as 13 Months
Even the scientists at MIT admit: There's no computer as powerful as the brain of a baby. That's why one graduate student decided to conduct an experiment to discover more about how babies learn — specifically, skills like grit and resilience and growth mindset. Turns out, the power of observation is profound among toddlers. After watching adults struggle with a task before ultimately succeeding, babies demonstrated similarly resilient skills during playtime. Kate Stringer has more on the study, its findings, and what other experts in child development say about them: Here's how adults can teach grit to kids as young as 13 months. (Read more)
Go deeper: See all our monthly recaps here.
Get stories like these delivered straight to your inbox. Sign up for The 74 Newsletter