Oklahoma's Teacher Walkout: How Did Something That Started So Right End So Wrong?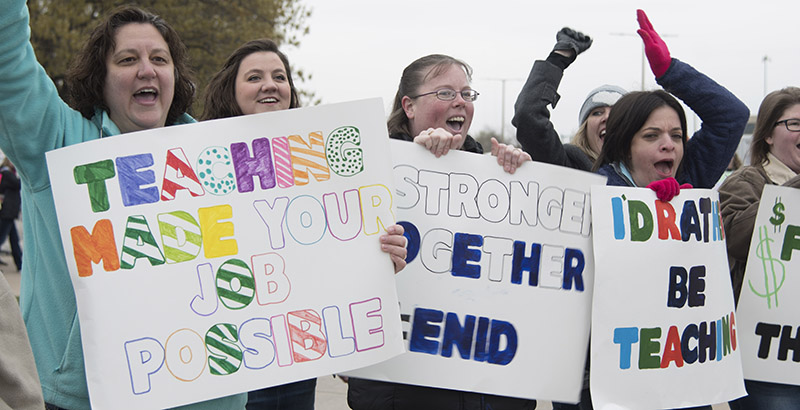 Mike Antonucci's Union Report appears Wednesdays; see the full archive
"We need to face reality."
With those words from Oklahoma Education Association President Alicia Priest, the state's nine-day teacher walkout essentially came to an end.
No one can deny that the economic situation for Oklahoma teachers is better than it was just a month ago. The threat of a strike pried a $6,000 annual raise from the Oklahoma legislature, an amount that would be substantial even in New York or California.
But that increase was approved before the walkout. As Priest called off the protests, reporters asked if additional benefits had been gained. She did not answer.
A lot of Oklahoma teachers were asking the same question. Priest's announcement garnered hundreds of comments on the union's Facebook page, most of them angry. Many of the commenters promised to drop their membership.
The sour taste left at the end of what was mostly a positive outcome for Oklahoma's teachers was primarily due to the union's shifting focus and lack of contingency planning.
OEA made four demands prior to the walkout. The biggest was a $10,000 increase for teachers over three years. Two days before the union's action was set to begin, the legislature passed a $6,000 pay increase.
It's tempting now to say the walkout should have been called off, but the increase was still short of OEA's demand, the largest school districts were already on board to close schools, and the desire for a strike had a momentum of its own.
"Our ask is our ask and we will be [at the Capitol] if our ask hasn't been met on April 2," Priest said.
In case Priest's statement wasn't straightforward enough, Katherine Bishop, the OEA vice president, spelled it out further. "We have put our demands out there and we will walk back into school when those demands are met," she said.
The message to teachers was clear: The walkout would begin and continue until the $10,000 was delivered. Support was strong, press coverage was positive, and with the schools closed, no one had to sacrifice pay or personal days to walk out.
When the legislature made no move to add another $4,000, the union suddenly shifted its focus to specific bills that had some potential funding attached. Statements about the $10,000 "ask" disappeared in favor of demanding — of all things — legalization of dice and roulette games in tribal casinos, which could potentially add to state funding for schools.
Having abandoned its goal, OEA now needed a face-saving way out. It had to wrest something from the legislature that it could sell as a sufficient reason to end the strike. The legislature did not comply, and the union's support began to fragment.
The public employees union bailed out. School districts began to plan to reopen, with even the most supportive superintendents criticizing OEA's strategy. It all led to a press conference announcing the end of the walkout that sounded more like a defeat than a victory.
Grassroots groups that organized independently of the unions vowed to continue their walkouts, but the OEA decision took most of the wind out of their sails. Besides, the grassroots groups had messaging problems of their own.
"We teachers started this movement. OK? And we will be the ones to end it," Alberto Morejon, the leader of one of those groups, told protesters at the capitol after the OEA announcement. They said they would use the weekend "to determine exactly what their demands are."
"What do we feel like the finish line is? I think most people would agree that pushing any more of a teacher raise and support staff raise is probably not a good idea," said Morejon. "We need to come up with a magic number. What would be the magic number to end this walkout?"
I don't think it is overly critical to point out that determining what your demands are and looking for a magic number two weeks into a strike is not a formula for a successful labor action.
The unions say they will now shift their energy to the elections. This sounds like a good idea, particularly when 2018 promises to be a big year for Democrats. But this is Oklahoma, not Connecticut.
There are 115 Republicans and only 34 Democrats in the state legislature. Republican Gov. Mary Fallin is term-limited out this year, but her predecessor, Brad Henry, was a Democrat, and he was responsible for a host of tax cuts.
Oklahoma voters had an opportunity to approve a union-funded ballot measure in 2016 that would have given $5,000 raises to teachers. They voted it down decisively.
There is already an effort to put an initiative on this year's ballot that would rescind the tax increases the legislature just passed to fund teacher raises.
What seems to have escaped OEA is that teachers are public employees. They were able to stage such large walkouts and protests largely because of the cooperation of other public employees — that is, school district superintendents and state workers. And, though they may have differed ideologically, they were negotiating with legislators, who are also public employees.
Going directly to the government was the union's best chance to get what it wanted. Getting it from the electorate is a much tougher nut to crack, recent history has shown.
Once the debate moves into the election arena, not only do teachers have to compete with the private sector, but they also have to compete for attention with a horde of special interest groups who also want a share of tax dollars.
Finally, there are the taxpayers themselves. They have high regard for teachers and place education high on their list of important issues. But when November rolls around, they might just decide that a $6,000 raise was a pretty good haul for one year, and elect to address other public problems.
Support The 74's year-end campaign. Make a tax-exempt donation now.