Texas Districts Were Rolling Out Big Pre-K Expansion Plans When COVID-19 Hit. Will That Momentum Be Enough to Save Them?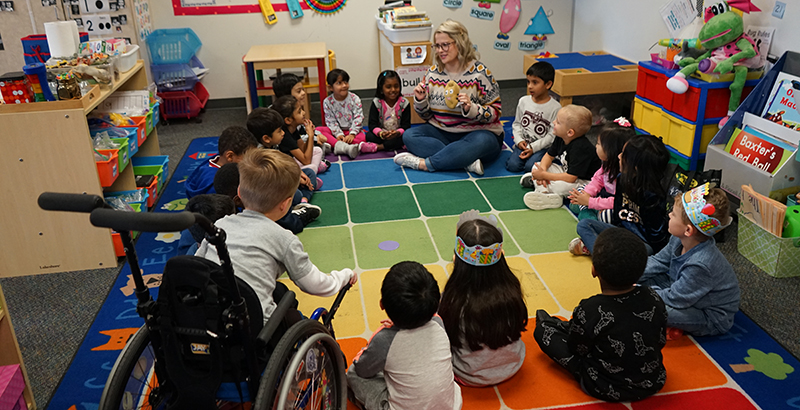 In one sense, pre-K has won the day. In another sense, it may be yet another casualty of COVID-19.
A critical mass of research has shown that when kids have access to high-quality pre-K they do better in the school years immediately following — in some cases performing on level with their wealthier classmates. Pre-K, it seems, is slowly becoming what kindergarten was in the 1970s, a fully funded grade level for every child (albeit attendance will likely be non-mandatory in most states, as is kindergarten).
Getting there is not as easy as it sounds in the best of times, and these are certainly not those. Even when the political will is there, facilities, teachers and funding — the same variables that drive inequity across the K-12 system — have to be available. Former Democratic presidential candidate Bernie Sanders even put a price tag on the task when he proposed a 10-year, $1.5 trillion federal pre-K expansion initiative. That was before March.
Any initiative, even at a state or local level, will face new challenges in a post-COVID-19 economy, according to the just-released State of Preschool 2019 report by the National Institute for Early Education Research (NIEER).
"Even if the current economic crisis is short, its impact on state funding for pre-K — a discretionary program with a small constituency in most states — will be persistent," the NIEER report states.
In Texas, however, the expansion process has already begun, which may salvage high-quality pre-K for nearly 300,000 3- and 4-year-olds from coronavirus fallout. A 2019 state law requires districts and charter schools to expand high-quality public pre-K across the state by 2023. That mandate also revealed the myriad of challenges involved in doing so for other states that may eventually follow suit.
State and national pre-K standards set the bar, but as seen in an affluent district in suburban Dallas, a fast-growing rural school system outside San Antonio and a Texas Hill Country district so small it occupies a single school, clearing it will be a uniquely local endeavor.
Preserving momentum
The Texas legislature will not meet again until 2021, one year into its three-year pre-K expansion timeline. Plummeting oil revenues alongside the generally grim economic forecast do not bode well for the state budget.
Under the new law, known as HB 3, full-day pre-K is funded by a discretionary revenue stream; it is not part of the basic per-student funding allotment. This makes it easier to target, said Steven Barnett, senior co-director of NIEER.
"Anything that's discretionary is more likely to take a cut," Barnett said, "unless there are champions that step up."
One of those champions will inevitably be Todd Williams, the president and CEO of The Commit Partnership, an education advocacy organization. He sat on the 2018 commission that drafted many of the reforms found in the 2019 bill.
"It's my sincere hope that the 18 months of research and data that went into formulating HB 3 is maintained during the 2021 legislative session, including the allocation which made full-day pre-K possible," said Williams. "While overall funding may need to be reduced, it's critical that HB 3's equitable strategies are maintained."
Bipartisan support for pre-K is strong in Texas, as it is nationally, according to NIEER. The issue appeared prominently in campaign platforms for nearly every Democratic presidential candidate, including presumptive nominee Joe Biden. In Texas, Republican Gov. Greg Abbott made it one of his "emergency items" in 2015 and campaigned on it in 2018, though critics say he did little to make it a reality.
However, political support can't take the place of established budget line items, says Barnett. The states where pre-K fared the best following the Great Recession were those where it was funded like K-12, he said.
What Texas may have working for it, along with the popularity of early education, is the investments already made by districts across the state.
It started with a mandate
The 2019 law requires any school district providing pre-K to offer it for the full school day and to meet the criteria for high quality adopted by the Texas Education Agency in 2015. The standards track closely, but not exactly, with NIEER's benchmarks. In 2019, the state hit only four.
Teacher-student ratios are not to exceed 11:1 (which does not clear NIEER's 10:1 ratio); teachers should be certified or extensively trained in early childhood development or Montessori or have commensurate experience in a nationally accredited child care program; and the program must choose from state-approved curricula.
The criteria also include family engagement and data tracking requirements to ensure that programs are meeting the needs of families and preparing students for kindergarten.
It won't be easy, districts reported. It will be required, the state decided.
Texas gave districts and charters a gentle on-ramp. Those showing progress toward compliance are eligible for waivers to give them up to three years to complete the expansion, and the chance to renew that waiver one time. With COVID-19 leaving many school budgets with numerous question marks, the state is allowing a second round of one-, two-, and three-year applications starting in the 2020-21 school year. All waivers can be renewed one time, potentially stretching the expansion process until 2026.
A patchwork of programs
Texas has funded half-day pre-K for eligible students since 1985. Beyond that, nearly every district has its own mix of funds and offerings. Some allow tuition-based enrollment for non-eligible students. Some use Title I and Head Start funds. Some offer limited programs for 3-year-olds.
The new law does not fund the full-day expansion the same way that it funds K-12; instead it created another funding stream that districts and charters can use to fill whatever gap stands between what they have now and what the new law requires.
Districts now get $616 more for each K-3 student who is "educationally disadvantaged" (low income, homeless, or in the foster care system), and another $616 for each English language learner in grades K-3. This extra money can be spent on any state-approved strategy to improve reading and math scores. Pre-K is one such strategy.
Babies in the balance
Three- and 4- year olds aren't the only ones states have to consider as they expand pre-K. The pre-preschoolers, children 0-2, and their families could also be affected.
Like K-12 districts, most early childhood care providers have to carefully balance their funding, and a blunt maneuver from school districts could set off a Rube Goldberg-like reaction that would leave more children without care than with it.
"We needed to consider the entire ecosystem," said Williams. If districts suddenly bring all 3- and 4-year-olds onto their campuses, taking their funding with them, he explained, it could "adversely impact 0-2 child care for working families."
Access to child care is an economic issue almost as much as it is an educational one. The U.S. Chamber of Commerce Foundation released a series of reports stating that on average, states lose about $1 billion per year to breakdowns in child care. The reports looked more closely at Iowa, Idaho, Mississippi and Pennsylvania. In Idaho, nearly 90 percent of surveyed parents relied on a family member for child care. Parents in Mississippi and Idaho reported leaving or losing jobs over child care issues. In Pennsylvania, child-care-related absences and employee turnover led to $2.88 billion in losses for employers.
For families living 200 percent or more below the poverty level, finding child care is even harder. Children at Risk, a Texas nonprofit, found that the state is short on subsidized child care seats by about 222,000. If schools are not careful, Williams explained, instead of adding more options, they will destabilize the options that exist.
Subsidized centers can receive funds from various state and federal agencies. For each eligible 0-4-year-old in their care, they receive funding from the U.S. Department of Health and Human Services and the U.S. Department of Education. Three- and 4-year-olds are eligible for additional programs, such as the federally funded Head Start. The teacher-student ratio for those classes is also higher than in 0-2-year-old classes, making them less expensive. If the 3s and 4s move out, the child care centers told legislators, federal subsidies would not be enough to cover the cost of their 0-2-year-old programs.
The solution for Texas, Williams explained, was partnerships.
Grab a buddy
As long as Head Start or early childhood centers can meet the qualifications for full-day, high-quality pre-K, the law allows districts to share funding, staff and curriculum with the partner organization, and to count that partnership toward the district's pre-K fulfillment.
Not only does this help keep the 0-2 population covered, it can increase the quality of care for kids without changing where they go to preschool. The goal, state education officials explained, was to increase the number of children enrolled in high-quality pre-K, and if the students were already in child care centers, it made sense to simply enhance the existing offering.
"That is a hurdle sometimes because of where the child care centers are with their implementation," said Angela Neal, early childhood program coordinator with Texas's Region 10 Education Service Center in Richardson. Districts can use their extra funding to help clear the hurdle.
Partnerships also alleviated some of the fears that expansion would require an influx of bond money for facility expansions, the officials explained. Districts are not allowed to consider building, renovating or repurposing classrooms until they have surveyed the community for potential partners.
La Vernia ISD serves 3,400 students in a small but growing community outside San Antonio. Its current facilities were already too full to add full-day pre-K, said Superintendent Toni Riester-Wood, and a bond would be required to expand the facilities. Already, the district is contracting with the city of La Vernia to procure portable buildings to handle overflow in existing grades in the 2020-21 school year.
As directed by HB 3, La Vernia held the required public meetings and met with potential partners throughout the 2019-20 school year. The tiny town doesn't have many child care providers to choose from, Riester-Wood said. They are just far enough away from San Antonio that the successful city-funded program, Pre-K 4 SA, is not an option as it is for the urban districts in the metro area. The San Antonio program, which enrolls 2,000 students, will face its own expansion question in November when, for the first time since 2012, voters will have to approve allocating a portion of the sales tax revenue to continue funding it. La Vernia found a partner to start the transition to full-day classes, but it won't get the program up to full speed.
"Our decision at this time is to partner with the one local accredited child care center in the area to offer full-day pre-K on a very limited basis as we explore creative options for full-day pre-K programming until we can reasonably go out for a bond election," she said.
Ready or not, here we grow
Frisco Independent School District, a 58,000-student, A-rated suburban school district north of Dallas, has already seen increased interest in its pre-K program as it prepares to move to full day, said Melissa Ellis, the assistant director of early childhood education. After a call for partnerships went unanswered, the district focused on expanding pre-K in-house.
The early childhood department has been busy locating suitable (and available) classrooms across the district, said Ellis. COVID-19 protocols on classroom size will obviously affect all grade levels, a district spokesperson said, but pre-K expansion will continue amid those adjustments. Meanwhile, the district is addressing another growing pain — teacher recruitment.
Because salaries in private early childhood centers are typically low, meaning they don't usually incentivize the kind of advanced credentials required by the state, staffing is likely to be a challenge for partnerships and expanded public school pre-K alike, Neal and other state officials explained. Schools will have to cast wide geographic nets and compete for talent, and some will need to fund continuing education and certification for staff at partner institutions.
Frisco started recruiting earlier in the year and, before the coronavirus shutdown, offered new hires the chance to come and team teach with current pre-K staff. The mentorship opportunity has helped the district recruit teachers who are new to early childhood education, said Kelley Estes-Jones, assistant director of early childhood services with the Region 10 Education Service Center.
"We feel fortunate to have this unique on-the-job training opportunity to ensure our new hires are well-equipped with the tools necessary to launch their own successful classrooms in the fall," Ellis said.
Rural hubs 
While large cities like Dallas try to balance expansion with existing options, rural districts like Leakey Independent School District are crunching different numbers, making the most of a valuable new opportunity.
Leakey serves an eponymous town of about 439 people and the ranchland around it in the Texas Hill Country. Right now, the district's 289 students attend a single pre-K-12 campus. The school isn't just one early childhood education option, Superintendent Chris Yeschke said, it's the only one.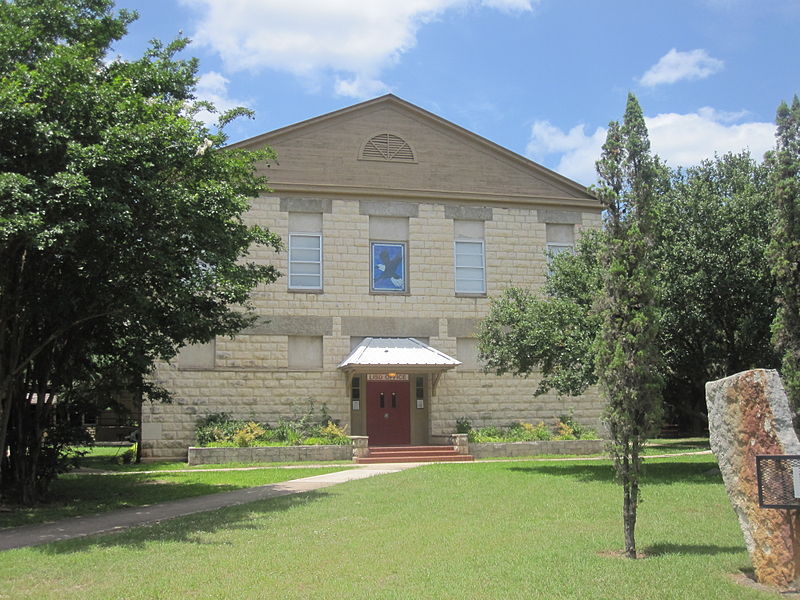 "In a small town, the school is the community hub," Yeschke said.
With so few children, it wasn't economically feasible for other organizations to maintain child care facilities to meet state licensing standards, and the town's one Head Start program folded when the two women who ran it retired. Yeschke's predecessor recruited the same pair out of retirement five years ago to expand the district's pre-K program. It now has 21 4-year-olds and six 3-year-olds.
Leakey found a way to fund full-day pre-K "on our own," Yeschke said, albeit with some help from the H.E. Butt Foundation, which runs a Christian camp and retreat center in Leakey. The foundation helped fund a teacher salary for the 3-year-olds.
With the new state funds, Yeschke wants to find a way to plug the one hole in his community's pipeline: He wants to bring infants and toddlers onto the single school campus. Not only would this serve the community, he explained, but some of the working parents who would benefit would be his own teachers. He'd like to be able to offer on-site day care and nursing breaks to new moms on his staff.
Those plans are on hold while the district assesses the economic fallout from COVID-19, Yeschke said: "I will be looking this month on how to get it back on track as soon as possible."
The 3- and 4-year-old programs will continue, he added.
As is the case with many districts, Yeschke said that squeezing more and more pre-K out of the budget has been worthwhile. "What pre-K brings to the school system is so much more valuable than a few dollars."
Get stories like these delivered straight to your inbox. Sign up for The 74 Newsletter