Teaching Black Students Their History and How to Be Entrepreneurs Fulfilled My Lifelong Dream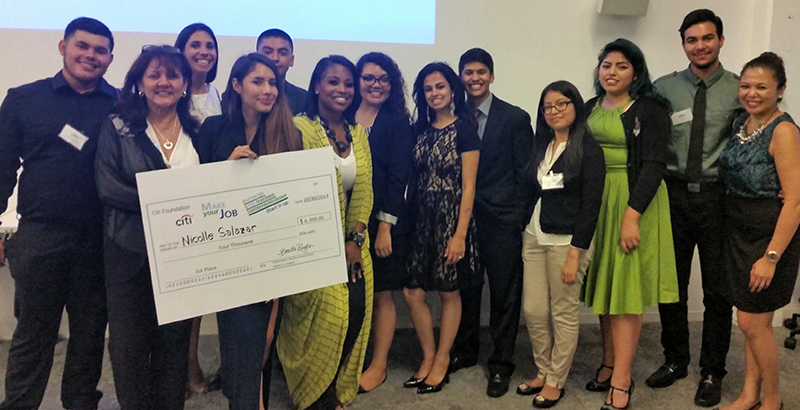 On my first day of elementary school, I looked around and realized I was the only Black girl in a school full of white students. The only other Black students in the school were my older brother and a family friend's son.
In kindergarten, I was bullied because of my complexion and the texture of my hair. One day I got fed up and went to my teacher, who told my mom that I was "too sensitive" and needed to develop tougher skin. This teacher did not come to my aid, she didn't admonish the students whose bullying was rooted in racism — she told me that I was the one who needed to change.
It was at that moment I knew I had to become a teacher.
The idea that I needed to "change" to make white people feel more comfortable has been a running theme in my educational journey. I was also often questioned about my abilities. My math teacher sophomore year questioned whether I was in the right class because she did not believe I had passed geometry with straight A's over the summer. In history, I listened to my teacher discuss old white men and their conquests around the world.
After school, I would go home and read books about my history, Black history. And that's when I realized I needed to teach history. Despite the constant microaggressions and anti-Black rhetoric I experienced in my K-12 career, I graduated in the top 10 percent of my class and went to college on a full-ride softball scholarship — after being told by my coach I would never play Division 1 ball.
Recently on social media, a question has been floating around: "How old were you when you had your first Black teacher?" My response: I was in college. After my K-12 experience, I decided that a Historically Black College and/or University was the best fit for me. Attending Hampton University was one of the best experiences of my life. I felt celebrated as a person both in the classroom and on the softball field. I excelled more than I ever had during my K-12 career, largely because of the Black educators who were building me up. I took this philosophy of Black history being American history into my classroom when I became a teacher in 2002 after completing my master's in teaching secondary history.
When I began my teaching career, I had my mind set on going back to the school district I grew up in to be a face for those who looked like me. I did not want another Black student to feel the way I did while growing up. My first position was as an onsite substitute and freshman softball coach at my old high school. I was elated. Students would look at me with wide eyes, as many of them had never had a Black teacher before. And I knew then I had made the right decision.
After two years, the same racism I experienced as a student pushed me out as a teacher. I was told to "smile" every 30 seconds to make others (white staff) feel comfortable, and my colleagues thought I was hired because I was "Black and knew someone." My master's degree did not matter, because in their minds, I wasn't qualified. My principal blackballed me from working in my hometown, so I moved and got a job at a small charter school. I was devastated and defeated. I felt like once again, racism was keeping me from doing the work I knew needed to be done.
But 16 years later, I am starting my 17th year at that same charter school, and I have been able to impact the lives of over 1,000 students, many of whom look like me. I have been able to teach them their history and that it is, in fact, a part of American history. I have also been able to teach them the tools of entrepreneurship with the help of the Network for Teaching Entrepreneurship. Through the NFTE program, my students create their own business plans and pitch their ideas at regional and national competitions.
My students leave high school with the knowledge and skills they need to be able to write their own stories and take charge of their own lives. As a Black teacher, it is my mission to ensure that my students know they matter and that they have power. Black teachers are vital to the success of young Black children, who need to see themselves in their curriculum as well as in leadership. They need to know that for them, anything is possible. Especially during this time of adversity, I call on all parents, educators and districts to keep Black students, teachers and staff top of mind. Only by doing this can we ensure the success of our educational communities.
Brandie Davis teaches government and economics at Environmental Charter High School in Lawndale, California, where she is also a Network for Teaching Entrepreneurship teacher and a softball coach.
Get stories like these delivered straight to your inbox. Sign up for The 74 Newsletter