Supplement Not Supplant Is Back: Why Education Advocates Are Concerned a Wonky New ESSA Spending Proposal Will Hurt Poor Kids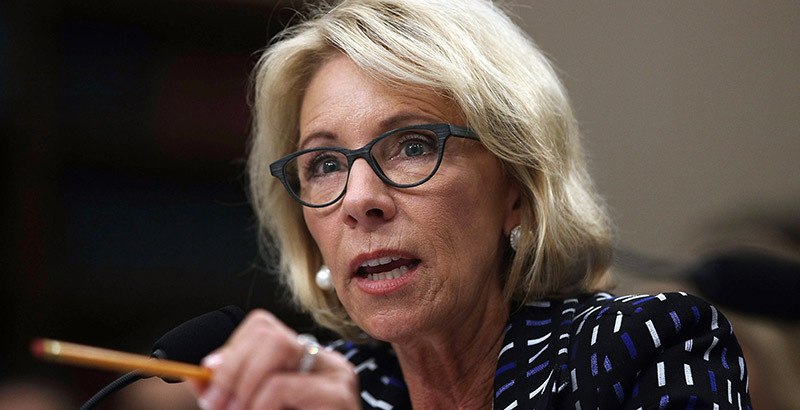 Education advocates say a new Education Department proposal on school spending undermines a key rule that could help ensure equitable spending for low-income students.
The wonky "supplement not supplant" rule, included in several reauthorizations of federal K-12 law, including the Every Student Succeeds Act, requires districts to show they're not using federal Title I grants intended for low-income students when they should be using state and local money instead.
Under the Education Department's proposal, released Friday, districts would have to show their method for allocating funding is "Title I neutral," meaning the district isn't explicitly giving less to schools that educate large numbers of low-income children.
That flexibility would give districts too much leeway in spending their federal grants, cutting at the heart of legal protections for low-income children, advocates say.
"We're very concerned at this point that one of the most critical civil rights components of ESSA has been undermined," said Lynn Jennings, director of national and state partnerships at The Education Trust, a nonprofit group that advocates for educational rights for low-income students and children of color. (John King, the former education secretary who proposed his own, never-implemented version of supplement-not-supplant regulations, is now the group's president and CEO.)
Education Secretary Betsy DeVos said the new guidance, open for public comment for 30 days, is designed to let schools spend money on what's best for students and not what could raise red flags in an audit.
"This proposal does not change the legal obligations school districts have to make appropriate investments in education. It simply makes clear that a school district has significant flexibility in how it demonstrates compliance with the law," she said in a press release.
Though supplement not supplant has been embedded in federal law for decades, the implementation has become something of a political football depending on who's writing the guidance.
In particular, fights in recent years have focused on whether to include actual teachers' salaries in calculations. Proponents of that approach reason that newer, lower-paid teachers, who are often less effective, are more often placed in low-income schools, meaning less is spent on those children's education.
The Obama Administration in 2016 put forward guidance that would have included actual teacher salaries in the calculation, immediately drawing the ire of congressional Republicans, who said it was an illegal overstepping of the underlying law, and some other education groups, including teachers unions, who said it could force teacher transfers. It was the first of what would become a series of ongoing battles in implementing ESSA.
The new guidance wouldn't address the teacher salary issue directly, but one of the examples of approved funding methods would allocate money based on "staffing and supplies" — for example, giving equal supply allowances per student and ensuring the same student-to-teacher ratio.
Advocates say the new proposal from DeVos, if enacted, would hamper their efforts to more equitably distribute resources.
"For any advocates who care about resource equity at the state and local level, it is 100 percent clear that supplement not supplant is not the hook you are looking for to fix that problem," said Anne Hyslop, associate director of policy development and government relations at the Alliance for Excellent Education.
It's difficult to come up with a rule that provides districts with flexibility and offers protections to Title I schools, said Jonathan Travers, a partner at Education Resource Strategies, a nonprofit that helps districts with school improvement.
"In this case, I fully see the flexibility, but I'm not sure how Title I schools are actually protected," he said.
Under his reading of the proposed rules, a school could use any funding method so long as it did not explicitly set out to give Title I schools less money.
A district could, for instance, provide more teachers to high schools that offer more AP classes to lower class size, or provide matching funds to money raised by parent-teacher associations, Travers said. Neither on its face would explicitly give more funding to non-Title I schools, he said, but "at the end of the day in both cases, they would push resources away from Title I [schools] and toward non-Title I [schools]."
Under the new proposal, districts don't necessarily have to develop a new methodology for doling out funds. Although the guidance offers two possibilities that would meet muster — a weighted funding system and a system that allocates funding based on staff and supplies — districts are free to use another method.
The guidance is one of the few the Trump Administration has released for states implementing ESSA, and in some cases, it has clarified important concerns. For example, states wouldn't have to include district-wide expenses like substitute teachers in their supplement-not-supplant calculations, Hyslop said.
Not all advocates were immediately opposed to the new proposal.
The Council of Chief State School Officers, which represents state education secretaries, offered its own proposal in 2016 that also would have let districts use any Title I neutral method for allocating funding.
"States are leading to implement Title I programs equitably and effectively to benefit all students, particularly those who have been historically underserved, and we appreciate that the U.S. Department of Education is committed to supporting state and local leadership in implementing federal programs," Melissa McGrath, CCSSO's chief of staff, said in an emailed statement. The group is reviewing the proposal and expects to submit further public comment.
Though CCSSO's 2016 proposal would have required districts to post online how they're doling out funds, that mandate isn't included in the new guidance.
That lack of transparency, too, hampers advocates who may believe something is wrong but aren't able to prove it.
"It puts everything again back in the dark. It puts it very much under the rug, in the shadows, whatever allusion you want to use," Jennings said.
Disclosure: The Bill & Melinda Gates Foundation, Carnegie Corporation of New York, Charles and Lynn Schusterman Foundation and Walton Family Foundation provide financial support to Education Resource Strategies and The 74. The Gates Foundation and Carnegie Corporation provide funding to the Alliance for Excellent Education and The 74. The Gates, Shusterman, and Walton foundations, Carnegie Corporation, and Bloomberg Philanthropies provide financial support to The Education Trust and The 74.
Get stories like these delivered straight to your inbox. Sign up for The 74 Newsletter