Student Survey: Despite High Numbers Saying Their Schools Were Assigning Work and They Were Completing it, Only Half Said They Were Really Learning During Pandemic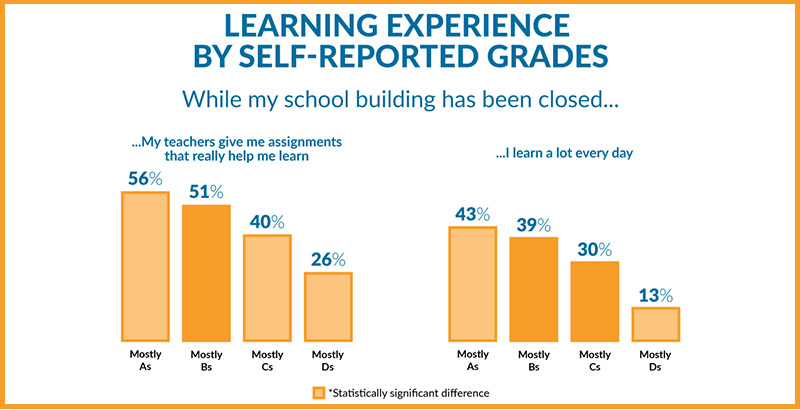 Students didn't learn much after their schools shut down for the coronavirus, despite a relatively positive experience with school logistics, like getting access to assignments and being able to complete their work, a new survey of American students shows.
Just 39 percent of students in grades 5 through 12 reported that they "learned a lot almost every day" during the shutdown, and about half said their teachers gave them assignments that helped them learn, according to the survey conducted by the nonprofit YouthTruth.
That compares with around 60 percent of students who said the same during a previous semester of traditional classes, said Jen Wilka, YouthTruth's executive director.
At the same time, most students reported that the mechanics of online education went pretty well, with 92 percent saying schools were assigning work and almost 80 percent reporting they could complete and submit it.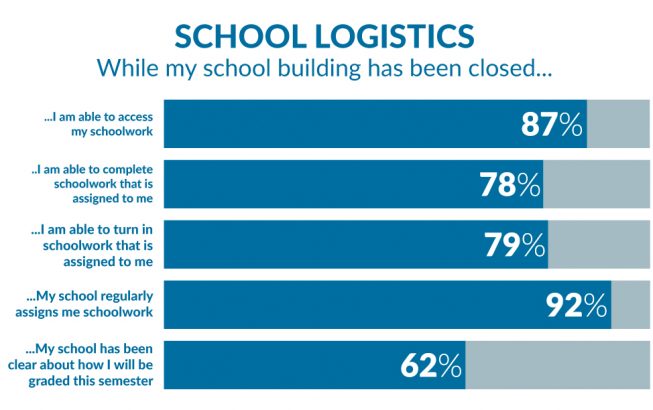 That is the "best-case scenario," though, Wilka said, because the survey was conducted online and likely missed some students who did not have the technology or internet connection they needed. Still, Wilka sees the results as an indication that schools should shift their focus to academics.
"Understandably in this moment of crisis response, there's been a lot of focus on access to devices, access to technology, access to food — and that all makes sense, for the spring and this moment — but we need to be able to move beyond that in the fall so that we can get to a place of learning," she said. "It'll be different and it will need to adapt and change, but essentially we heard from students that school logistics were actually working relatively well, teachers did a good job working with what they had, and yet only half of students felt like they were really learning."
YouthTruth conducted the survey online in English and Spanish in May and June. More than 20,000 students from 166 public schools across nine states responded.
One of them, Arleth Teran, a rising eighth-grader at Chicago's CICS West Belden, a charter school in the Distinctive Schools network, said the past few months of school were challenging.
"It has been kind of difficult because I've been sort of stressed out, because I don't get to see my teachers one-on-one. And it's kind of hard since I have a lot of siblings around the house," said Teran, who has two brothers, a sister and a dog, who all occasionally distract her. "It's hard to focus sometimes, but I was able to focus and finish the curriculum and pass [all my classes], and I didn't get into summer school, which was good."
Teran, 13, said she was able to connect with her teachers and felt as if they were helping her do her best despite the circumstances. Still, being able to complete the anonymous survey allows students to "give an honest opinion" about school without having to worry about their teachers knowing how they felt individually, she told The 74. Teachers need to understand students' environments at home and how stressed they are as they plan for next year, she added.

Relationships with teachers were a bright spot nationally, with students reporting that their connections were a little better than usual during the shutdown and 61 percent saying their teachers are available to provide extra help.
The survey data has been "integral" to planning for next year, said Michael McCarthy, executive director of student services at Distinctive Schools, the network Teran attends. Like Teran, most Distinctive students reported their teachers were available when they needed help but responses also showed they were facing more obstacles to learning at home than the average student nationally. To address that, McCarthy said educators will receive training to help them talk about issues like health and safety with students. The network used the student feedback to inform its end-of-year meetings with school leaders and will also incorporate the findings into new teacher training this summer, he said.
"I just wonder how much as a country we're listening to the kids as we're battling this out politically and everything," he told The 74. "We're all in it together as teachers and leaders and support staff, but kids and families — that voice is so, so, so important, and this is the only way that we've been able to surface their experiences" aside from students sharing individual stories in class.
Distinctive Schools is a network of nine mostly K-8 schools in Chicago and Detroit serving primarily low-income students of color.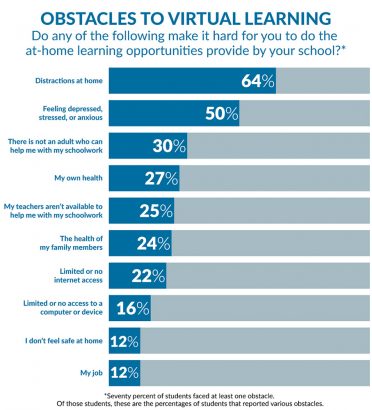 Some other findings from the national YouthTruth report:
1 in 5 high school seniors reported that their post-secondary plans changed because of the pandemic. (Other studies have found declining applications for financial aid, an indication that students may be rethinking plans for higher education.)
64 percent of students overall reported experiencing distractions at home that interfered with schoolwork, and half said feelings of stress, depression and anxiety made online learning difficult.
Female students and those who identify another way were more likely to report depression, stress and anxiety as obstacles to learning than male students.
Black and Latino students reported facing more obstacles to learning at home than white and Asian students.
On most questions, urban schools outperformed both suburban and rural schools. However, students in rural schools were likelier to say they are getting more exercise and spending more time outside than usual.
About 30 percent of students surveyed said they feel connected to their school communities.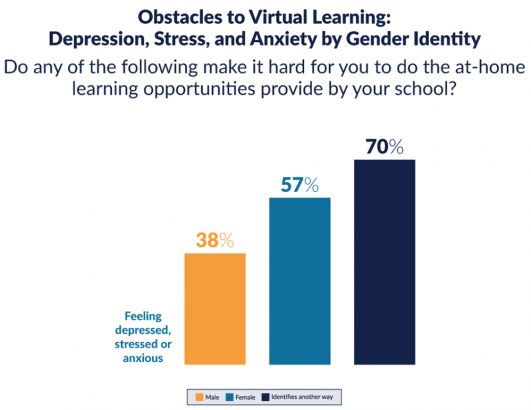 YouthTruth's Wilka said educators and leaders should take this information into account when planning for next year.
"None of us adults as students experienced a time like this, so I really hope that this data helps to incite some curiosity about how are our students experiencing this time, and how can we be listening to them and making decisions right now," she said.
School systems that participated in the survey received system-level data so they could analyze their own results, and they could purchase access to more granular school-level data.
The YouthTruth findings match those of other student surveys. A survey by Common Sense Media found that 42 percent of participating teens were feeling "more lonely than usual," and America's Promise Alliance reports that "more than half of young people (52 percent) are much more concerned than usual about their own and their family's physical and emotional health." Recent surveys of educators reveal that many of those teaching in low-income schools spent most of the shutdown reviewing past lessons and experienced high levels of stress.
Children and teens are not alone: Gallup polling in May and June found that slightly more than half of adults experienced stress "a lot of the day" on a given day, and around 40 percent said the same for anxiety.
Disclosure: The Bill & Melinda Gates Foundation provides financial support to YouthTruth and The 74.
Get stories like these delivered straight to your inbox. Sign up for The 74 Newsletter